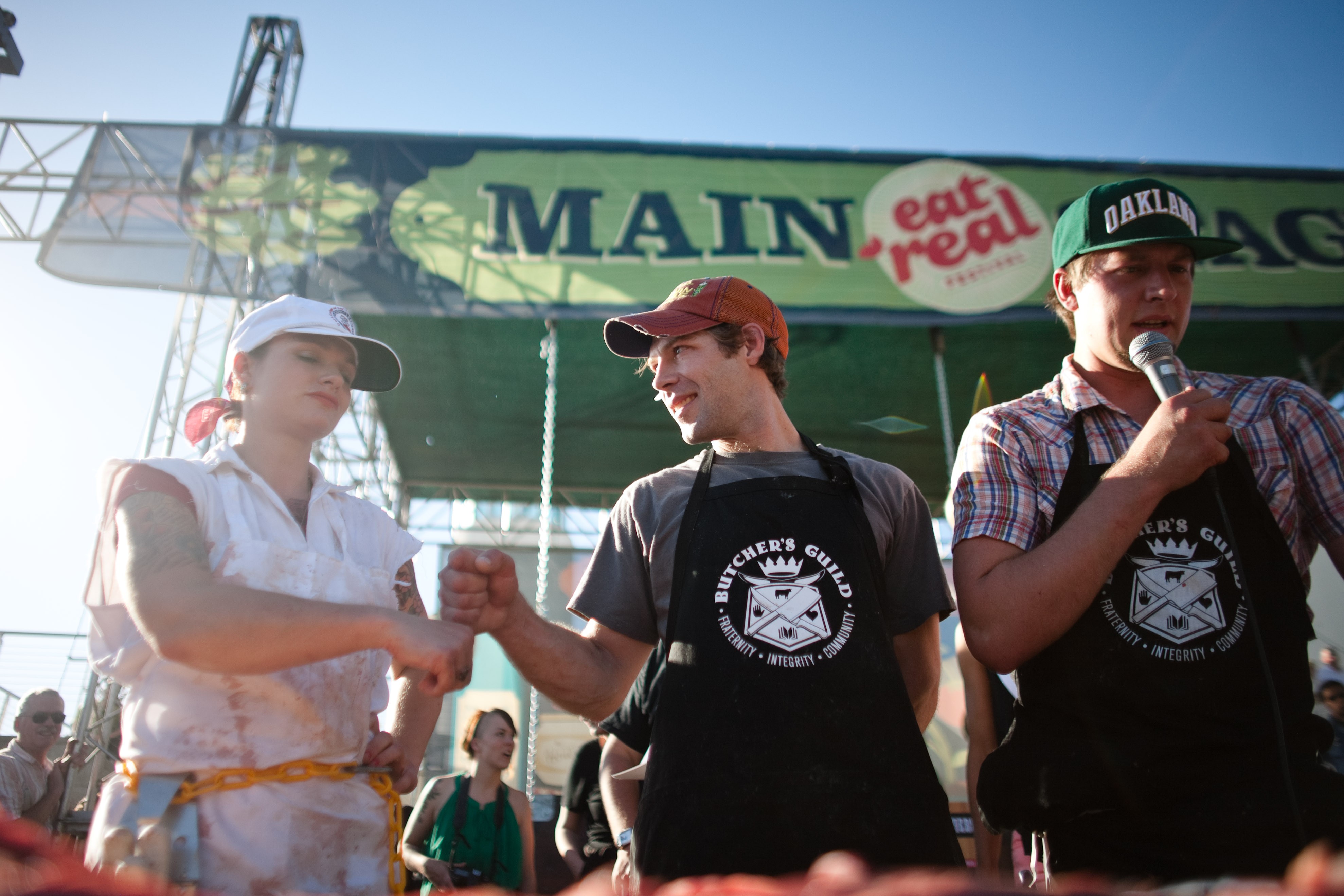 When
Eat Real Festival
hits Jack London Square this weekend, its annual whole-hog butchery demonstration — one of the street food festival's signature events — will have a bit of a new look. The butchers will, of course, be as badass as they always are, with knives and hand-saws just as sharp. But this year, for the first time, all four participants will be women.
[jump] If you have paid any attention to Oakland's burgeoning food scene over the past several years, you're probably familiar with Eat Real, which is now in its eighth year and will run September 23–25. The festival's main attraction has always been its massive lineup of food and beverage vendors — this year's lineup features about seventy street food purveyors, all hawking dishes for $8 or less, plus an additional twenty beverage vendors.
But the festival has always also boasted a
full itinerary
of food-related events — ranging from chef demos to kid-friendly DIY workshops — and among these, the butchery showcase has always been one of the most popular. So why mix things up?
Ally DeArman, director of the nonprofit Food Craft Institute that organizes Eat Real, said that it just felt about time. Even though Eat Real as a whole has always had a very even gender split in terms of the chefs and other food entrepreneurs highlighted, that hasn't been the case for the butchery demo: Among all the butchery teams that have taken part in the demo in the last seven years, DeArman could only recall one female participant.
That's partly because of the nature of the event, which had previously always been framed as a competition — who can break down this side of beef the fastest and most precisely, and with the greatest flair for showmanship. According to DeArman, that format didn't appeal to some of the more prominent women in the profession.
This year, the competitive element has been eliminated in favor of a more educational approach. Two teams of butchers will demonstrate how to break down a whole hog — provided by Chico-based Rancho Llano Seco — with each team highlighting different cuts and cutting techniques. The organizers have playfully dubbed the event the "Sausage Rebellion" — because it's designed to be the exact opposite of a sausage fest, both in terms of gender and its longstanding focus on highlighting interesting uses for offal cuts that go beyond grinding everything up and stuffing it inside a sausage casing.
The four participating butchers will be Jacquie Smith (of Avedano's Meats), Ren Rossini (of Fatted Calf Charcuterie), Cindy Garcia (of V. Miller Meats in Sacramento), and Oakland's own Susannah Schnick, one of the butchers at Clove and Hoof, who had her very own moment of viral fame last month, when the butcher shop posted a
sped-up video of Schnick breaking down a hog on Facebook
. Monica Rocchino, co-owner of Berkeley's Local Butcher Shop, will provide live commentary.
The rise of the female butcher is a storyline that has gotten a fair amount of press over the last decade, but according to DeArman, many of those stories tended to have a cheesy, sensationalistic "butcher babe" angle: "Look at me — I'm a pinup, and I also cut meat."
While that kind of narrative generated a certain amount of buzz, it didn't create a particularly welcoming environment for women who were thinking about going into the profession, DeArman said. And she noted that the
course that the Food Craft Institute offers on the butchery business
has long had difficulty attracting female students — despite the general sense that there
are
a lot of talented women working in the industry.
This weekend's all-female butchery demo, which will take place from 4–5 p.m. on Saturday, September 24, may be the latest sign that that tide is turning. Now, DeArman said, there's a sense that women don't feel like they need to try to be the "poster-woman" for the butchery industry, but can simply feel comfortable being an integral part of it.
"Pretty much every major craft butcher shop has a female at the center of their production," DeArman said.