The food Chicago native Tish Moore missed the most after she moved to the Bay Area wasn't the deep-dish pizza, Italian beef sandwiches, or onion-and-pickle-topped hot dogs. No, what she missed was a more basic snack: popcorn.

So when Moore went away to college, popcorn featured prominently in any care package her family sent her. And for ten years, every single time her parents flew out to visit, they made sure to pack some popcorn in their suitcase — every time except the most recent time. That's because, as of two weeks ago, Moore has launched her very own popcorn store, Scarecrow Popcorn (3435 Lakeshore Ave.), now open in Oakland's Grand Lake neighborhood. With that opening, Moore is hoping that Chicago-style popcorn might be the next big thing here in the East Bay.

[jump]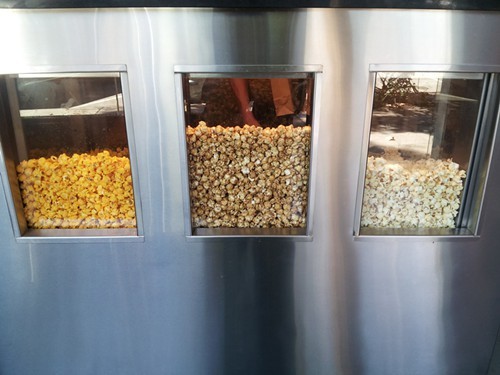 Popcorn is scooped to order, just like at a movie theater concession stand.
The Windy City's contributions to American popcorn culture include the invention of caramel corn and the first popcorn machine, both during the late 19th century. To this day, the city is dotted with gourmet popcorn shops. But according to Moore, Chicago's most significant popcorn innovation is something called the "Chicago Mix": cheddar cheese popcorn and caramel popcorn mixed together in the same bag. It's a simple but ingenious concept, appealing to snack fiends who enjoy the interplay of salty and sweet. "You get a nice balance," Moore said.
At Scarecrow Popcorn, the Chicago Mix isn't listed on the menu, but a rotating list of five popcorn flavors always includes cheddar and caramel, and customers can mix and match flavors for no extra charge. Priced at just $3, a small "sampler" bag (which I found too big to finish in one sitting) is quite a deal. Larger bags will run you $6 or $12.
When I visited the store last week, I eventually settled on a modified Chicago Mix: a blend of the caramel and white cheddar dill popcorns. The latter was the most unusual, and by far the most addictive, of the flavors; the dill adds a subtle, satisfying tang. And what Moore said is true: Mixing sweet and salty is definitely the way to go.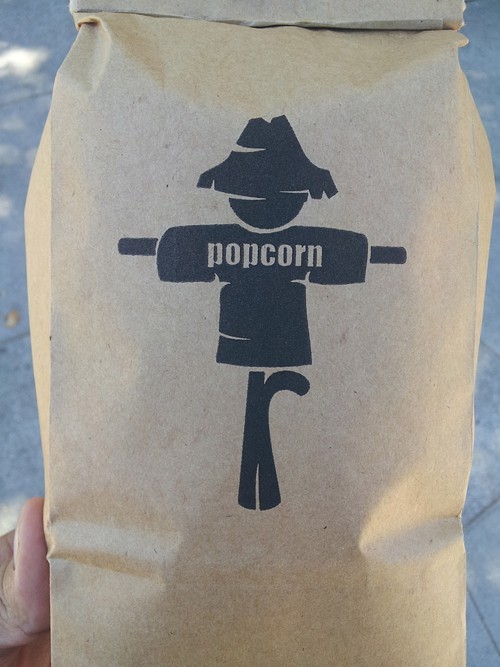 Other flavors in the current rotation include kettle corn (that salty-sweet farmers' market favorite), and jalapeño cheddar. Moore said she'll be introducing a salt-and-vinegar flavor in the coming weeks, and eventually she plans to add a few chocolate-based flavors as well.
A few items of scarecrow paraphernalia aside, the store is basically set up like a concession stand, complete with soft drinks and concession-size boxes of candy (also available for sale). Moore said when she was a kid, she liked tossing a package of Raisinets into her popcorn whenever she went to see a movie. (While the shop doesn't actively encourage customers to sneak food into the nearby
Grand Lake Theater
, its proximity to a movie theater is, at the very least, a fortuitous coincidence. An employee told me they plan to approach the theater, in an effort to be good neighbors, to see if some kind of arrangement is possible.)
For now, the store is open daily from 11 a.m. to 6:30 p.m., though Moore said she might eventually stay open later in the evening on weekends. An official grand opening is planned for sometime in October.