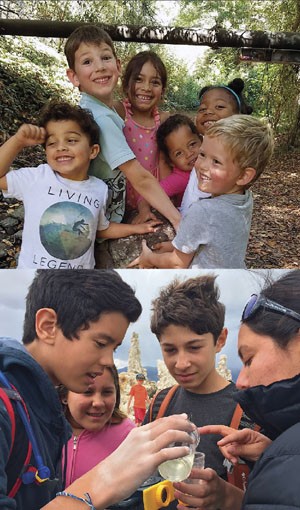 Looking for a school that honors your child's unique potential and nurtures their curiosity, creativity, and passion? Our students grow to be leaders and explorers; they become responsible citizens who are capable, creative, compassionate, and confident.
Our hands-on curriculum, designed to offer students the opportunity to discover rather than just learn, goes beyond the traditional school curriculum. They progress at their own pace on a guided exploration of math, science, geography, history, and language that not only helps them develop knowledge specific to these areas, but simultaneously helps them develop the tools they will need to succeed in an ever changing world: communication, problem-solving, persistence, etc.
Our students thrive in our trilingual immersion environment (English/Spanish/French). Students progress individually under the guidance of native speakers. This experience allows students to learn to understand, speak, read, and write the languages, and develops their brains in unique ways! TRIS is the only trilingual immersion Montessori school in the United States.
Teachers guide students' academic work, and support them in their personal development. Community activities and individual attention support students in meeting their unique potential. Our students also benefit from outstanding programs in music, the fine arts, outdoor education, and international travel—a true renaissance experience!
With campuses in Oakland and Piedmont, The Renaissance International School (TRIS) provides high-quality Montessori and multilingual education that goes beyond the expected! TRIS welcomes students age two years old through middle school.
Graduates attend The College Preparatory School, Bishop O'Dowd, Bentley School, Lick-Wilmerding, Oakland Tech, Head Royce, and other excellent Bay Area schools.
Contact us to schedule a tour:
[email protected]
, or visit
our website
to register.
Oakland Campus: 3650 Dimond Ave., 510-531-8566
Piedmont Campus: 5201 Park Blvd., 510-328-1127
TheRenaissanceSchool.org