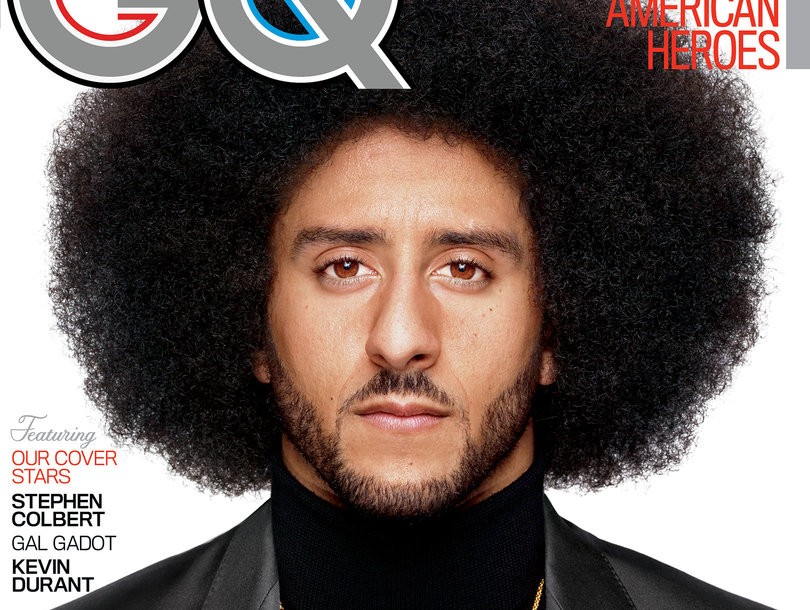 The San Francisco 49ers have claimed that they have a zero-tolerance policy for domestic violence. Yet in recent weeks, they've kept linebacker Reuben Foster on the roster despite the fact that prosecutors have levied felony domestic violence charges against him.
Similarly, the Oakland Raiders spent last weekend drafting several prospects with notable character issues and recently hired assistant coach Tom Cable, who has faced his own past accusations of domestic violence.
And yet both teams continue to take a pass on two NFL stars whose only "transgression" was exercising their First Amendment rights: Colin Kaepernick and Eric Reid.
The Niners and Raiders, in other words, have decided to double down on hypocrisy. They're also proving how out of touch they are with the liberal Bay Area and how out of step they are with the #MeToo movement.
Indeed, many of the teams' fans likely would embrace Kaepernick and Reid's return to football, especially because they've become symbols of resistance to President Trump's blatant bigotry and authoritarianism.
Of course, the Niners and Raiders are not alone. The National Football League has long claimed to be a patriotic organization, and it never misses a chance to wrap itself in the flag and other traditional symbols of American freedom and justice. But the league's actions frequently say the opposite. The NFL, in fact, has a long, sorry record of racism and generally failing to uphold the nation's ideals by using business practices that put profits over people.
And the league looks increasingly out of touch the longer it continues to blackball Kaepernick, whose acclaim has grown nationwide and even overseas. (His courage landed him on the cover of Time Magazine last fall and GQ named him Citizen of the Year in 2017).
Yet the former 49ers quarterback, who led his team to the Super Bowl, has gone unsigned since the 2016 season. What was Kaepernick's crime that fueled the NFL's ire? He knelt during the national anthem before games in 2016, in quiet protest of racial inequality and police brutality. He was joined by teammate Reid, currently a free agent who has also drawn scant interest from other teams this offseason, even though the 26-year-old is a Pro Bowl safety in the prime of his career.
Today, Reid filed a grievance against the league alleging that owners have colluded to prevent him from signing with a team. Kaepernick filed the same claim last fall.
The same NFL that routinely gives second and third chances to spouse abusers, steroid-using cheaters, and deadbeat dads now draws the line by punishing those, and only those, who lead a silent, dignified protest.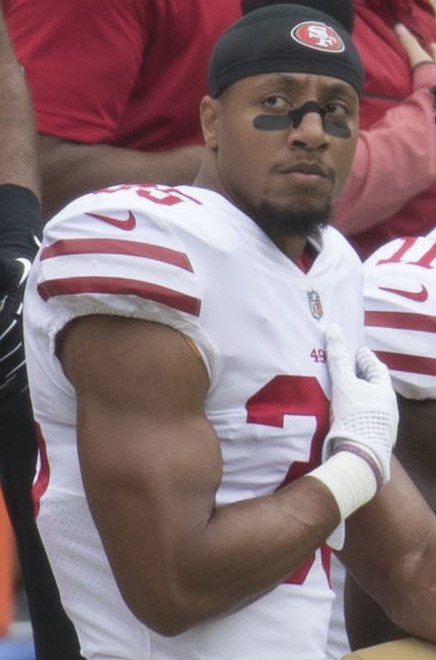 The fact that the 49ers and the Raiders are taking a pass on both Kaepernick and Reid also makes no sense given the fact that the talent on both rosters is average and could only improve if they signed either player.
It should be simple. If NFL leaders truly valued freedom, they would respect the players' freedom to express opinions that oppose those of the owners. You might not like the act of kneeling during the anthem; it might even offend you. That's your right. But athletes have rights, too. And when discussing kneeling during the anthem, the following is irrefutable: It's a silent, dignified act that breaks no laws. It physically hurts no one. It discriminates against nobody. And it inconveniences no one.
Far away from the NFL, meanwhile, honors and awards keep piling up for Kaepernick. Last fall, when GQ named him Citizen of the Year, the magazine devoted a cover story to him that featured praise from respected celebrities like Harry Belafonte and Ava DuVernay. A few weeks ago, Kaepernick appeared in Amsterdam to collect another prize. This time it was from Amnesty International, which gave him its Ambassador of Conscience Award. The global human rights organization lauded Kaepernick for being "an athlete who is now widely recognized for his activism because of his refusal to ignore or accept racial discrimination."
"When high profile people choose to take a stand for human rights, it emboldens many others in their struggles against injustice," said Salil Shetty, Secretary General of Amnesty International. "Colin Kaepernick's commitment is all the more remarkable because of the alarming levels of vitriol it has attracted from those in power."
Those in power would include President Trump, who last fall referred to protesting players in general as "a son of a bitch" who should be kicked off field. It also alludes to NFL owners like Houston's Robert McNair, who recently described NFL players as "inmates running the prison," and Carolina's Jerry Richardson, who put his team up for sale in December when news broke of his long record of racist business practices and workplace sexual harassment.
Maybe it's not surprising that this gilded group of NFL owners don't seem to care much about the social problems plaguing their home cities, places that produce most of their labor pool and whose tax coffers they gladly use as their personal ATM.
If NFL officials took a minute to care, they might be as alarmed as Kaepernick and Reid are that incidences of African Americans killed by police, tragically, are continuing. We can add the recent fatal shooting of Stephon Clark in Sacramento to a long list of nationwide police killings that includes Terence Crutcher, Sam Dubose, Walter Scott, Eric Garner, Tamir Rice, Freddie Gray, Sandra Bland, and too many others.
Hard data supports the views of activists calling for solutions to this serious problem. For example, Black people accounted for 31 percent of police killing victims in 2012 even though they made up just 13 percent of the United States' population, according to a Vox report.
Inequality and overt racism are part of the NFL's legacy, too.
In the 1950s, NFL execs blackballed running back Cookie Gilchrist for being in a racially mixed marriage, banishing him to Canada until he found work in the fledgling American Football League. The AFL was more tolerant and forward-thinking than the NFL, as best illustrated when the upstart league moved its 1965 All-Star game after players refused to play in then-segregated New Orleans.
It's an understatement to say the NFL was much slower to confront racial injustice. Washington Redskins owner George Preston Marshall refused to sign any Black players until 1962 — and did so only after then-Secretary of the Interior Stewart Udall threatened to block his team from playing in its government-owned home stadium.
Throughout the decade, some NFL leaders continued to carry water for bigoted owners. In the late 1960s, NFL Commissioner Pete Rozelle urged Packers Head Coach Vince Lombardi to stop one of his Black players from marrying his white fiancée. Rozelle said he was calling on behalf of some angry NFL owners. To his everlasting credit, Lombardi defended his player and stood up to the league's most powerful man. The fiery coach told Rozelle to leave his players alone, and then urged the athlete to marry whomever he wanted.
Unfortunately, most coaches and execs lacked Lombardi's courage. After the rival leagues merged in 1970, some NFL franchises continued to have unwritten racial quotas that artificially limited the squads' number of Black players, meaning many teams' roster spots were decided more by race than merit.
The NFL's progress on hiring Black coaches and executives languished, too. The league had no Black head coaches until Raiders owner Al Davis hired Art Shell for that role in 1989. Davis deserved immense credit for that; which makes it all the more disheartening that his son, Mark Davis, current owner of the team, has joined in the blackballing of Kaepernick and Reid.
Race isn't the only issue on which the NFL has erred. Commissioner Roger Goodell sparked controversy when he initially failed to properly punish players proven guilty of domestic violence. And while Goodell and the league give lip service to improving player safety, the evidence is overwhelming that they suppressed research revealing that football causes long-term brain damage for players. Some NFL owners, including the Raiders, have also mistreated other employees, such as cheerleaders, who've successfully sued franchises for paying them at low rates that violated labor laws.
And perhaps most damning is the "patriotism-for-sale" charades in which the NFL has engaged. The U.S. Department of Defense in a three-year period paid more than $10 million to teams in the NFL and other pro sports leagues for on-field activities that honored members of the military, according to a 2016 government report. In other words, those sports leagues gave the false impression they were supporting the military by providing a shared patriotic moment with their fans; but did not disclose the advertisement had been paid with tax funds. While brave soldiers have been willing to sacrifice life and limb for their country, the NFL appeared willing to honor that sacrifice only after charging the Department of Defense and taking federal tax dollars for what was essentially an in-game commercial.
For decades, NFL owners too often have been out of step with their fans and on the wrong side of history on a host of issues, including the fight against racism. With the blackballing of Kaepernick and Reid, they're repeating the league's ugliest history. Instead of shedding the NFL's racist past, team owners seem intent on reverting to it.
Despite the fact that Kaepernick and Reid have been banished from their profession, their list of admirers has grown, and the players have become emblems of activist athletes in the Trump era.
In contrast, the NFL, and particularly the 49ers and Raiders — who have many fans who view Kaepernick and Reid as heroes — have come to symbolize rank hypocrisy and injustice.
Chris De Benedetti writes a regular sports column for the
Express.