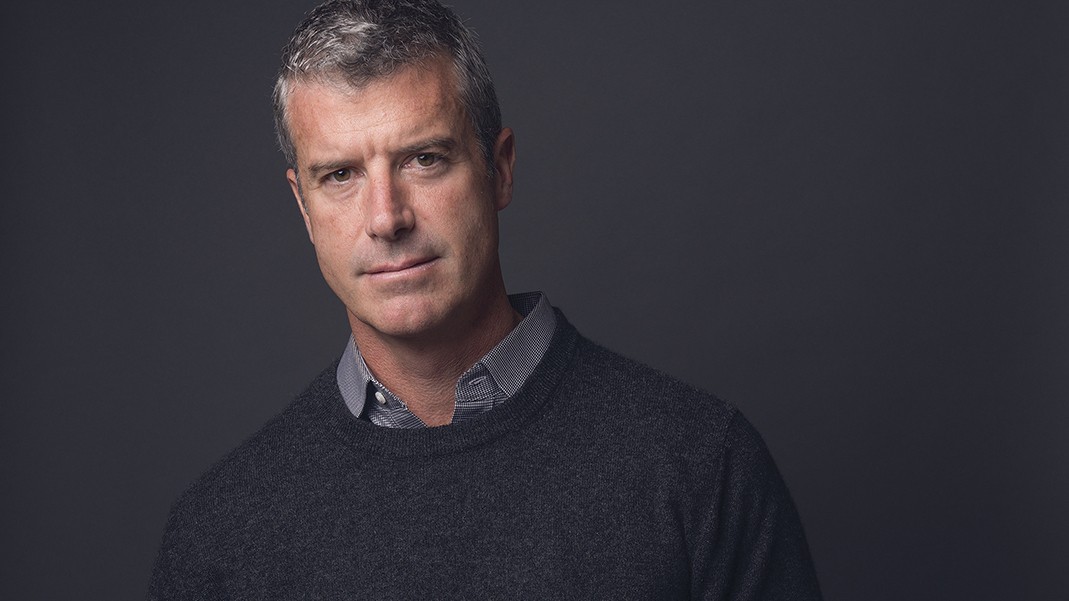 To many, Richmond Police Captain Mark Gagan was the embodiment of community policing. During his 13 years as lead public information officer for the city's police department, Gagan had a reputation for honesty and empathy, which generated trust among Richmond's diverse communities and made him one of the most popular officers on the force. Many Richmond residents felt as though Gagan, 48, understood them, and victims of violent crimes and their families trusted him to be their public voice when theirs had been silenced by unspeakable pain.
So, when Gagan was fired earlier this year, many people in the city were shocked.
The circumstances were even more curious: Last August, Gagan was put on administrative leave after being accused of giving a restricted police report to a television news reporter. The report involved Vice Mayor Eduardo Martinez, who was robbed at gunpoint outside of a Richmond wine bar. When police arrived to take the report, they noted the smell of alcohol on Martinez's breath and that he was driving a city-owned car.
Three months later, after an extensive investigation, Police Chief Allwyn Brown recommended that Gagan be terminated, accusing him of releasing the restricted report and lying during an internal affairs investigation. But that investigation ultimately found no evidence of the accusations against Gagan, and in May, the police captain was reinstated to his job.
To many, Gagan's firing was cause for concern. From 2006 to 2015, Chief Chris Magnus transformed the department from a rudderless agency with a reputation for apathy, corruption, and negligence into a national model for effective community policing. Gagan rose to prominence during the department's era of reform. It was his responsibility to communicate to residents a new departmental philosophy, which required officers to treat people with dignity and respect, listen to individuals' voices during encounters, be transparent in decision-making, and to always convey a sense of trustworthiness.
When Magnus left Richmond at the end of 2015 to become the police chief in Tucson, Ariz., Assistant Chief Allwyn Brown was named the new top cop, and it soon became clear that there would be changes. Gagan's firing, as well as other incidents — including several Richmond cops being caught up in an Oakland police sex scandal involving an underage victim, and the Richmond Police Department's negligent response to a domestic violence 911 call that may have led to the murder of a young mother — have many wondering if the department is reversing all the progress made under Magnus and backsliding into disrepute.
[pullquote-3]
Brown did not respond to numerous phone calls and email requests for comment on this story, but the Express obtained hundreds of pages of city records through the California Public Records Act that paint a picture of a troubled police department whose police chief has cultivated an air of secrecy around a department that had once been nationally renowned for its transparency.
Mayor Tom Butt said he knew Gagan to be a responsible officer who was highly regarded across all factions of Richmond's diverse and politically active communities, which is a rare thing in any city. "We were all shocked when Gagan was fired," Butt said. "He was one of the city's most popular and respected officers. We all felt there was a story there that was not being told."
Perhaps no one was more shocked than Gagan. According to Gagan, before Brown was sworn in as police chief in early 2016, he and Brown had been good friends. The two men met for coffee every morning at a Peet's in El Cerrito and talked about work, city politics, and their families. But since Brown became chief, Gagan felt as though he was being marginalized. Gagan said Brown reduced his assignments and, during the entire year of 2016, never called his office phone except once, and Brown said it was a misdial.
If Brown meant to ruin Gagan's credibility by firing him for lying, the gambit backfired. Not only did it fail to destroy Gagan's reputation, but it succeeded in bringing more scrutiny on a troubled police department that in recent years has appeared to protect errant officers and attempt to cover up misconduct, mistakes, and malfeasance rather than openly confront and correct its failings.
Failings that include the dubious investigation and firing of Capt. Mark Gagan.
---
Gagan was hired by the Richmond Police Department in 1994, shortly after he graduated from Los Medanos College's Law Enforcement Academy. He had several offers from suburban cities with low crime rates, but he decided on Richmond. "I didn't want to work at a police department where they make a big deal out of little things like skateboarding on the sidewalk," Gagan said. "I really wanted to work in a city where there were real crime challenges, and I choose Richmond because I was aware of the challenges there."
He was promoted to sergeant in just five years, which made him the youngest and most quickly promoted police sergeant in Richmond's history. He led a SWAT team and a high-risk entry team that served search warrants on gang members and violent felons. The team made felony arrests and collected evidence including drugs, cash, and weapons like sawed-off shotguns and Tec-9 automatic handguns.
As a team leader, Gagan developed a reputation for keeping his officers calm prior to high-risk entries. Several officers familiar with Gagan's career said that during one remarkable year, Gagan's team executed 85 high-risk search warrants with no complaints for unnecessary use of force or unnecessary property damage — both of which are common with high-risk entries.
Gagan was recognized early on for his communication skills and his unique ability to connect with crime victims across cultural lines. In 2004, he became the city's primary public information officer, and one of his early tasks was being the department's point person on a tragic homicide that had caught the media's attention. A 15-year-old Laotian girl, Chan Boonkeut, was the unintended victim of a rivalry between two Southeast Asian gangs, the Color of Blood and the Sons of Death. Boonkeut was killed when three members of the Sons of Death, who police believe were targeting her brother, shot into Boonkeut's home.
Gagan developed a rapport with Boonkeut's father, Gwai, and, working with Contra Costa County Supervisor John Gioia, helped create the Southeast Asian Youth Task Force, which formed a relationship between the county and a previously insular immigrant community. The task force empowered the community's elders to work with the teenage gang members that ultimately brought an end to the rivalry and unhinged gang violence that included machete killings.
Gioia described Gagan's communication skillset as valuable. "I've known Capt. Gagan for a long time and worked with him for a long time," Gioia said. "Mark Gagan always avoided appearing strictly like a police officer, and community members trusted him because he was empathetic. People felt like they knew him as a person and not as a police officer."
[pullquote-1]
It was during Richmond's renaissance that Gagan rose to public prominence. The entire city underwent a rigorous reform beginning in 2004. Decades of corruption, mismanagement, and high-paying contracts for the city's public safety unions resulted in a financial crisis in 2003, according to a 2004 California State Auditor's report. The crisis was so severe that the city laid off hundreds of employees and closed libraries, senior centers, and fire stations.
The city hired Phil Batchelor, the retired Contra Costa County administrator, who made a list of various ways to correct the city's dysfunction. One of them was bringing in Bill Lindsay as a candidate for city manager. The city council hired Lindsay, who then hired new department heads, which essentially renewed the city's DNA and began a long process of reform. And one of Lindsay's most critical choices was hiring a new police chief, Chris Magnus.
When Magnus took over, the Richmond Police Department was still tainted by the misdeeds of a roving band of narcotics cops known as "The Cowboys," who terrorized the city in the early 1980s. After years of brutalizing suspects and violating the civil rights of Richmond residents, the Cowboys were involved in two separate killings of Black men. The subsequent civil cases resulted in a $3 million judgment, which at the time was the largest civil judgment for police abuse in the country's history.
While commenting on the case, a judge said there was clear evidence of an informal department policy that "encouraged and authorized violence and brutality by Richmond police officers against Black residents."
Despite the judgment and national attention, problems persisted. In 2002, Richmond police officers patrolling the Cinco de Mayo festival assaulted and pepper-sprayed Richmond resident Andrés Soto and his sons. They were thrown into a holding cell, where they met at least a dozen other men who had been similarly arrested. The group organized and ultimately won a settlement, and the experience inspired Soto to cofound the Richmond Progressive Alliance.
By 2006, when Magnus was hired, Richmond had been plagued by an excessively high homicide rate for decades. The city regularly made top 10 lists of the country's most dangerous cities, and it seemed like the heartbreak of deadly violence had become a ponderous miasma hanging over the working-class city. Richmond ministers regularly held anti-violence rallies at city council meetings, and in 2006, a series of spontaneous tent cities sprung up in the neighborhoods most affected by violent crime.
Magnus, who was openly gay, instituted wide-ranging reforms to the department that included promoting more women and people of color than any of his predecessors, upgrading crime-fighting technologies, and, perhaps most importantly, refashioning the department's relationship with Richmond's culturally diverse communities. During Magnus' reform efforts, Gagan's job was to communicate a new departmental philosophy characterized by a more respectful, trustworthy, and transparent approach to community relations.
As Magnus' reforms took hold, the city's homicide rate began to drop. There were 40 homicides in 2006 when Magnus took over, and by 2014 there was a record low of 11. The results attracted the attention of the national media and Magnus was invited to testify before the President's Task Force on 21st Century Policing, which was commissioned by President Barack Obama in 2014.
In 2015, Dr. Lorie Fridell of the Fair and Impartial Policing's training agency, which takes a scientific and psychological approach to its training methods, conducted several sessions with the Richmond Police Department. She said she was impressed with the level of trust the department had built up with the community through a multi-pronged approach that included precision policing, expanded communication policies, and long-term patrol assignments in which developing relationships with community members was a priority. "And one of the key features to building trust is being transparent," Fridell said. "Officers were expected to get out of their cars and engage with community members."
Officer accountability was a key element of Magnus' reform. "We're transparent and proactive in dealing with bad behavior," Magnus said in a 2015 interview with Richmond Pulse. "People [in the department] don't want to stand by and let the one percent break the public trust."
---
In 2016, rumors started to swirl that a major sex scandal was about to descend on the Richmond Police Department. Several Richmond police officers had been accused of having sex with an 18-year-old victim named Jasmine Abuslin, who was known as "Celeste Guap." Abuslin had also been exploited by Oakland police officers who were giving her protection, food, and restricted police information for sex while she was still a minor.
The lurid story unfolded in the glare of the national media, which caused the resignation of three Oakland police chiefs within nine days and ultimately cost Oakland taxpayers nearly $1 million to settle Abuslin's claim against the city.
As the scandal bore down on Richmond, Brown put together a plan to handle the department's public image. According to internal emails, Brown wanted to tightly control information about the sex scandal. He then made Lieutenant Felix Tan his chief of staff. Brown also appointed Tan as the lead public information officer and made him solely responsible for dealing with the press on anything related to Abuslin.
Both Brown and Assistant Chief Bisa French sent out department-wide emails that warned police employees they would be disciplined for talking about the case.
"If you have information that's pertinent to these investigations, you are directed to immediately disclose it to the Office of Professional Accountability," Brown wrote in a department-wide email on June 14, 2016. "It is not to be discussed, disseminated or otherwise shared with others. It must be kept confidential. Violators will subject themselves to graduated corrective, or punitive action."
The stern tone of the email suggested that Brown was more concerned about protecting the names of the officers who had exploited Abuslin than he was about the department's credibility.
[pullquote-4]
By July of 2016, the department's newly created Office of Professional Accountability was investigating 11 Richmond police officers for their involvement with Abuslin. In the midst of the investigation, Abuslin had started talking freely to the press. And that's when Brown decided to fly Abuslin out of town to a drug rehabilitation facility. Working through the Family Justice Center, a nonprofit the police department largely funds and is partnered with, a Richmond police sergeant showed up at Abuslin's family home in July. He rushed Abuslin out of her home with such urgency that she only had time to put on her bedroom slippers. According to Abuslin, Richmond officers attempted to persuade her to get her on a plane to Florida that day by telling her to consider the rehabilitation facility a "paid vacation."
Abuslin refused to get on the plane, but by mid-August, Richmond police officers had convinced her to leave town. Against department protocol, a lone officer, Sergeant Matt Stonebraker, drove Abuslin to the San Francisco airport and put her on a flight to Florida. Department protocol requires any female who is transported to be accompanied by at least two officers, and a male officer should never be alone with a sex crime victim. None of that occurred during Abuslin's transportation, nor was there a record kept of the mileage and destination, which also is required when transporting suspects and victims. Abuslin was booked into a Florida rehabilitation center that forbade any contact between patients and the outside world, including family members, investigators, and the press.
It was a risky move. Flying a sex-crime victim to another state for drug rehabilitation (instead of sending her to one of the dozens of rehabilitation facilities in the Bay Area) was unprecedented and highly questionable for Richmond police — especially considering the victim was at the center of at least three investigations in as many jurisdictions for police misconduct.
Brown would later claim in a four-page report to the city council that he had facilitated Abuslin's entry into a Florida rehabilitation center because he was concerned about her addiction. He denied allegations that he was hiding her from the press and investigators. "Representations that we 'sent' this teenage witness away or had her 'removed' to Florida distort reality," Brown wrote.
Critics said the Richmond Police Department's actions could be considered obstruction of justice and witness tampering, given that several jurisdictions were conducting investigations involving Abuslin.
"Why take the risk, at a minimum, of giving the community the impression that they are trying to hide something," former federal prosecutor Gil Soffer told ABC7. "Because that's the optics of it."
Brown did not put any of the officers who were accused of exploiting a teenager on administrative leave during the investigation. And the internal investigation concluded that there was no criminal wrongdoing by any of the 11 Richmond police officers who were investigated, according to Brown's five-page report to the Richmond City Council. He recommended only one officer be terminated, while others were suspended or received letters of reprimand from the chief.
Brown's report treated Abuslin alternatively harshly and compassionately. When it came to his officers having "non-criminal" sex with Abuslin, he described her as an "adult female teenager — a self-admitted sex worker" who bragged about having sexual encounters with many police officers. But then, when attempting to justify his decision to send her to Florida, he referred to Abuslin as a "documented" victim who needed the police department's help.
Brown's recommendations for reprimanding his officers for such a violation of the public trust were considered too lenient. After reviewing the 275-page report, City Manager Bill Lindsay promptly added three more officers to the termination list, for a total of four.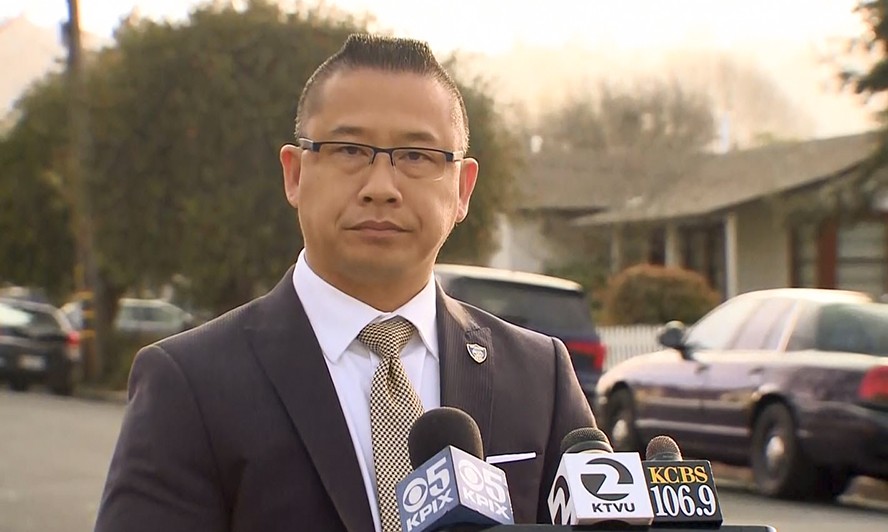 On Sept. 28, 2016, shortly after Brown submitted his final report on the scandal, Abuslin's attorneys, Pamela Price and Charles Bonner, filed a $30 million claim against Richmond citing 17 state and federal violations. In the claim, five high-ranking police officers were named by their initials, "A.H." (Lieutenant Andre Hill), "A.M." (Sergeant Armando Moreno), "M.R." (Sergeant Mike Rood, who had previous complaints for sexual misconduct), "J.T." (Officer Jerred Tong), and "F.T." The only officer on the police roster in 2016 with the initials "F.T." was Lieutenant Felix Tan, Brown's chief of staff and lead public information officer. Yet Brown had designated Tan the department's sole spokesperson about the Abuslin case.
According to Abuslin's attorneys, the five Richmond police officers exploited her for sex and encouraged her to remain in the sex trade. "After learning that [Abuslin] was a victim of sexual exploitation, the above referenced Richmond Police Department employees were obligated to protect her from trafficking, coercion and exploitation," the eight-page claim reads. "Instead they continued to exploit her by trading money, information and or protection for sex. Instead of helping [Abuslin] find a way out of exploitation, they furthered and deepened her spiral down into the sex trade."
The fact that Tan was the subject of investigation for his involvement with Abuslin should have been enough for Brown to remove him from being the sole source of public information about the case. But oddly, according to records obtained from the city's financial department, Brown instead sent Tan on three secret out-of-state trips with a girlfriend, Yvette Medina, who is also Brown's secretary.
[pullquote-5]
Ostensibly, Tan's three trips with Medina were to participate in Violence Reduction Network trainings. But despite numerous requests, the police department could not produce any work product from the three trips — no reports, presentations, or other form of tangible value to Richmond taxpayers who spent more than $5,000 on travel, accommodations, and meals for the couple in Dallas, Boston, and Kansas City. Receipts show that at the same time of scheduled Violence Reduction Network events, Tan and Medina were in taxi cabs or at restaurants. In addition, Tan, who earned $356,500 in 2016, according to Transparent California, also filed for 14.5 hours of overtime on two of the trips, which cost taxpayers an additional $1,624, without any explanation of how the money was earned.
Tan did not respond to calls and email requests for comment on this story.
The three trips were inexplicably kept secret within the police department. Against department policy, there are no records of the trips on the Personal and Training Order, a weekly log, maintained by Medina, of officers and staff who are not available. The trips also were not entered into the department's TeleStaff system, which tracks assignments, overtime, leave, and administrative training events, among other things.
Internal investigators sustained Abuslin's allegations against Tan and he received a chief's letter of reprimand, though the nature of the allegations remain confidential and Tan was not named in Abuslin's lawsuit against the city of Richmond.
Despite Tan's alleged involvement with Abuslin, he remained Richmond police's lead public information officer. Nonetheless, Tan's credibility was apparently beginning to thin, and during the coming months, it would fray.
---
Effectively running a police department of a mid-sized city is incredibly difficult. The measure of a well-run department is how its chief adjusts bad policies and disciplines officers who create problems, break the law, or fail to carry out their duties. Under Brown, there have been several high-profile cases in which the public was apparently misled to protect errant officers. In one case, officers may have been partly responsible for the death of a young Richmond mother.
On April 4, 2017, Rashanda Franklin started the day with her regular routine: The 29-year-old mother prepared her two sons, ages 5 and 8, for school. She secured them in their car seats, with their backpacks on their laps, in the back of her silver Jeep Wagoneer and headed for the New Direction Christian Academy on Rheem Avenue to drop them off before heading to cosmetology school.
As Franklin pulled into the academy parking lot, she saw her ex-boyfriend, Lawyer Dushaun McBride, 43, waiting for her. McBride had been stalking her for weeks and just a month before, had punched her to the ground at the academy while she was dropping her kids off, according to the Contra Costa County District Attorney's public case filings.
Franklin sped away from the academy and hit the Panic Button app on her cell phone. Terrified, she told the police dispatcher what was going on and gave updates on her location as she tried to evade McBride, who was following her in his car. But Franklin only managed to drive about a block or so before McBride cut her off. He got out of his car and the dispatcher heard Franklin plead with McBride, "The boys are in the car, the boys are in the car."
McBride said, "I'm not playing with you," and then the dispatcher heard a gunshot followed by silence and then the sound of the children screaming. The bullet had entered Franklin's left cheek and exited the right side of her neck. Franklin's two sons sat in their car seats holding their backpacks for more than a minute before a neighbor took them from the back of the Wagoneer and brought them to his home to wait for police.
The horror of the killing attracted the media and soon the streets around Rheem Avenue and 28th Street were clogged with TV news trucks. Tan arrived and began talking to the press. In multiple interviews, Tan talked about how Richmond police officers were disturbed and "anguished" by the killing. "We're having a hard time dealing with this because most of us are parents just like myself," Tan said in one interview. In another, he said, "Domestic violence cases are always very difficult situations. This one tugged at everyone's heart strings." In the days that followed, Tan told a San Francisco Chronicle reporter that the Richmond Police Department had done everything it could have.
What Tan failed to mention was that Richmond police were called to Franklin's home the night before.
On the evening of April 3, 2017, Franklin had hit the Panic Button app on her phone because McBride showed up to her front door and was making threats. According to the DA's public case filings, that evening McBride had made "credible threats with the intent that Rashanda Franklin be placed in reasonable fear for her safety."
Two Richmond police officers, Thomas Peterson and Michael Pagaling, were dispatched to Franklin's home, where she lived with her mother and two sons. When the officers arrived, they handcuffed McBride and Peterson conducted a short interview with Franklin. Then the two officers uncuffed McBride and left within 19 minutes of arriving, according to dispatch records.
Although the two officers did not arrest McBride, there was enough cause for them to do so. According to the DA's public case filings, McBride had been stalking Franklin for weeks and had physically attacked her one month prior at her sons' daycare. He had also repeatedly threatened to kill her, and at least one of those threats was made while standing on Franklin's front porch. According to the California Penal Code and the Richmond Police Policy Manual, each of those incidents were serious enough to warrant an arrest. In addition, McBride had previously been convicted of assault with a firearm. Combined, those incidents identified McBride as potentially lethal, according to the Richmond Police Policy Manual.
Given the circumstances, the Richmond Police Policy Manual required Peterson and Pagaling to interview all household residents, including Franklin's two children. Also according to the police manual, the officers should have conducted a "Domestic Violence Lethality Assessment," which is a series of questions posed to the victim of domestic violence that determines the risk of future violence. The assessment would likely have determined that Franklin was in "high danger," a designation used for a victim who is in the greatest risk of being killed, according to the policy manual.
Furthermore, Peterson and Pagaling violated numerous sections of the California Penal Code by not filing a domestic violence and stalking report, which is also required by department policy.
And perhaps most alarming, the two officers faced no disciplinary action for dereliction of duty and their failure to follow department protocol. Chief Brown did not respond to phone calls or emails regarding the department's response to Franklin's domestic violence call on April 3, 2017.
[pullquote-6]
Franklin's mother, Barbara Porter, is frail from health problems but has not shrunk from the responsibility of caring for her daughter's two young sons. She said they are doing well given the trauma they experienced. More than a year later, Porter still thinks about the police officers who came to her home the night before her daughter was killed.
"I thought they could have done more," Porter said. "The police weren't here that long. They talked to [McBride] outside and got him to go and then they left."
Porter said she misses her daughter and that life has become more of a struggle without her. "I was depending on her quite a bit," she said.
For Gagan, the Franklin case was deeply distressing. According to a medical report, Gagan had already been experiencing symptoms such as sleeplessness, anxiety, depression, and sudden and disturbing memories. And he was self-medicating with alcohol.
After Gagan and his supervisor, Assistant Chief Bisa French, visited Franklin's mother and her two grandsons two days after the killing, the stress became too much to bear.
Gagan said he spent some time with the two children in the living room, showing them pictures on his cell phone and asking them about school. Suddenly, one of Franklin's sons, without any prompting, referred to the killing he had witnessed: "Mommy was snoring and she wouldn't wake up," he said.
After leaving Franklin's home, Gagan and French solemnly climbed into their command staff vehicle, and in the tinted, half-privacy of the black SUV, Gagan began to weep. He turned to French and said, "I can't do this anymore."
Gagan went on medical leave, which he spent at the West Coast Post-Trauma Retreat in Angwin, Calif. The retreat helps first responders deal with work-related stress. At the retreat, Gagan was able to attach the symptoms he had been experiencing to a diagnoses of Post-Traumatic Stress Disorder (PTSD). The killing of Franklin triggered a crisis for Gagan, according to a medical evaluation. Gagan's 23 years of being closely involved with families who had been decimated by brutal killings, rape, and drug addiction had accumulated into a persistent and diagnosable mental anguish.
Gagan maintained his work schedule despite the diagnosis of PTSD. As he began to learn more about the condition and effective ways to deal with the symptoms, things began to go much better at work and in his personal life. But he was still in a weakened and vulnerable state, and that's when his old friend Allwyn Brown turned on him.
---
In late October of 2016, Richmond Vice Mayor Eduardo Martinez was robbed at gunpoint after a candidate forum outside of Riggers Loft Wine Company in Richmond. His wallet and phone were taken so he drove to a nearby hotel, about two miles away, to report the crime. According to a supplemental report, when Sergeant Timothy Gard arrived, he noticed the smell of alcohol on Martinez' breath and that he was driving a city-owned car. He wrote that he drove Martinez home for safety reasons. Martinez was not given any field sobriety or blood-alcohol tests.
A few days later, someone leaked the supplemental report to a TV news reporter. On Nov. 7, 2017, ABC7 reporter Melanie Woodrow aired a piece about Martinez's questionable use of a city car and the claim that he smelled of alcohol. (Martinez admitted that he drank alcohol at the event but said he was not drunk.)
An embarrassed Martinez filed a complaint, which became the subject of another internal investigation by the department's Office of Professional Accountability (OPA). In his complaint, Martinez identified Richmond Police Officers Association (RPOA) President Benjamin Therriault as a likely suspect in releasing the report, citing Therriault's established working relationship with Woodrow and the police union's long history of antagonism with Martinez and the Richmond Progressive Alliance, of which Martinez is a member. In every Richmond election as far back as 2008, the RPOA has paid for hit-piece fliers to be distributed through the mail. The RPOA's favorite target is the Richmond Progressive Alliance. In 2010, the RPOA sent a flier attacking Mayor Gayle McLaughlin's mental health. In another, Councilmember Jovanka Beckles and former Councilmember Jeff Ritterman were attacked for promoting yoga and meditation for at-risk youth. Martinez, who is a frequent RPOA target, was depicted in 2012 on a flier marching with black bloc anarchists, and in another, he was made to resemble Joseph Stalin.
Furthermore, Therriault had publicly condemned Martinez for driving a city-owned car to the wine bar at a Nov. 1, 2017 Richmond City Council meeting. Therriault had worked with Woodrow on numerous occasions, including, in March 2016, a ride-along with him for a report on a series of Interstate 80 shootings.
In fact, Therriault was initially the focus of the investigation until, for unknown reasons, it suddenly switched to Gagan. Woodrow refused to divulge her source for the restricted police report. As a suspect, Gagan had no clear motive for releasing the report. He had no dispute with the Richmond Progressive Alliance or Martinez. (And later, when Gagan was fired, Martinez issued a statement defending him. "Mark Gagan is an outstanding example of a community minded police officer," he wrote. "I have always known him to be hard working, open to the whole community and fair.")
Unlike he had done with the officers who had been accused of sexually exploiting a minor, Brown put Gagan on administrative leave pending the outcome of the investigation.
[pullquote-7]
After an 11-month investigation that researched thousands of email and telephone records, interviewed 17 witnesses, and produced a 109-page report, Eddie Aubrey, the OPA chief investigator, could find no hard evidence that Gagan leaked the report to Woodrow. Instead, all Aubrey had was speculation about a few phone calls and emails.
There also were glaring omissions and irregularities in the seemingly exhaustive report. Aubrey's interview with Therriault, which was obtained by the Express, was not included in the final investigative report. And Tan, who Aubrey failed to mention also had a close working relationship with the ABC reporter Woodrow, both gave damaging testimony against Gagan and acted as an investigator.
In fact, there were dozens of emails and phone calls between Tan and Woodrow, according to city phone and email records. One phone call, which took place on the day Woodrow's story aired, was 19 minutes long.
Despite the internal investigative report's shortcomings and the irregularities, Brown held a "Skelly Hearing," which allows the subject of an internal investigation to challenge the findings. Brown chaired the hearing, despite the fact that he had submitted email evidence against Gagan, and after some perfunctory review, Brown recommended that Gagan be terminated. In his five-page letter to City Manager Bill Lindsay, Brown cited five phone calls between Gagan and Woodrow over the course of two years as proof that Gagan provided her with the police report. Because Gagan denied knowing Woodrow, Brown called Gagan "dishonest," "misleading," and "untrustworthy."
"This type of misleading gamesmanship, also exhibited during Captain Gagan's administrative interviews in this case, further support my opinion that Captain Gagan's untrustworthiness and integrity is beneath the level expected of any sworn employee at the Richmond Police Department," Brown wrote.
Nowhere in the letter did Brown mention Therriault's animosity toward Martinez or his relationship with Woodrow. Nor did Brown explain why the investigation went from focusing on Therriault to Gagan despite the fact that Therriault knew Woodrow, had publicly criticized Martinez, and had been identified in Martinez's complaint as likely being the person who released the report.
Lindsay signed Gagan's termination letter on Nov. 22, 2017, and the department went about the logistics of his firing in a humiliating way. According to Gagan, he was not immediately notified about his termination, and his possessions were boxed and then mislaid. Brown's secretary, Yvette Medina, misrepresented the date of his firing on the official internal notice, which reduced his owed salary, and Richmond Human Resources Management Department Director Lisa Stephenson made an error on his COBRA health insurance, which left him without critically needed coverage for his family.
After reviewing the internal investigation, Lindsay reversed Gagan's termination. In a May 4, 2018 email to the city council, Lindsay said the evidence against him was lacking. "In sum, I found there was insufficient evidence to support the charges that gave rise to the disciplinary action against him," Lindsay wrote. "Mark Gagan will be reinstated to his former position of Police Captain as soon as reasonably possible."
But the grueling internal investigation and attempts to discredit Gagan aggravated his PTSD. Now, he says it's unlikely he'll return to duty as a Richmond police officer.
---
Gagan's absence has left a void in Richmond. The RYSE Youth Center in Richmond offers a variety of services for underprivileged youth, including health, education, and arts and culture programs. One critical service is assisting young people and their families when a young person has been injured in a violent event. To qualify victims for restitution funding, RYSE needs to submit a police report on the incident. But since Gagan was fired, communication with the police department has become dodgy at best, said Executive Director Kim Aceves.
"Mark would interact with us in a way that did not close ranks," Aceves said. "He promoted trust. He showed up in a way that we could partner with. Mark understood why he needed to respond quickly with police reports and info that allowed us to best serve children and their families. Now, the lines of communication with the PD seem as though they've been slowed to a halt."
Gagan stopped drinking more than a year ago. He still struggles with the symptoms of PTSD, but he is looking forward to becoming a counselor for first responders who struggle with PTSD and other job-related conditions. But for now, he is still at odds with the city over details of his reinstatement and medical retirement, which means he won't be able to move on with his life until the issues are resolved.
Earlier this month, Gagan brought his wife, Christy, and their two small children to a Richmond City Council meeting. He was gracious and friendly with those who came up and congratulated him on his reinstatement.
Outside the council meeting, there was a spontaneous testament to Gagan's ability to overcome differences between the police department and the community it serves.
The Gagans were standing outside the council chamber while their two children, ages 8 and 7, ran around the broad plaza of Richmond's City Hall when the Perez family recognized Gagan.
In 2014, a Richmond police officer shot and killed Richard "Pedie" Perez, who was unarmed, outside of a market. Perez's father and his grandparents still attend city council meetings to express their anger at the police department and call attention to the department's lack of transparency regarding their grandson's killing.
Despite their difficulties with the Richmond Police Department, the Perezes came over to Gagan and said they were happy to hear about his reinstatement. Pedie's grandmother, Pat Perez, told Gagan he was looking healthy and admired his two children.
"We miss you," she said.
Correction:
A previous version of this story stated that Contra Costa County took over Richmond's government operations and hired Bill Lindsay as the new city manager. In fact, the city hired Phil Batchelor, the retired Contra Costa County administrator, who brought in Lindsay as a candidate for city manager. The city council then hired Lindsay. This version has been corrected.