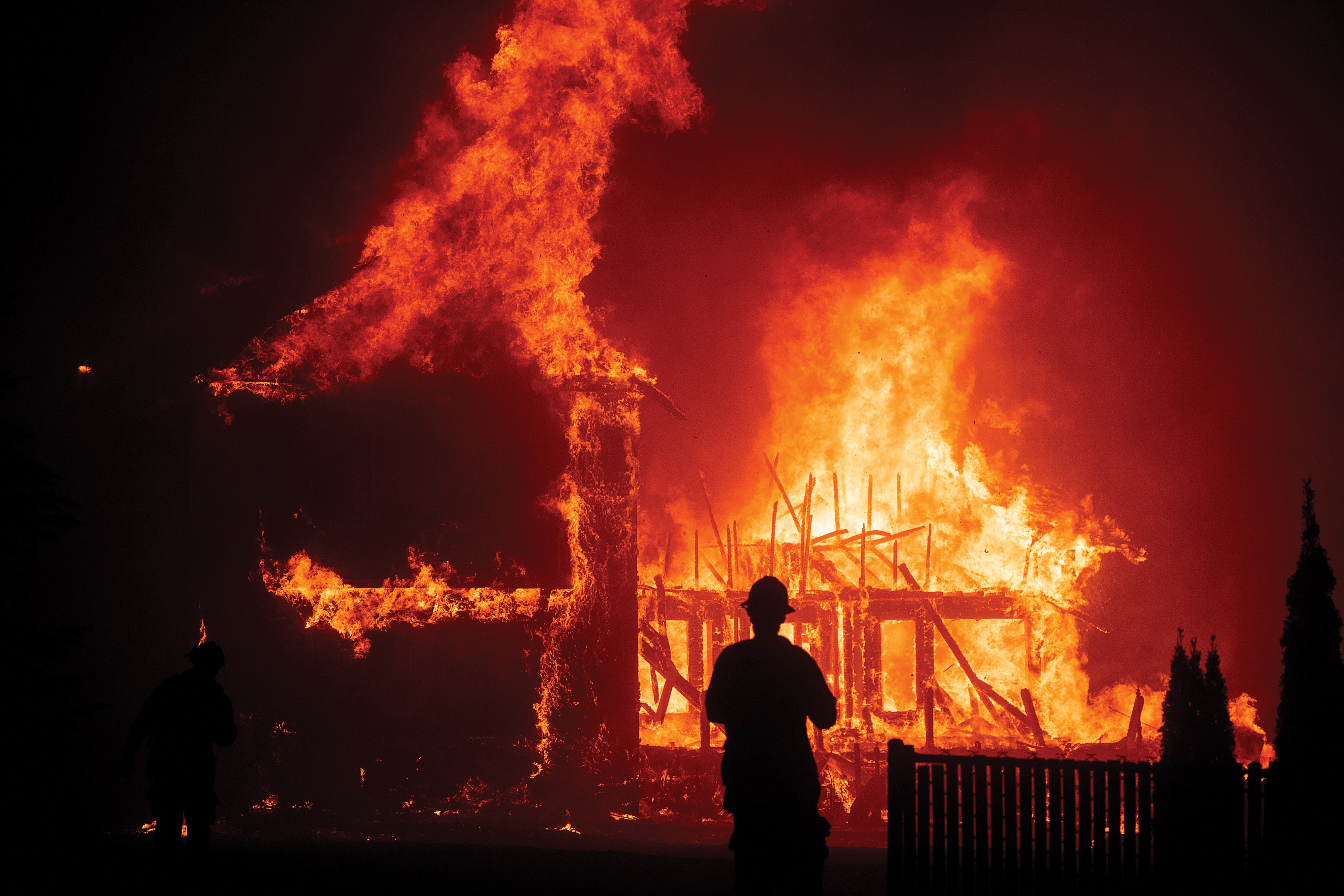 By any measure, 2018 was California's worst wildfire season. The state experienced its largest fire in history: the Mendocino Complex of blazes, which burned 717 square miles of forests, grassland, and chaparral. For scale, that's equivalent to more than double the entire land area of New York City.
This year, we also experienced the deadliest fire on record, the Camp Fire, which raged across Butte County, immolated the town of Paradise, killed 86 people, and smothered the East Bay in dangerous smoke for two weeks, leading to school closures and a spike in emergency room visits. The Camp Fire also topped the list of the state's most destructive fires by destroying approximately 18,804 structures, including over 12,000 homes.
The Camp Fire was so unprecedented that it practically caused most of the rest of the state to forget that another firestorm had already put 2018 in the record books. The Carr Fire, which swept out of the forested hills of Shasta and Trinity counties into the city of Redding, consumed 229,651 acres, killed 7 people, and destroyed 1,604 structures, making it the seventh largest fire in land area affected and the 14th deadliest in state history.
2017 was also record-breaking, a fact that simply underscores how we seem to have entered a new and more hazardous era of bigger fires over a lengthier dry season. 2017 ranks as the second worst fire season on record because of October's delivery of hot Diablo winds across Northern California and Santa Anas over the South Coast, which fueled the Tubbs, Nuns, Atlas, Redwood Valley, and Thomas fires that consumed forests and cities in Mendocino, Sonoma, Napa, Santa Barbara, and Ventura counties. Together, these fires destroyed 9,383 structures and killed 42 people.
The human toll of lives lost, people displaced and made homeless, and cherished possessions destroyed by these fires is certainly incalculable.
Still, the financial toll of the past two fires seasons has to be accounted for. As California's climate changes and droughts become more prolonged, as trees at lower elevations die off by the millions, and as development continues to sprawl out into the wildlands-urban interface, fires will continue to grow in size and impact.
Already it's clear that California is having trouble paying for the costs of suppressing the new mega-fires, cleaning up the charred remains, and rebuilding.
This year, the state's Department of Forestry and Fire Protection, or CalFire, exhausted its entire firefighting budget before the fire season was even halfway over. In September, CalFire reported having spent $432 million of its $443 million total annual budget, leaving it with a meager $11 million before the Camp Fire sparked.
The Carr Fire was largely to blame. It cost $158 million to put down. The Camp Fire is now estimated to have cost over $102 million just to extinguish, according to the National Interagency Fire Center. That pushes 2018's CalFire budget for fire suppression efforts to $676 million and counting. 2018 will go down as the second costliest year in state history measured in terms of the state's firefighting budget, with 2017 ranking first at $947 million in suppression expenditures.
The growing cost of fighting fires is alarming. In the early 2000s, CalFire's fire suppression spending hovered at around $160 million per year, according to state budget records. Over the past five years, this has grown to an average of $633 million per year. In other words, California's annual state budget for fire suppression is rapidly climbing toward the billion-dollar mark.
It's possible the state could avoid spending billions in the future on fighting fires through better forestry practices such as forest restoration and preventative burns. This year, for example, the state budgeted $30 million for prescribed burning, a practice that reduces fuel loads in wildlands and returns fire to the ecological balance of frequent, smaller fires to the state's coastal and sierra environments. Still, most experts believe the state could substantially expand the acreage it preventatively burns each year. Another preventative technique is thinning out dead trees, including about 22 million conifers killed over the past decade by drought and bark beetles. Efforts like these could end up saving billions in long-term fire suppression costs, but they require up-front investments that are expensive on their own.
The state's growing bill to fight fires doesn't even count how much counties and cities are also having to spend.
In the East Bay, the Alameda County Fire Department's budget is $138 million this year with about 90 percent of this going toward operations, including fire suppression. Oakland spent $146 million on its fire department this year, and Berkeley expended $39 million. As with other major fire departments in the state, Alameda County, Oakland, and Berkeley's firefighters all helped fight major fires like the Tubbs, Carr, and Camp Fire in 2017 and 2018. These mutual aid efforts are paid for partly through state funds, but many local governments are still straining to pay for their fire departments due to rising costs of health care, pensions, salaries, and equipment.
Astonishingly, the costs to government of fighting and preventing catastrophic wildfires is actually dwarfed by the economic damage these disasters inflict when measured in terms of private property losses. According to California's Department of Insurance, the 2017 wildfires destroyed more than $8.4 billion in residential real estate and $789 million in commercial property, plus vehicles and other personal property valued at $96 million.
The 2018 fires have probably topped this, with $9 billion and counting in estimated losses. State Insurance Commissioner Dave Jones called the devastation "shocking" and "unfathomable."
Already, some insurers are pulling out of California's riskier counties due to the almost assured loss of property and life in future fires. In addition, PG&E is facing billions in dollars in liability from blazes ignited by power lines knocked down by strong winds that typically accompany major wildfires.
Ultimately, the rising costs of fighting fires and rebuilding from their destruction calls into question a half-century of state and local policies that have allowed communities to sprawl into fire-prone areas.
But climate change and prolonged droughts also mean wildfires are becoming more intense and destructive on their own, and the financial costs they impose on us, to say nothing of the loss of human life, will force Californians in the coming year to rethink not only how we fight catastrophic fires, but how we prevent them in the first place.