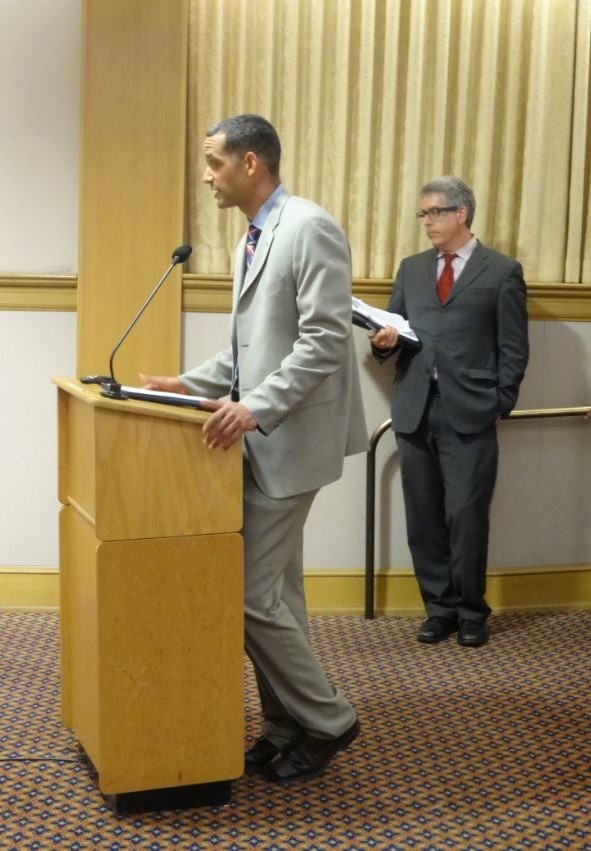 The Federal Bureau of Investigation is committing $110,000 toward the creation of a state-of-the-art center for investigations in the Oakland Police Department,
according to a briefing
provided by OPD and the FBI at the Oakland City Council's public safety committee meeting last night. The FBI funds will support the buildout of a $173,000 work space inside OPD's Police Administration Building, and officials said the center will utilize the latest technologies to analyze social networks and track persons of interest across state lines. The joint effort will bring as many as ten FBI agents into OPD's criminal investigations division to expand the department's investigative capacity.
The new facility will include twelve computer workstations with access to FBINet, the bureau's classified intranet. According to
a 2007 General Accounting Office report to Congress
, FBINet "communicates secret information, including investigative case files and intelligence pertaining to national security," and has been a critical tool in the creation of so-called fusion centers that collect and share law enforcement information between federal, state and local agencies.
[jump]
See More: 
Why Oakland Police Can't Solve Crime 
Counter-Terrorism Officials Helped Track Protesters
According to Bruce Stoffmacher of OPD's strategic planning office, the cost of the workstations is due to the high level of encryption required by the FBI. Russell Nimmo, FBI special agent, said $35,000 of federal and city funds will be used to reinforce doors to the facility, install video security, and to install safes into which computer hard drives will be stashed every night.
"This has been a very successful program and we want to keep it rolling," Nimmo said. "Everyone in [OPD] homicide has been deputized as a task force officer and has access to the FBI database and access to resources outside of the state."
OPD Lieutenant Roland Holmgren said that recent joint FBI-OPD investigations have followed suspects to Nevada, Florida, and Southern California. "Without FBI assistance we would not have had the resources to undertake these investigations," he said.
Holmgren said OPD will have access to many of FBI tools, including software to conduct "social network analysis" of suspects and their social networks. "We can see what sphere of influence these individuals have," he said. Holmgren added that the FBI-OPD team would be opening cold case homicide files from 1974 and 1979 by analyzing DNA evidence.
According to OPD Assistant Chief of Police Paul Figueroa, the FBI has partnered with Oakland through this task force since June of 2014."The FBI sent agents in response to low [homicide] clearance rates, and to help track suspects across state lines."
The full city council still has to approve a memorandum of understanding with the FBI for this task force expansion.