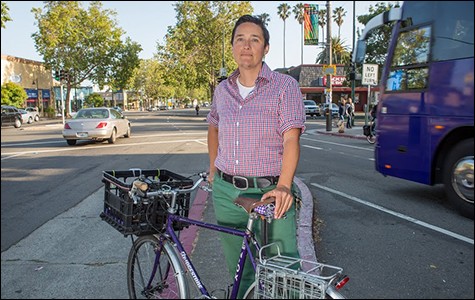 For months, the City of Oakland has solicited feedback on the planned
redesign of Telegraph Avenue
 — with a focus on how to make the busy corridor safer for pedestrians and
cyclists
. Now, city officials have released draft
recommendations
for the renovation of this popular thoroughfare, and cycling advocates say the proposal falls short in its roadway design for cyclists. Though the revamp would be a improvement for cyclists, the plan lacks a continuous bike lane that is protected from car traffic — a critical flaw in the proposal, according to bike groups.
Bike East Bay — the local cycling advocacy group that has been pushing for a safe bike path on Telegraph Avenue — has published 
preliminary commentary
on the city's proposal, arguing that the redesign would force cyclists on Telegraph Avenue to continually mix with cars and trucks. You can check out full details of the city's recommendations in these PDFs — the
draft plan and recommendations
, the
illustrative drawings of the entire study corridor
, a
supplemental traffic and transit analysis
, and a
summary of the spring 2014 open house comments
. 
[jump]
The draft plan features recommendations for a redesign of Telegraph from 20th Street to 57th Street, a stretch that includes the busy Temescal shopping corridor in North Oakland. Bike lane improvements are just one piece of the plan, but will likely be the most controversial as the project moves forward. There's good reason to focus on bike-friendliness in the redesign: According to the city's own estimates, roughly
1,200 cyclists ride Telegraph Avenue
each day, despite the fact that there's currently no bike lane there. And anyone who has cycled on Telegraph knows that it's something of an obstacle course where bikes have to compete with cars and buses on the crowded street. 
The proposal, covering 2.4 miles of Telegraph Avenue, calls for "buffered bike lanes" between 20th and 46th streets, meaning a dedicated lane for cyclists that is separated from cars with additional striping. The lane, however, would then disappear from 46th to 52nd streets, where there would be shared lane markings (known as sharrows) indicating that cars should share the road with bikes. Then from 52nd to 57th streets, the bike lane would return, though this section would not have a consistent striping buffer like the 20th to 46th section. (Page 35 of the
draft plan
includes a short summary of the bike infrastructure on these three segments). 
Here's an example of a buffered bike lane, via the city's report: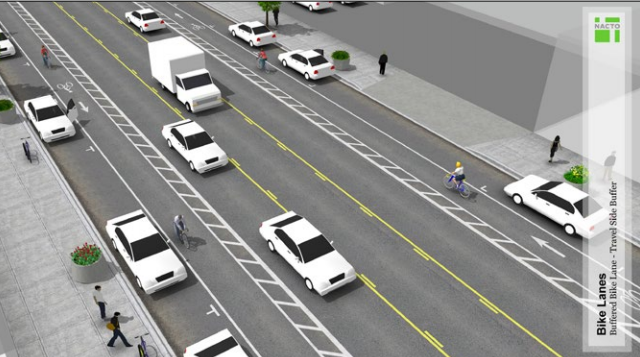 And here's an example of a lane with shared marking symbols: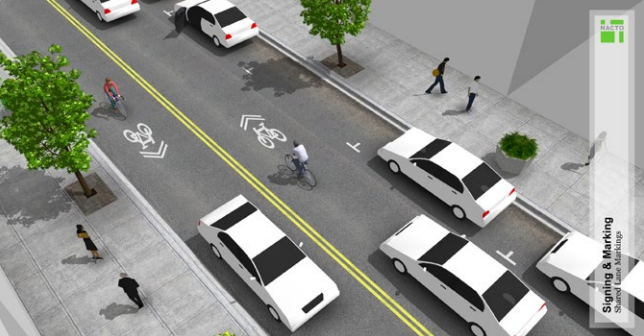 And here's part of the city's map, showing a section of Telegraph that will lack a bike lane: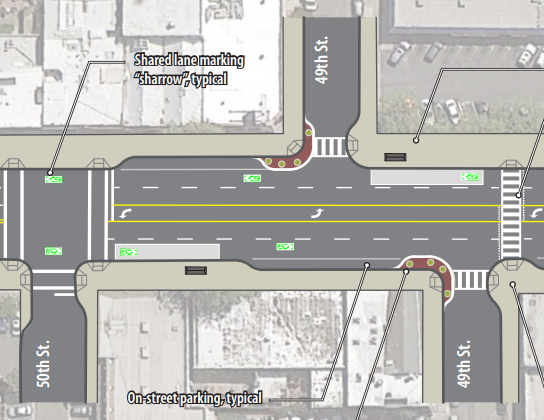 In response, Bike East Bay wrote that it appreciates certain pedestrian and transit improvements, including the fact that the bike lanes go around the back side of bus-boarding islands. However, the organization said:
[N]ew bikeways need to be 'continuous' and not force you to continually mix with cars and trucks that travel up to 35-40mph. Buffered bike lanes improve the experience and make it safer for people who currently bicycle and want to ride on Telegraph Avenue, but buffered bike lanes between parked cars and moving cars do not attract new people to bicycling or encourage others to replace one or two car trips a week with a bicycle trip. Converting more trips to active transportation is necessary if we are going to make Oakland a better city to live and a more successful city for local businesses and new businesses interested in investing in our unique city.

Since the start of the process, Bike East Bay has been advocating for "protected bike lanes," also known as "cycle tracks," where the bike lane is separated from vehicle traffic with a more substantial buffer than street markings, typically a lane of parking. On Bike to Work Day, the group organized a
demonstration
 of a protected bike lane on Telegraph Avenue: 
The group is now hoping that the city will at least launch a more comprehensive pilot project exploring protected lanes, using low-cost materials like planter boxes. In its recent report, the city noted that 90 percent of respondents to a survey supported measures to calm traffic on Telegraph — and that 70 percent of that group supported a protected cycle track, while 30 percent supported the buffered bike lanes. Still, the report said it is recommending buffered lanes over cycle tracks, because with cycle tracks, pedestrians entering and exiting parked cars have to cross the path of cyclists (since the bike lane is located between the sidewalk and a parking lane). You can read the city's full explanation on
page 34
.
It's worth noting that these types of protected lanes
exist in San Francisco
, and that studies of bike infrastructure have
increasingly demonstrated
 the value of these types of designs. And as I noted in a
recent story on the fight for bike lanes on Telegraph
, studies across the country have also shown that improved bike infrastructure can provide a boost to local retailers by encouraging more frequent shopping trips. 
The city has
two upcoming public meetings
where it will present the latest draft plan and solicit feedback: Thursday, September 11, 6 p.m. at Beebe Memorial Cathedral (3900 Telegraph Ave., at 40th Street), and Saturday, September 13, 10 a.m. at Gogi Time Restaurant Banquet Hall (2600 Telegraph Ave., at 27th Street).