Brownyn Harris was walking down Telegraph Avenue in Berkeley last Friday when she noticed two pieces of paper inside the window at Pappy's Grill & Sports Bar that forced her to stop and take a photo. They were two hiring signs. One was in English, and it asked for cashiers and bartenders. The other was in Spanish, and it asked for dishwashers.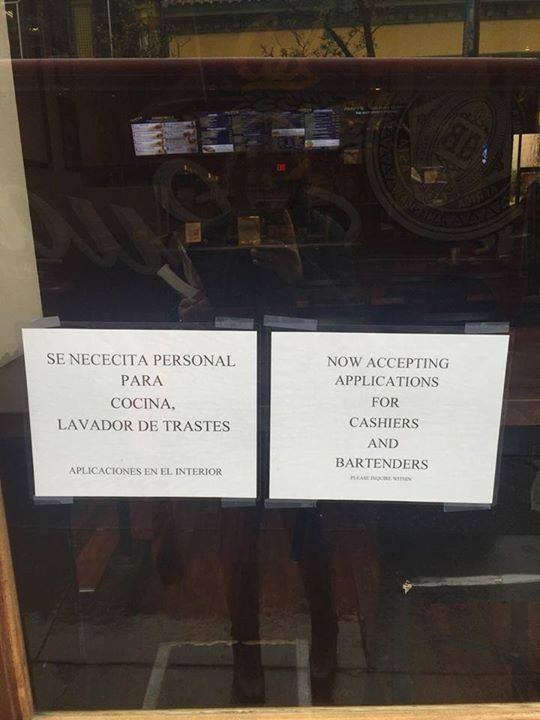 Harris, who is a non-native Spanish speaker, said she went back to double-check that she had read the signs correctly, and even looked up the words for reassurance. She took a photo of the signs and sent it to her friend Elma Rico Kastning, who grew up speaking Spanish at home, and confirmed what the business was asking for.
"Bronwyn sent me the full picture and what took me by surprise was that the dishwasher was only in Spanish," Rico Kastning said. "That's what sparked my disgust."
Feeling more upset about the signs as she walked, Harris posted the photo to the restaurant's
Facebook page
. As it turned out, she wasn't the only one looking to the business's social media presence for answers.
The signs, which were taken down later that day, were widely criticized on the restaurant's Facebook page by Berkeley locals and other passersby who noticed and were offended.
Online, Marissa Martinez wrote, "Do Spanish speakers have to sit in a different section? Que mal." Another commenter, Gloria Gamberg, simply said, "Awful."
[jump] Rather than apologizing for the discriminatory nature of the hiring method, the restaurant adamantly defended its signs:
As a small business owner operating in Berkeley for over 20 years, employing over 400 employees during that time, it's pretty surprising you are insinuating we discriminate in our hiring practices. If you were actually a customer of Pappy's you might notice we have 3 African American bartenders and an American Indian bartender. We support diversity and equality and we wouldn't have been able to operate in Berkeley without that approach.

We base our hiring and advancement on performance and ability. In fact, one of our African American bartenders started as a cashier and she wanted to bartend and even though she didn't have any experience, we gave her a shot. She is now one of our best bartenders and has a great following.

Specific to your question about the signs for certain positions, yes we had a sign, in Spanish only, for a dishwasher. Why? Because our two Chefs (who have been with us for 15 and 8 years respectively) and our prep cooks use Spanish as a primary language and often our dishwasher helps with prep. So to make our prep kitchen more efficient we require our dishwasher to speak Spanish. So, by posting the sign in Spanish only, we save time by not interviewing people who don't speak Spanish.

Your posting suggests that is racist or incorrect. Why? Are you saying only certain races speak Spanish? Sorry if there was a misunderstanding. The signs have been taken down and will be revised. Just as we need our bartenders and cashiers to speak English, we require our prep & dishwashing staff to speak Spanish. If you speak Spanish, we would be happy to consider your application for dishwashing or prep.

Those upset by the signs were unswayed by the response, which seemed to further elaborate on the business' discriminatory practices – like pointing to how it hires only Spanish speakers for dishwashing or prep jobs – used by the restaurant.
"It was full of if you this 'if you were actually a customer you would know,' and 'we have a Black bartender how could we be racist' sort of thing," Harris said. "Their apology was condescending and didn't make me feel any better about it."
Daniel Judysson Olson also replied to the business's explanation online saying, "Even if your intent is simplicity for yourselves, this type of unequal advertising fosters segregation in the workplace. Regardless of your intent, people reading the signs will feel that their group is unwelcome to apply."
Though the business claims it had the dishwashing job listed in Spanish to save time by only interviewing people who only know the language, there was no indication of why this would be justifiable on the original fliers. Rico Kastning and others have suggested the business should have posted both signs in both languages, or include information about which positions require English proficiency and why, as well as which positions require Spanish proficiency and why.
Saru Jayaraman, co-founder and co-director of Restaurant Opportunities Center United, a nonprofit that seeks to improve wages and working conditions for low wage restaurant workforce in the United States, also felt the signs were discriminatory, but said the issue isn't limited to Pappy's. "You walk into any restaurant and what's on these signs is normalized to any restaurant. Skin color gets darker the further back in the restaurant you go. It's incredibly pervasive and very common," Jayaraman said.
It doesn't matter if the restaurant owners are trying to hire only dishwashers who speak Spanish because the chefs speak Spanish if the line of segregation between the front and back remains, Jayaraman said. What's still missing is an avenue to move into livable wage jobs and to move up to front of the house jobs, which her organization has found that 
whites have double the opportunity of being hired into.
Jayaraman said ROC's research has shown that 66 percent of restaurant workers nationwide never get any promotions or raises. Hiring only Spanish speakers to perform back-of-the-house jobs enables workplace discrimination in an industry that notoriously averts opportunities to cross lines of segregation. "It's not about this one restaurant, it's about the industry," Jayaraman said. "You'd be letting the industry off the hook if you said it was just this."
Pappy's owner Alex Popov did not respond to the
Express
regarding the hiring signs.