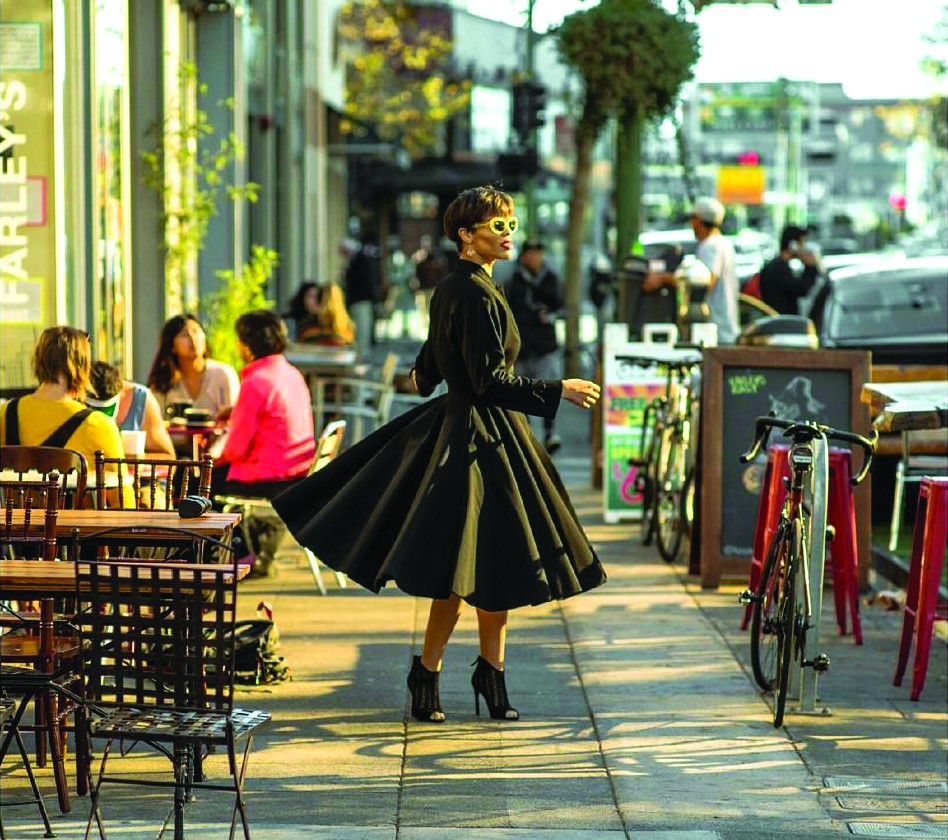 Shayla Jamerson is as Oakland as it gets. She was born and raised by her grandparents in The Town. Her brother and nephew both fell victim to street violence. But she did not let guns or drugs define her future. She traveled the country, visiting Chicago, Louisiana, and Atlanta. After a while, though, she began feeling homesick. And while living in Atlanta, she experienced a revelation.
"I kept leaving Oakland, and didn't understand why. 'I'm from a dope place, why do I keep running away?'" she said she asked herself. "It took me going away to realize my city's worth."
In the summer of 2015, she took the plunge, left Atlanta, and returned to Oakland, she says for good. The #RegularsOnly crew, a collective that puts on shows and throws parties in West Oakland, threw her a "welcome back" party. It was at this event that she realized what she wanted to do: more parties — but with a purpose.
And that's how the SoOakland Collective was born. The first ever SoOakland party was that fall, for Halloween, and more than 750 people showed up. The next one, in January 2016, featured one of her biggest crowds, reaching 1,500 people in attendance.
Today, SoOakland's house parties are a staple for Oakland's young professionals. Jamerson develops the concepts for her themed parties, and she curates an eclectic lineup of DJ's, performers, and vendors for each party. The goal is simple: Spread the word about local businesses owned by people-of-color, invite like-minded attendees, and ensure the safety of the partygoers. Each party is an homage to the house parties many of us went to when we were young. Jamerson likes to keep the casual, laid-back atmosphere, a contrast to the more upscale and "bourgie" events in Oakland.
This is one of the main reasons why each house party is invite-only. Rather than having SoOakland's events open to the public, Jamerson sends out email invites to those who sign-up on its website (SoOakland.com) to receive information about the collective. This way, those who don't share SoOakland's values are, in theory, weeded out.
She says SoOakland is, in part, a response to gentrification in Oakland. Jamerson says she felt that most events in the city cater to transplants, and that longtime residents of Oakland simply do not feel welcome, leaving many Oaklanders feeling like strangers in their own hometown.
"We love our city and hate what is becoming. I wanted to fight the perception of gatherings among Blacks and Browns. I wanted a space to show Oakland culture," she told the Express.
The SoOakland parties have garnered massive attention. Even Mayor Libby Schaaf took notice of Jamerson's work, and last July the she proclaimed July 30 as "SoOakland Day."
The parties have also attracted artists such as Mistah F.A.B. and Dru Down, who have surprised attendees with performances.
Further adding to her idea of a "party with a purpose," Jamerson often incorporates a social cause to every SoOakland parties. Last year, for example, a summer party included a crew of volunteers that were dedicated to registering attendees to vote.
At the next SoOakland part this week, on Saturday, April 15, 5 percent of the proceeds from ticket sales will benefit Misssey.org, an Oakland nonprofit organization that raises awareness and combats child trafficking. The theme for this SoOakland event is "Wine.Trap.Fashion."
Jamerson's goal for the collective is to make it something bigger than just parties, though. She wants to leave a permanent imprint, of fighting for causes that affect Black, Brown and LGBTQ communities in Oakland. A legacy of standing up for basic human rights, fighting gentrification, and enabling home-ownership.
"You can put up condos all around Oakland and change the blueprint of the city, but you will never get rid of the culture that made Oakland the city it is," she said.