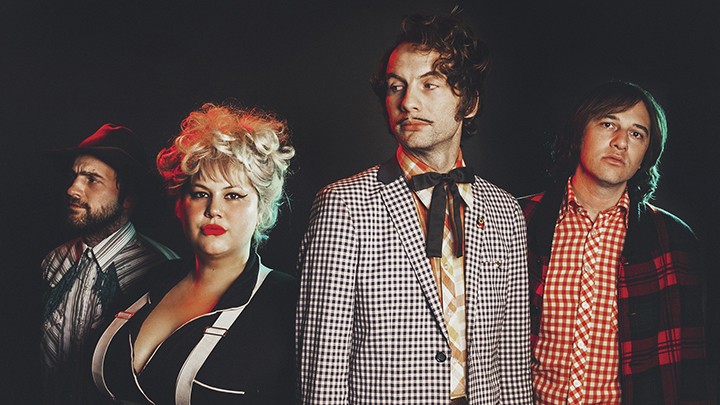 The narrative destined to attach itself onto Onion, the latest full-length studio album by Oakland garage rockers Shannon and the Clams, is its relation to the Ghost Ship fire. This is expected and earned.
Formed in the late 2000s by Shannon Shaw and Cody Blanchard, the now-quartet had incubated throughout the Bay's warehouses before becoming one of the scene's biggest success stories. While they've rocked sunset slots at Coachella, Hardly Strictly, and Burger Boogaloo — they've played the last four Boogaloos, three hosted by John Waters, a fitting convergence as the most apt description of the band's sound is likely rock critic Jessica Hopper's assertion that they're a "Waters' lucid dream" — it's in those dark open spaces, among donation jars, stocked coolers, and plastic wine cups, where the band truly shines.
This combo of warehouse cred and national profile made them the natural headliner for arguably the most emotional Ghost Ship benefit show, at Eli's Mile High Club, two weeks after the fire.
"We lost some friends," Shaw said, "and the entire community lost some of our bright, sparkling gems."
While the broad strokes for Onion had been layered before the tragedy, Shaw and Blanchard penned last-minute revisions in the fire's wake. As Blanchard revealed to Consequence of Sound, "Backstreets" started as a song about a love affair before morphing into a rumbling tale of artistic drifters desperately ducking through alleys to wherever they're sleeping next. Album closer "Don't Close Your Eyes" is Shaw advising self-care to those left behind, while the psychedelic Spaghetti Western haunter "Strange Wind" tells an eerie tale about an underground community exposed to the world after a fire.

"That tragedy will affect every album we make," said drummer Nate Mahan.

More concretely, the Ghost Ship aftermath has also affected where bands and artists are allowed to gather and play. "Most DIY venues that we hit on tour are closed, I don't even want to list the few still going in fear of bringing attention and compromising them," Shaw said, before ticking through the silver linings from the year-plus since.
"So much money was raised, so many people volunteered to help teach warehouse spaces about keeping things safer," she said. "I saw people starting new bands and having incredibly cathartic moments through music. It's been tender, delicate, miserable, and beautiful."

[embed-1]

But Onion demands much more than simply being considered an Oakland band singing about Ghost Ship. It shows a growing songwriting maturity by Shaw and Blanchard, and an expertise of craft, further honed by Dan Auerbach (The Black Keys), who produced the album at his Easy Eye Sound studio in Nashville.
If the Clams' last release, 2015's Gone by the Dawn, was couched in that sleepwalking confusion of exiting a long romance, Onion captures the hesitations of trying to piece it all back together. Lead single "The Boy" is pure simmering desperation disguised by a catchy hook, "Love Strike" is an infectious dancer about the weariness of new love that ramps to the album's most satisfying moment, and "Onion" is a preemptive apology to a prospective partner about the shit coming down the pike. "Breaking someone else's heart might feel worse than having yours broken," said Shaw.
If this all sounds dreary, it never is! One of Onion's stand-out tracks, "If You Could Only Know," is as pure and joyous as anything they've made, a brisk twirl through that butterfly-queasiness of a new crush. "It's the first happy song I ever recall writing," Shaw said. And whenever the Clams do delve into life's forever struggle, they always douse that rot with bubblegum perfume, the same trick they've unerringly pulled since 2013's Dreams in the Rat House.
The whole album is a subtle feat for the band. Nine years and five albums in, they've marked off whatever subgenres of '50s and '60s Americana they've wanted to karaoke to, and could have easily descended into camp for camp's sake. But instead, they've molted from the greatest mixtape you've heard into their own timeless, utterly charming filter over the horrors of modern life, whether it's our own broken selves, or an art scene fractured by tragedy.
Shannon and the Clams play a free show at 1-2-3-4 Go! Records, 420 40th St., Oakland, on Wednesday, Feb. 14, 2:30-4:30 p.m.; and The Fillmore, 1805 Geary Blvd., San Francisco, on Feb. 14 and 15. 8 p.m., $45. TheFillmore.com