One day in the spring of 2013, Linda Saulsby's family and friends staged an intervention. At the time, Saulsby was the director of the Liberal and Civic Studies Program at Saint Mary's College of California, a private, Catholic liberal arts school in Moraga, ten miles east of Oakland. Her husband, adult sons, and a close friend sat her down and recommended that she focus on her health and well-being — and leave Saint Mary's. "They told me, 'You feel rotten all the time. … You're battling all the time. You have nonstop headaches,'" she recalled in a recent interview. "They said, 'You've been successful in your career and you don't need this.'"
Saulsby realized the extent to which stress at work was taking a toll on her. Soon after, she retired. In a June 7, 2013 letter to multiple administrators, she wrote that many professors of color like her have found the college to be unsupportive — whether due to offensive remarks by other faculty members or racially biased hiring and promotion practices. "I have been subjected to verbal and threatening intimidation, disrespect, and never-ending strategizing to undermine my efforts," wrote Saulsby, who is Black. "I have been referred to as 'You people.' A colleague stated to me with heartbreaking resignation: 'This is a hard place for people of color, especially Black people.' I have learned that the SMC culture allows this behavior."
Saulsby's letter and detailed testimony about racial discrimination is part of a civil rights lawsuit that another liberal arts professor, Deepak Sawhney, filed against the college in Contra Costa County Superior Court. Sawhney is of Asian Indian descent and joined Saint Mary's as an assistant professor of liberal and civic studies in 2002. He alleged, among multiple complaints, that he faced racial discrimination and retaliation when the college refused to promote him and later reassigned him to a position for which he was overqualified. As part of the case — which Sawhney's attorneys are now appealing after an initial ruling in the college's favor — seven former professors and administrators and a former student provided detailed declarations of their experiences with discrimination and racial prejudices on campus.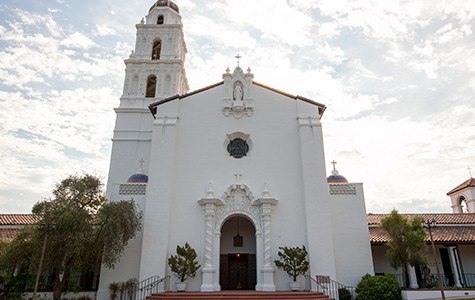 Although the legal case is centered on Sawhney's ongoing employment dispute, the extensive documents and testimony that he and his attorneys collected offer a window into ongoing racial tensions at the college. The court filings — along with interviews with current and former professors, administrators, and students — paint a picture of an institution that has struggled to recruit and retain professors of color, failed to build and maintain diverse leadership, inadequately responded to complaints about discrimination, and at times retaliated against outspoken employees. As a result, professors and students said, the academic offerings have suffered from a lack of diverse perspectives — and students of color often perceive the campus to be an unfriendly environment. And, as the suit notes, the Western Association of Schools and Colleges (WASC), which evaluates and accredits the college, has repeatedly raised concerns about diversity and discrimination on campus.
Saint Mary's, founded by the Roman Catholic Archdiocese in 1863, now serves 2,778 undergraduates and 1,331 graduate students. Over the last decade, the undergraduate population has been roughly 45 percent white, 26 percent Latino, 11 percent Asian, and 4 percent Black, according to the college. Faculty and staff at the college are overwhelmingly white: According to 2014 data, out of 498 faculty members, 67 percent — 333 professors — are white. Fifty-two faculty members are Asian, 23 are Latino, and 22 are Black. Out of 211 full-time faculty members, only thirteen (6 percent) are Latino, and only five (2 percent) are Black.
Four professors of color, including Sawhney and Saulsby, provided detailed accounts in interviews with the Express — and as part of the lawsuit — about the ways in which they felt that hiring and promotion decisions reflected racial biases. As soon as Sawhney was hired in 2002, colleagues and supervisors in his department treated him with disrespect, he alleged in the suit and in an interview. Sawhney said it seemed clear that people in the liberal and civic studies program devalued him because he is Indian and not Catholic. He said a white female supervisor frequently made disparaging remarks about his ethnicity, joking about Indian food and suggesting that Indian men don't know how to treat women with respect.
Sawhney said his complaints to Stephen Woolpert, dean of the School of Liberal Arts, got him nowhere. According to the lawsuit, Woolpert, who is white, removed Sawhney as a coordinator in the program in 2005 in an effort to resolve conflicts with a white female supervisor. In 2011, Sawhney — then an associate tenured professor and director of the program — sought a promotion to full professor (the highest position for tenured faculty), but Woolpert recommended against it. This was despite the fact that Sawhney had positive teacher evaluations (which he shared with me), a publication record that was more extensive than other faculty members who had been promoted to full professor, and the recommendation of the chair for rank and tenure, according to the suit.
Sawhney subsequently filed a complaint with the state alleging discrimination. In July 2013, soon after Sawhney received a "right to sue" notice from the California Department of Fair Employment and Housing — the first step in a lawsuit — Woolpert reassigned the professor to the philosophy department for the academic year starting that fall, according to Sawhney. Sawhney said he was forced to teach what were effectively beginners' courses in a small department that didn't need more faculty members — making it clear to him that Woolpert was trying to push him out of Saint Mary's altogether and was retaliating against him for alleging discrimination.
"I had created classes [in liberal and civic studies]. Students knew me. My DNA was all over that program, because that's what I had been doing for so long," Sawhney said in an interview, noting that white faculty members, including one who was non-tenured, took over his liberal and civic studies classes. Sawhney, who is tenured and has a PhD, is currently teaching two seminar courses, which are general literature and philosophy classes that are typically taught by adjuncts or lecturers.
The same summer that Sawhney was reassigned, Saulsby stepped down as director of liberal and civic studies, leaving the program with no tenured or tenure-track professors of color. "It's so easy for students to never encounter any faculty member of color here, because their figures are so low," Sawhney said. "That is astonishing today."
Saulsby said that when she became director of liberal and civic studies in 2012, she was shocked that the college refused to grant her the title of adjunct associate professor and instead labeled her a "lecturer" — a position with a lower salary and inferior stature. That was despite the fact that she held the associate title at Saint Mary's two years earlier and in the interim had gained additional experience at another university. And when she tried to run the program in a way that would make other professors of color feel comfortable speaking up, longtime white faculty members pushed back and questioned her leadership, she said in an interview.
"This was the essential struggle that most faculty of color had," she said. "It can be a wonderful place if you are chosen to be a part of the inner circle. … But people of color are generally not chosen."
Mindy LeVu Ware, who is Vietnamese, received undergraduate and master's degrees from Saint Mary's, worked in the college's information technology department for seven years, and most recently was a lecturer in liberal and civic studies. Even though Ware helped build up the college's IT help center in the 1990s, college officials didn't even grant her an interview when Saint Mary's decided to hire a director for the center, and instead hired a white man from outside of the institution, she said in an interview. "I'd been doing this a long time, and they never even gave me a chance," she said. "They were promoting only white men in my department."
Ware said that when she returned years later as a lecturer under Saulsby's supervision, she felt more supported as a woman of color. "When Linda was the director, it was an inclusive community," she said. "But all of the sudden, she's no longer the director and all of the minority faculty have either been displaced or locked out." Ware said that after Saulsby resigned, she was often excluded from important meetings and discussions — and last year, she decided to resign for reasons that were similar to those cited by Saulsby. "The modern Saint Mary's, at the bottom, is a cocoon of white people and white staff, and they want to protect that cocoon," Ware said.
Some white professors agreed with the criticisms raised by Sawhney and other faculty of color supporting his case. "There was this animus toward Deepak that seemed way out of line," said Dan Leopard, chair of Saint Mary's communications department, who is white and who served on the governing board of the liberal and civic studies program with Sawhney. "Any kind of dissent is automatically threatening to the college administration. … There's a fear of difference, and one of those differences is racial," he said, adding, "If you have a less diverse faculty, you have less diverse ideas and approaches."
Tom Brown, a longtime dean at Saint Mary's, who is Black and now works in education consulting, said that when the college tried to prioritize recruiting faculty of color, the institution failed to support them after they were hired. "We would manage to attract diverse faculty," he said. "But they just found the college a very difficult place to be, and almost without exception, they left."
Mazi Allen, a former professor in the philosophy department, who is Black, told me that his white supervisors condescendingly questioned his intelligence, and in one meeting, implied that he lacked a basic understanding of Plato's Republic. "It was very hostile. It felt more like an ambush," he said, recalling a meeting with supervisors regarding his teaching performance (an event he also recounted in a declaration for Sawhney's case).
Black alumni also told me that they felt ostracized on campus and that the college failed to adequately respond to complaints about discrimination. "It felt like a lot of my professors saw me as a token minority student," said Robert Slaughter, who attended Saint Mary's from 2008 to 2012. "A lot of professors underestimated me, especially when it came to my intelligence."
In a statement to the Express last week, Saint Mary's spokesperson Michael McAlpin refuted Sawhney's allegations, citing the court's earlier order in the college's favor and arguing that Sawhney was denied promotion because "he was not qualified for the position." He declined to comment on the allegations of other faculty members. McAlpin further defended the college's commitment to diversity, noting that from 2010 to 2014, there has been a 23 percent increase in minority faculty. He also cited the work of the College Committee for Inclusive Excellence and Bias Incident Response Team — two entities dedicated to combating discrimination and promoting diversity. "Saint Mary's is committed to an inclusive and just community. Discrimination and harassment of any kind is not tolerated," McAlpin wrote. He said Woolpert is out of the country and unavailable for comment.