Richard Poe, a wealthy and politically active developer, walked up to the podium at a recent Richmond City Council meeting with his wife and three-year-old son in tow. While Poe's son did his best to hold up an enlarged, sweepstakes-style check made out for $2 million, Poe began to ramble disjointedly about an unnamed development project, petitions, negativity, phases, and solar panels. Through the maze of non-sequiturs, Poe seemed to be saying that he would give the city a $2 million up-front payment if the council awarded him preferential treatment and allowed his proposed project to skip the city's normal vetting and approval process.
"As you know," Poe told the councilmembers, "most developers pay as they go, but we pay in advance."
While Poe's short speech was difficult to follow at times, councilmembers had little doubt that he was talking about his so-called "Richmond Riviera" project, a controversial proposal to build 59 upscale, single-family homes on land that he owns on Richmond's waterfront. Poe completed his application for his suburban-style project in September 2014, according to city documents. But in February, just before the city's design review board was going to consider the proposal, Poe pulled his application and announced he would instead seek voter-approval for it.
Poe has since pushed a signature-gathering effort that qualified the petition for the November 2016 ballot. The measure calls for altering the city's general plan — a document that took years of work and reflects the input of thousands of Richmond residents — to suit Poe's desires. And in another apparent attempt to exert his personal interests on city politics, Poe has funded a petition drive calling for a reduction in City Manager Bill Lindsay's salary and benefits. The county is still verifying the signatures on that petition.
This is not the first time that Poe, scion of the wealthy real estate family that oversaw the development of Richmond Marina, has used his wealth to get want he wants in Richmond. Last year, a subsidiary of one of Poe's companies and another developer funded a hit-piece mailer campaign attacking Measure C, which sought to establish a property tax to keep the financially struggling Doctors Medical Center from closing. Measure C failed, in part due to Poe's efforts, and the only hospital that served working-class and low-income families in the western part of Contra Costa County shuttered its doors in April. Poe has also formed shadowy political committees to influence Richmond council elections and has commissioned polls that always seem to determine Richmond voters are remarkably in line with his interests. Poe is also known to launch expensive glossy mailer campaigns attacking city officials who cross him.
Citing Poe's vindictiveness, numerous city officials and residents asked their names not be used in this story. Poe did not return calls or emails requesting comment.
A possible reason for why Poe put his proposed Richmond Riviera project on the ballot is because he sensed the council was not happy with it in light of the city's plan for dense urban development at that location. The five-acre site has been designated as an "activity zone" in the city's general plan, which the council adopted in 2012.
For decades, large, dense developments have bypassed Richmond, while cities like San Francisco, Oakland, Emeryville, and Berkeley have undergone revenue-generating building booms. That's why the Richmond general plan designated Poe's five-acre site as "high intensity mixed use" and zoned the site for structures of up to 135 feet and residential density of up to 625 units. But Poe wants to build 59 expensive, single-family homes with a maximum height of 35 feet. City officials are alarmed with Poe's plan because it would generate far less property tax revenue, and people who purchase suburban-style homes tend to be much less tolerant of noise, traffic, and retail activity, all of which are zoned for the area.
The site is in the middle of a growing economic center that includes the Craneway Pavilion, a historic, 45,000-square-foot event center that hosts wide range of events, from intimate company parties to major music concerts. Next to the Craneway are Assemble Restaurant and the Rosie the Riveter WWII Home Front National Historical Park Visitor Center.
Perhaps most important, a ferry terminal, with direct service to San Francisco, is scheduled to begin operating right next door to Poe's property in 2018. The Water Emergency Transportation Authority, which will operate the ferry, is relying heavily on dense development along the Richmond waterfront to support the ferry with commuters for the seventeen-minute trip to San Francisco. Poe's project might generate eight to ten regular commuters while a denser one could generate hundreds, according to a city official.
Another Richmond developer, whom the Express agreed to not identify, said the ballot measure benefitting Poe could have negative repercussions on development in Richmond. "I have trouble wrapping my mind around why [Poe] would go with less density. His project makes no sense for the location," the developer said. "In my opinion, there's no way he should use the ballot to try and bypass the city's approval process. It's a terrible precedent."
Meanwhile, Poe's petition to lower Lindsay's salary appears to be based on anger and resentment. Lindsay took the city's top administrator job in 2005 at a time when Richmond's reputation was in shambles after decades of corruption, poor financial management, and high crime rates. Lindsay hired all new department heads, including Police Chief Chris Magnus, who reorganized the police department and has spearheaded an unprecedented nine-year decline in violent crime in the city.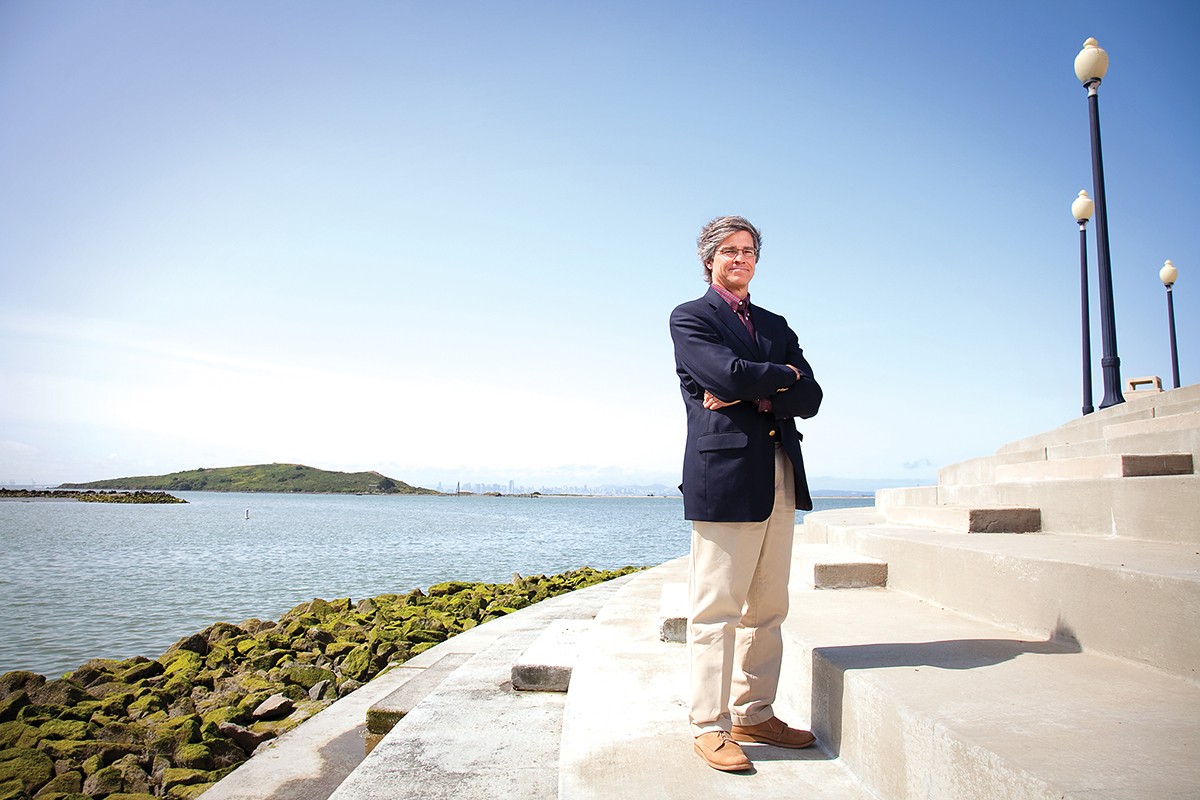 Lindsay also set out to transform Richmond's gloomy reputation for being backward and overshadowed by heavy polluting industries into a modern city that is willing to invest in its residents. Lindsay oversaw the updating of the Richmond General Plan 2030, a sweeping policy document that has fifteen elements (in California, cities are only required to have seven). The document, adopted in 2012, will guide the city's future in terms of land use, economic development, transportation, open space conversion, and arts and culture. Richmond's general plan also dedicates an entire element dedicated to community health and wellness — conditions that Richmond's previous administrators and elected officials had neglected.
But Poe is clearly not happy with the plan — or Lindsay. In February, Poe was behind a glossy attack flier that criticized Lindsay's salary, which is just under $412,000, as being more than twice that of Governor Jerry Brown. Poe's ballot petition would limit the city manager's total compensation to a much lower amount based on recent household income figures. The formula would reduce Lindsay's total annual compensation to $272,945, a pay cut that would almost certainly result in Lindsay seeking employment elsewhere.
Mayor Tom Butt, a Lindsay supporter, said Poe's salary formula is nonsensical and does not take into account that cities have different administrative needs based on local commerce, geographic location, poverty rates, and other social issues. "Lindsay is among the best paid city managers in the Bay Area but certainly not at the top. He doesn't even make the top ten list in either pay per resident or pay per city employee," Butt wrote in his email newsletter. "Placing an arbitrary cap on the city manager's compensation has no rational basis, particularly when it is tied to nothing related to the nature of or qualifications for the job."
Poe has portrayed his petition as seeking government fiscal responsibility, but a closer look raises questions about his true motivations. For example, Poe fails to mention that Lindsay's compensation is not even the highest in Richmond. In 2013, Lindsay's salary and benefits came in sixth after five fire captains and a battalion chief, all of whom collected thousands in overtime, city records show.
Moreover, Poe has publicly expressed frustration toward Lindsay and the city for not purchasing one of his buildings to house City Hall. Instead, the city spent $100 million, mostly in bond funds, to renovate the historic Civic Center Plaza. On Nextdoor.com, a social networking site, Poe made plain his contempt for the renovation and for Lindsay. "This was under the watch of this city manager. Indeed, people forget what's in our file, the city could have bought [the building] in Marina Bay that I own for at the time $12 million." Poe wrote on October 10. "I strongly spoke out against the city building what we call a $101 million Taj Mahal … in Richmond … . However, those that wanted to waste taxpayers' money branded me as self-serving."
Poe was kicked off Nextdoor last month when network managers discovered his neighborhood, "The Richmond Riviera," did not yet exist and that his main residence is not in the Richmond Marina. According to public records, Poe has identified himself as a resident of Florida for a substantial portion of the past decade. Multiple sources also said that Poe told them that he plans to retire to a newly purchased mansion in Florida.
Clarification: In a comment appended to this story, Richard Poe disputed an assertion made in the original version of this story that he recently purchased a mansion in Florida. The story has been clarified as a result.