The Intelligent Homosexual's Guide to Capitalism and Socialism with a Key to the Scriptures takes place in a Brooklyn brownstone where Gus (actor Mark Margolis from Infidel Caesar and Breaking Bad), a retired longshoreman and union organizer, has decided he wants to kill himself. His grown children — Pill (Lou Liberatore), Empty (Deirdre Lovejoy), and Vito (Joseph J. Parks) — and his sister Clio (Randy Danson of (Wicked and The Last Temptation of Christ) are not too keen on the idea, as you can imagine, and all gather in Gus' Carroll Gardens home to try to change his mind.
As you might suspect from the "intelligent" in the title, much of the play's dialogue is peppered with philosophy, Marxist creeds, and theology — even the sex scenes are remarkably heady — but the central force behind the familial struggle requires no outside reading on dialectics or tracts on the history of labor. It's decidedly animalistic. Indeed, a solid block of time is devoted to various family members screaming at each other, busting holes in walls, knocking people unconscious, crying, and confessing dark secrets better left unaired. It felt, at times, like watching The Jerry Springer Show, if the show had ever been written by a Pulitzer-Prize winner, as playwright Tony Kushner is.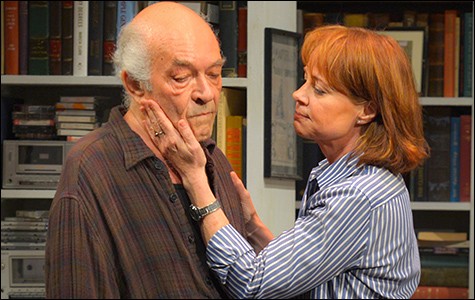 This isn't to impugn Kushner's work in any way — his fight scenes are damn near poetic, and his keenness and linguistic deluges for grappling with life's most tortured questions are unparalleled — but the screaming and cacophony of voices rendered one too many conversations moot — or mute, as it were. As is evidenced by the fourteen-word title (a reference to George Bernard Shaw's The Intelligent Woman's Guide to Socialism and Capitalism and Mary Baker Eddy's Science and Health with Key to the Scriptures), Kushner has a lot to say on the subject of family, love, politics, and Horace, but all the continuously overlapping voices began to feel tiresome after a while, especially since the play is nearly four hours long. (Kushner is not known for his brevity — his epic Angels in America was almost seven hours long.)
Nonetheless, Intelligent is superbly acted. Lovejoy, in particular, is utterly gripping as the cheating, lesbian labor lawyer Empty, whose wife (Liz Wisan) is eight months pregnant with a child Empty not only doesn't want, but which was created using the sperm of Empty's brother Vito. Empty, it seems, feels the greatest undoing over her father's decision to commit suicide, and her pleading, at first lawyerly and rational, then hysterical, resigned, and desperate, are keenly felt. (I may be slightly biased because of how much I loved Lovejoy on The Wire.) Paul (Tyrone Mitchell Henderson) also shines as the irate, cuckolded husband of Pill, whose angry takedowns are so eloquent and multi-syllabic they verge on philosophic — which makes sense, as he is a theologian by trade. The reason for Paul's outrage is Pill's lover, Eli (Jordan Geiger), the hot young prostitute who falls in love with Pill, causing Pill and Paul to leave New York for Minnesota in order to escape him. Rounding out the motley crew is Adam (Anthony Fusco), Empty's ex-husband, who lives in Gus' basement and is still in love with Empty.
Though Kushner's commitment to the visceral and dramatic remains intact in Intelligent, the humor is also abundant, even if it is decidedly gallows-based. Upon recalling Gus' first suicide attempt by slitting his wrists in a bathtub, Vito implores him not to do it again because he "seriously fucked up the upstairs bathroom." After Shelle (Robynn Rodriguez), the "death coach" who teaches Gus how to die with less panic and suffering, leaves the house, a stricken Empty deadpans, "Well, she was nice." But the star of the show is Danson's Clio, a former nun turned Maoist. In the midst of all the chaos and jabbering, she sits with unerring calm and adept silence, lending the production its funniest moments.
Despite the brief moments of comedic reprieve, the majority of Intelligent acts as a high-speed car chase of emotional onslaught. The intensity never buckles or dips, but stays in Amber Alert mode throughout, which can be particularly exhausting. (The two intermissions were sorely appreciated.)
"The only real death is to live meaninglessly," Gus says during one of the final, explosive scenes with Empty. The challenging subjects of Intelligent are hard-won by the exemplary cast and the direction by Tony Taccone, a longtime Kushner collaborator. Props also go to scenic designer Christopher Barreca, whose set felt uncannily lived in and detailed.
While Kushner grapples easily with issues of familial secrets, loss of faith, morbidity, and desire, he could take a cue or two from Clio in the matter of learning when to stop talking.