The media was out in full force in anticipation of today's "Day of Action": There were about as many news cameras as there were demonstrators at the intersection of Bancroft and Telegraph this morning as today's protests against cuts to California public education got underway at UC Berkeley.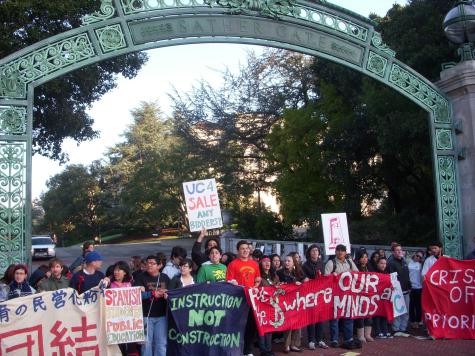 Tessa Stuart
Protestors at Sather Gate on March 4, 2010.
Crowds grew as the morning wore on, until Sather Gate was completely blocked by protesters chanting "No cuts! No fees! Education must be free!" and "Layoff Yudof," referring to the deeply unpopular president of the UC system.
Picket lines were in effect at the Sather Gate, North Gate, and West Gate entrances to campus, and around California Hall, and are expected to remain until noon, when protesters plan to march from UC Berkeley to Oakland for a rally at Frank Ogawa Plaza, at 14th and Broadway.
For more photos of the protest, go here.