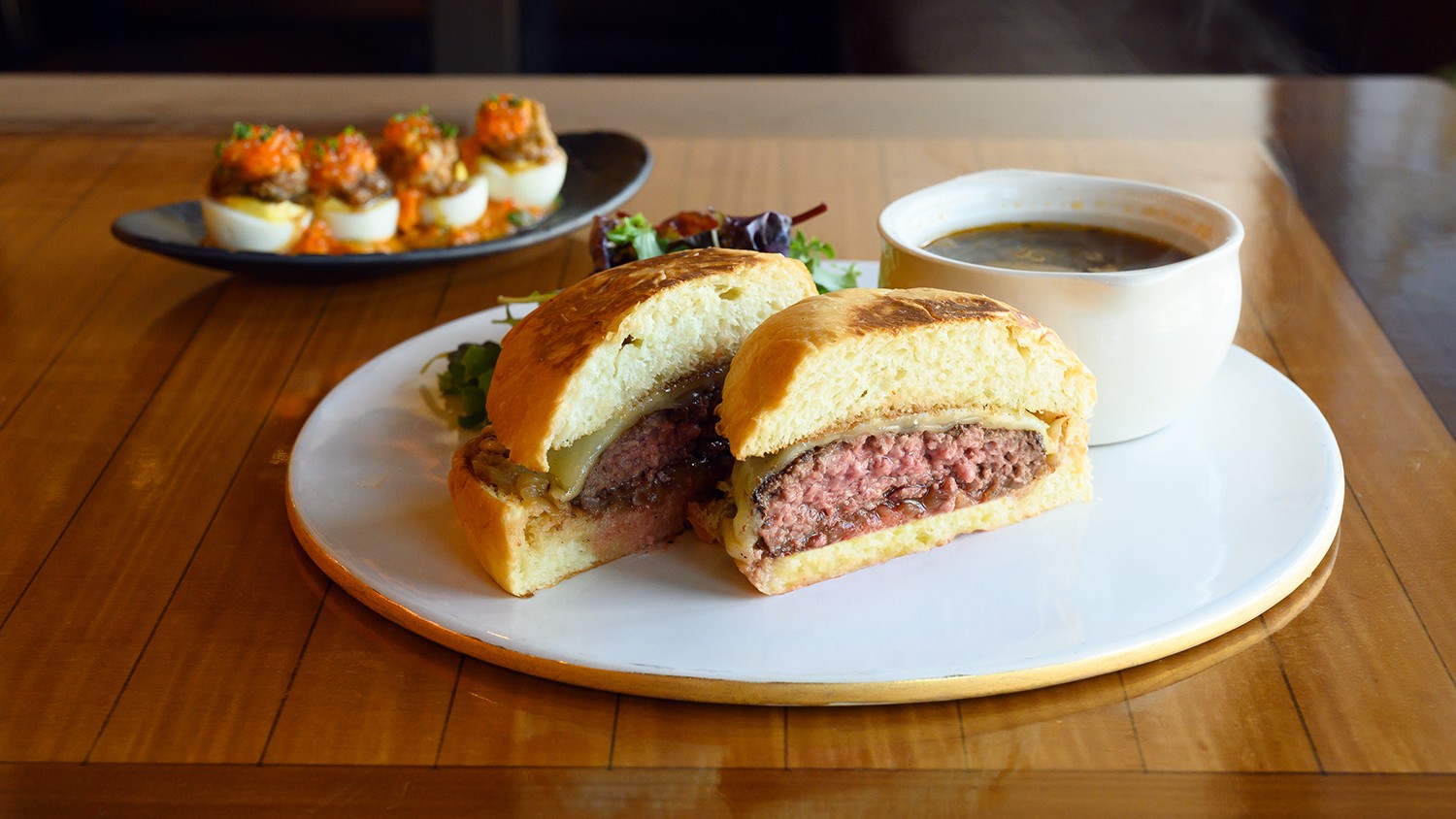 At first, Perle Wine Bar looks like your typical French-inspired wine bar. Classical music flows from the speakers, soft lighting elevates the mood, and several items on the menu come topped with caviar.
But stay a while, and you'll notice that Perle is a lot more laid back than you might think. Sure, there are $32 entrees, but during happy hour, you can find upscale bar bites for $6. When I visited during happy hour, the music eventually transitioned from classical to "Thriller," the Warriors game was playing on TV, and chef-owner Rob Lam went from bar stool to bar stool, checking in on his regulars and welcoming newcomers.
And the menu isn't as traditionally French as one might expect.
"Don't get me wrong, I'm dropping fish sauce and shrimp paste," Lam said. "I do it in more of my sauce bases, because it creates more umami."
Lam was born in Vietnam, but when he was 5 years old, his family moved to Orange County, where his mother owned a Vietnamese restaurant. He eventually became a chef and worked at San Francisco restaurants including Zazie and Stars. In 2003, he was named a San Francisco Chronicle Rising Star Chef. For 15 years, he was chef-owner at Asian-inspired restaurant Butterfly in San Francisco — the menu there, he said, "follows along my cultural heritage."
He decided to close Butterfly and open Perle in summer 2017 partly for business reasons — "rent prices were going up, labor was going up" — and because he wanted to be closer to home and bring more good food to Montclair. Lam, who lives near the neighborhood, said, "I've lived in the community for over 10 years … and we've never been compelled to drive into this area to eat."
That changed when Daughter Thai opened in 2016. "I was like, alright, this community is ready for good food."
Lam said Perle's co-owner and sommelier, Marcus Garcia, wanted to create a high-end menu that included seafood, caviar, and French wines. "And I was agreeable to that, but I told him, we gotta be neighborhood," Lam said. "Yeah, we needed to open and get the reviews in, and get everybody from outside of the community to trust us. … But once that was taken care of, we needed to take care of the community." So, Lam decided to offer a happy hour menu, prix fixe dinner menu, and Monday prime rib deal.
I'm always looking for good budget-friendly eats, so I was excited to try Perle's literal happy "hour," which occurs from 5 to 6 p.m. Tuesday through Friday, when wines and Champagne are $7 a glass. I was particularly looking forward to the French onion dip Angus burger, which won an Express Best of Award for Best $16 Burger of 2018. (During happy hour, the price drops to $10.) It's a juicy, thick, medium-rare patty with stretchy melted Gruyere and Provolone cheese, topped with grilled onions, and served on an airy pain au lait bun.
I liked the fluffy, slightly sweet bun, especially when dipped into the savory onion soup. The only thing I'd change is the side salad, which consisted of a handful of mixed greens topped with edible flowers and what looked like bread crumbs. The salad was so lightly dressed that I briefly wondered whether it had been dressed at all, and some of the leaves were wilted.
I couldn't resist the oyster shooters, which were a deal at $6 for three. Each oyster came with a light, tomatoey aquapazza, topped with citron foam sprinkled with chili. I also enjoyed the fried oyster deviled eggs for $7, which were decadently topped with trout roe and accompanied by a Calabrian chile relish. The contrasting textures of the roe and the crisp oysters added interest, and the relish provided acidity to keep things light.
The smoked salmon toasts for $6 were also winners — airy bread with crisp edges, topped with a creamy bacalao purée, smoked salmon, microgreens, and olive oil. "For me, that dish is my representation of what a real good bagel should be," Lam said. I was less enthused by the avocado tartine, which was essentially avocado toast dressed up for cocktail hour. The brown butter ricotta on the bottom didn't have much flavor, and the avocado needed more seasoning.
I also sampled the $36 three-course prix fixe menu, which is available from 5 to 7 p.m. Tuesday through Thursday. I started with the mushroom cappuccino soup. I liked how the rich, foamy texture tempered the strong flavor of porcini mushrooms, and the truffle cream on top added additional extravagance. The chicken dish, poulet rôti, looked appealing, but the meat was dry and the skin wasn't as crispy as I'd hoped. I also wished the romanesco on the side had been roasted to bring out the vegetable's nutty flavor. The sweet potato pie for dessert had a perfectly spiced filling, though I wished the crust was more crisp around the edges.
I also splurged on a full-price entrée: a $32 grilled Berkshire pork chop with pistou, cranberry beans, and pea leaves. I was excited to see pea leaves on a French-inspired menu, since I'd only seen them on Chinese menus. The slightly bitter flavor of the pea leaves complemented the rich pork chop well, but they were a little stringy. I liked the smoky flavor of the pork chop combined with the unexpected addition of yellow and red cherries, but one of the cherries wasn't pitted. The cranberry beans, however, were cooked to al dente perfection, and I liked the bits of bacon that accompanied the beans.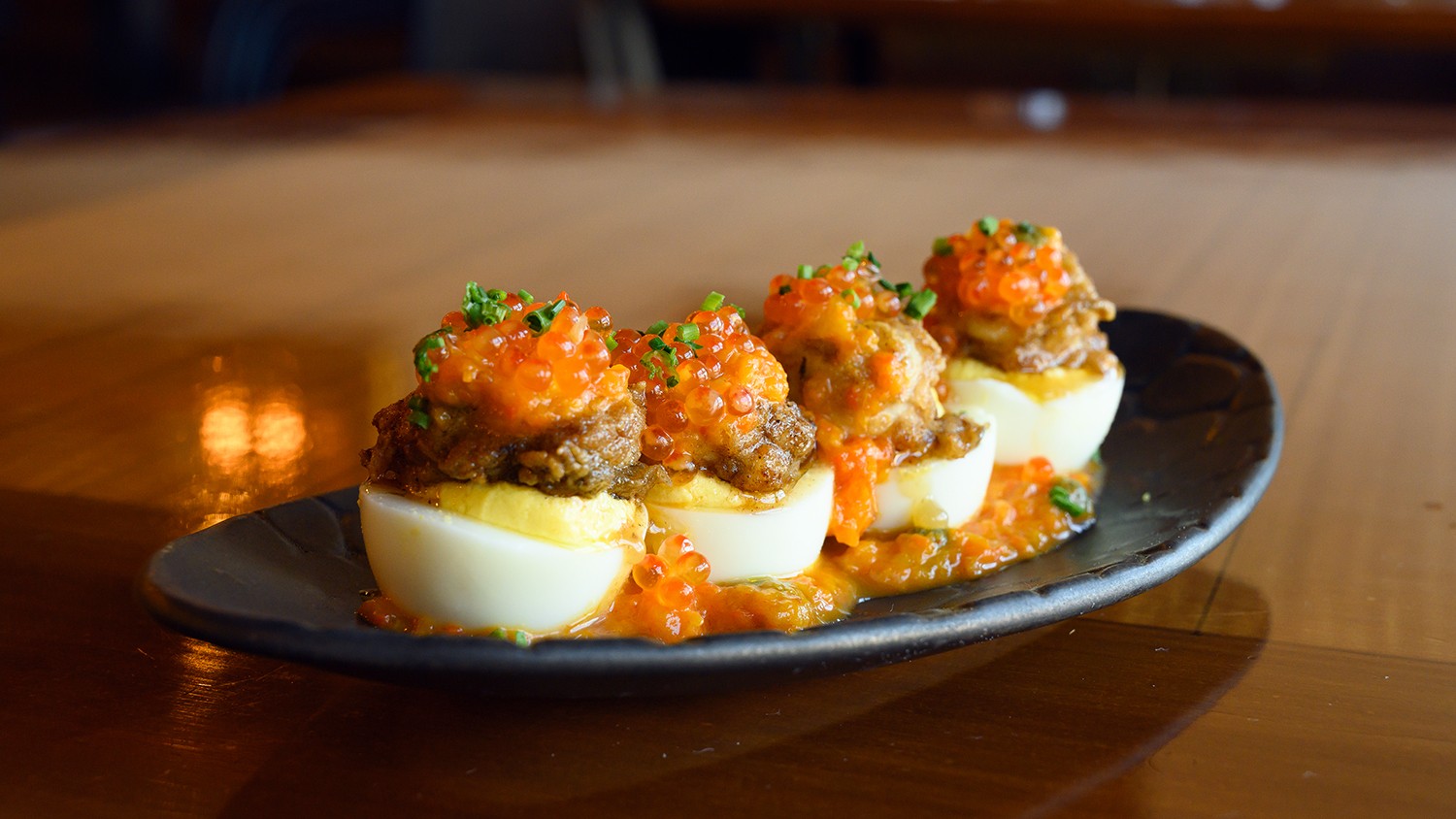 I ended the meal with the hot chocolate pot de crème for $10. I was looking forward to this dessert; when done well, it's like a silky, rich pudding. But what arrived was more of a chocolate lava cake. It was a fine lava cake, but I'm not a big fan of lava cakes, and I wouldn't pay $10 for one.
And that's how I felt about Perle Wine Bar in a nutshell. At full price, the menu needs a bit more refining for me to justify the cost. But the happy hour, if you can fit it into your schedule, was everything I'd hoped for in a French-inspired wine bar. And most importantly, Lam has certainly succeeded in creating a restaurant with a neighborhood feel.
"Isn't this a great burger?" the man sitting next to me smiled, dipping his burger into the soup and taking another bite.
Perle Wine Bar
2058 Mountain Blvd., Oakland
510-808-7767
Mon. 5 p.m.-9 p.m., Tues.-Sat. 5 p.m.-9 p.m., Sun. 11 a.m.-2 p.m., 5 p.m.-8 p.m.
Cash, all major credit cards
Sample Menu
French onion dip Angus burger … $10 happy hour/$16 dinner
Fried oyster deviled eggs … $7 happy hour/$12 dinner
Smoked salmon toast … $7 happy hour/$10 dinner
Oyster shooters … $6 happy hour/$12 dinner