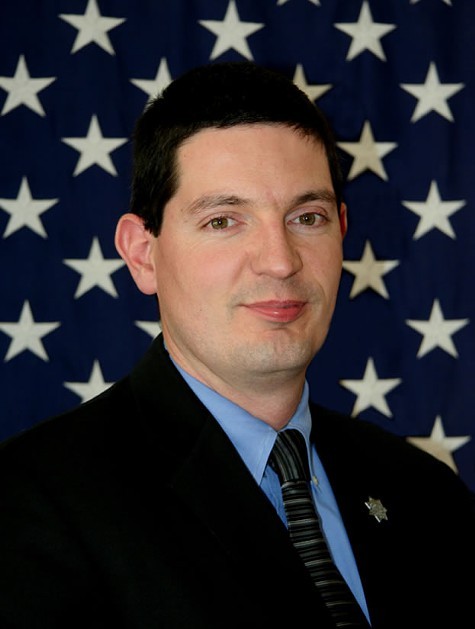 With only one week left before voters select Alameda County's next district attorney, the Oakland Police Officers Association is campaigning hard against Pamela Price.
Price, a Black civil rights attorney and Oakland resident, is running as the progressive alternative to incumbent career prosecutor DA Nancy O'Malley.
Part of the police union's last-minute push against Price involves emails sent by the union's political action committee directly to voters. But according to records and interviews, the police union appears to be targeting a specific group of voters with their message: Oakland residents who
aren't
Black.
Pamela Price's campaign is now condemning the emails as a form of "race-baiting" by the police union.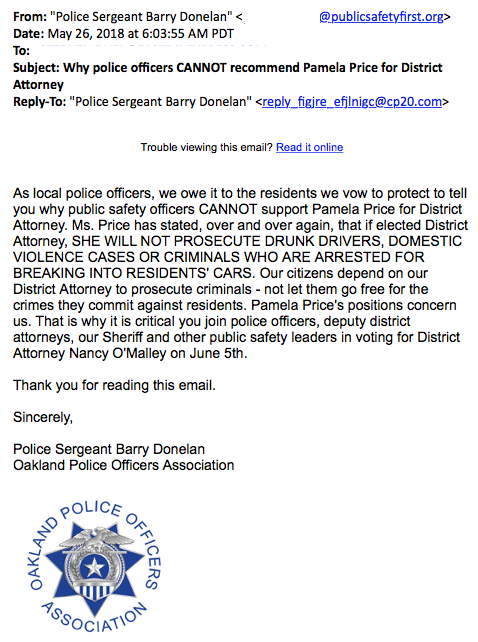 One of the emails, sent by OPOA President Barry Donelan through a mass marketing service early last Saturday morning reads, "[Pamela Price] WILL NOT PROSECUTE DRUNK DRIVERS, DOMESTIC VIOLENCE CASES OR CRIMINALS WHO ARE ARRESTED FOR BREAKING INTO RESIDENTS' CARS."
Donelan urges Oakland residents to choose incumbent District Attorney O'Malley because she'll protect them from criminals.
Express
staff were among the many recipients of this email blast from the police union.
Jen Cardenas, an Oakland resident, also received this message early on Saturday morning. In an interview, she told the
Express
 that she wondered how the police union obtained her email address and whether she could unsubscribe from their list, so she clicked on the "update your preferences" link below Donelan's message. That took her to a website that named multiple other email lists operated by the police union's political action committee.
Cardenas said that she was surprised to see the name of the list OPOA used to send her the anti-Price email: it was titled "Oakland Likely Nov 2018 EMAILS No AF AM."
She said she believes that "No AF AM" means no African Americans. She took a screenshot of the page and shared it with the
Express
as well as with the Price campaign, where she has volunteered in an unpaid role.
OPOA President Barry Donelan did not return multiple phone calls, emails, and a voicemail message seeking further information about the names of the email lists. An email to the treasurer of the OPOA PAC that paid for the email blast, Police Officer Jeryme Stine, also went unreturned.
But several other OPOA-operated email lists that Cardenas screenshotted also included the term "NO AF AM."
Other demographic groups such as "DEMS ONLY" and "REP ONLY" for Democratic Party and Republican Party members, and "WOMEN ONLY" were also identified in the titles of specific email lists operated by the police union.
Pamela Price posted on Facebook about the OPOA emails yesterday, making it clear that she believes "No AF AM" is a term meaning that the emails were targeting white voters. She wrote that the OPOA message was
a "racially targeted negative and false e-mail"
about her campaign.
The
Express
attempted to independently obtain a copy of the original names of the OPOA email lists, but the same link from Donelan's original email currently goes to a page that contains 13 email lists operated by the union. Among them, there is no list titled "Oakland Likely Nov 2018 EMAILS No AF AM," and the term "No AF AM" doesn't appear anywhere.
Other demographic groups such as "WOMEN," "DEMS ONLY," and "REP ONLY" are named, however.
A representative with Campaigner, the email marketing service used by OPOA, told the
Express
that clients can quickly edit the names of their email lists and even delete them. But he declined to provide any specific information about a particular client.