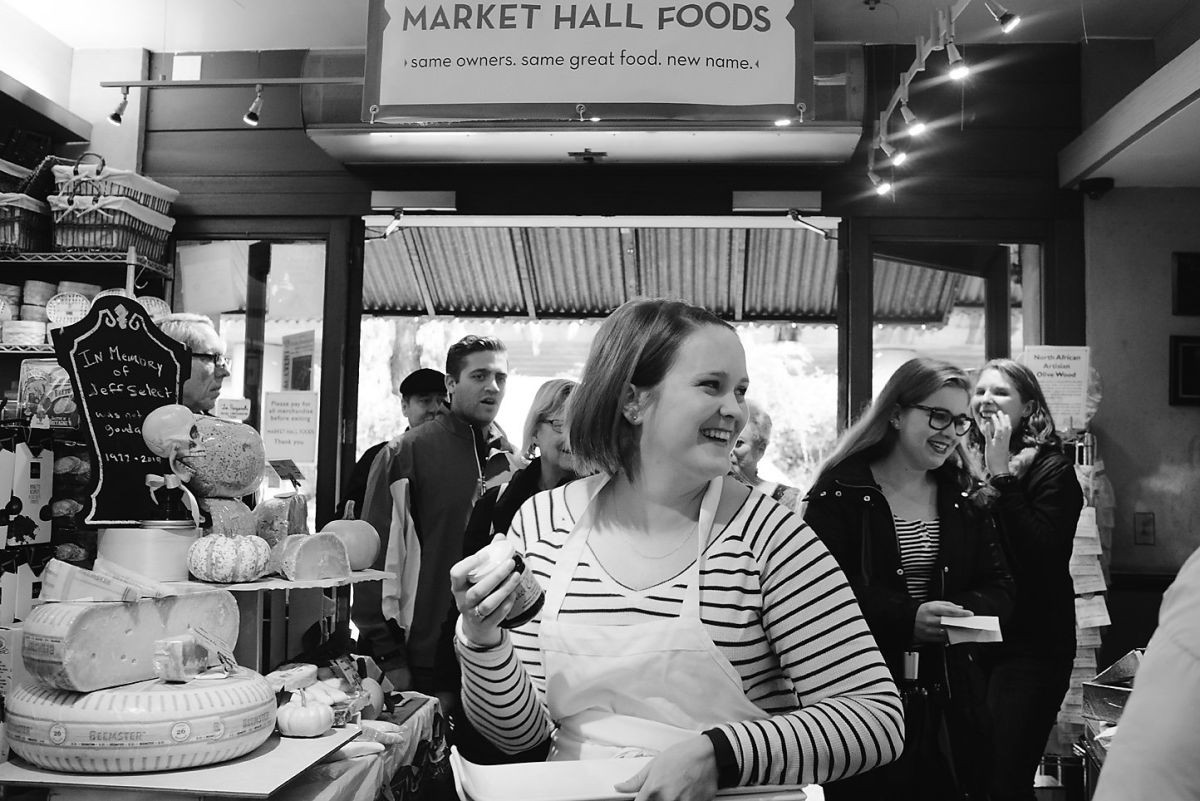 Take a journey through Oakland's epicurean waterfront on our Oakland Restaurant Week Progressive Dinner through Jack London Square on Thursday, Jan. 17 at 6:00 p.m.
Local Food Adventures' founder and owner Lauren Herpich will guide a group of 12 guests to enjoy a special multi-course meal across three venues and guide you through the history of Oakland's coastal district.
The
Jack London Progressive Dinner
is $75 per person; additional $25 for wine/cocktails.
Purchase tickets here
.
The first course will be First Course at
Belcampo
, one of Jack London Square's newest restaurants. Why just pick one tasting from each course on a Restaurant Week menu when you can try them all! Guests will enjoy
everything
on this year's prix fixe menu from Belcampo. Guests who choose to add some additional "spirit" to their experience will enjoy a glass of wine with their course.
The main entrée for the tour will be at
Dyafa
. Travel back to James Beard semifinalist Chef Reem Assil's Palestinian-Syrian upbringing as you enjoy flavors from her homeland. Guests will savor her signature Middle Eastern musukhan chicken confit dish (vegetarian option available) along with a specialty cocktail pairing, if desired.
Finally, enjoy dessert/after-dinner drink at
Rosenblum Cellars
, and end the evening with spectacular views of the Oakland/Alameda Estuary while you enjoy a deliciously sweet cupcake and specialty rosemary shortbread baked by Jack London Square's own Jen Angel of
Angel Cakes
. All guests will also enjoy a glass of wine to toast the evening and a year of great Oakland dining ahead.
On Saturday, Jan. 19, enjoy a culinary tour de force without leaving Oakland. Taste the vast cultural diversity of the Grand Lake area, an urban mecca for global cuisine. Centered around the historic Grand Lake Theater, the area is known for its rich and eclectic influences and population. During our two-hour guided Oakland walking tour you walk around beautiful Lake Merritt and take a trip around the world with substantial flavors of some of the area's best global dining.
Our
Grand Lake Cultural Cuisine Tour
is perfect for anyone who thinks they know Oakland, and contains hidden gems that may surprise even the most loyal local. Get off the beaten path and explore the relaxed global vibe and culinary treats of the Grand Lake area.
Meet at the Oakland Public Library Lakeview Branch, 550 El Embarcadero, for the 3-5 p.m. tour. Price is $59 per person, plus $15 for VIP.
Buy tickets here
.
Then on Sunday, the last day of Oakland Restaurant Week, unleash your inner foodie during the
Rockridge Neighborhood Heritage & Walking Food Tour
— our original Oakland food tour! During this three-hour long guided tour, you take a walk through the neighborhood, discovering the area's rich history and exploring its fast-growing dining culture — all while enjoying some seriously delicious flavors along the way!
Our Rockridge Food Tour is just as appealing to visitors as it is to locals alike — it's a rare opportunity to learn some little-known facts about the area that may even surprise those who call Oakland and even Rockridge home. In addition, enjoy an opportunity to skip the typical Bay Area tourist traps and dive deep into the food culture, history, architecture, and current happenings of this European-inspired oasis.
Meet at the Safeway Plaza Courtyard, 6310 College Ave. for the 11:30 a.m.-2:30 p.m. tour. Price is $69 per person, plus $15 for VIP. To buy tickets,
go here
.