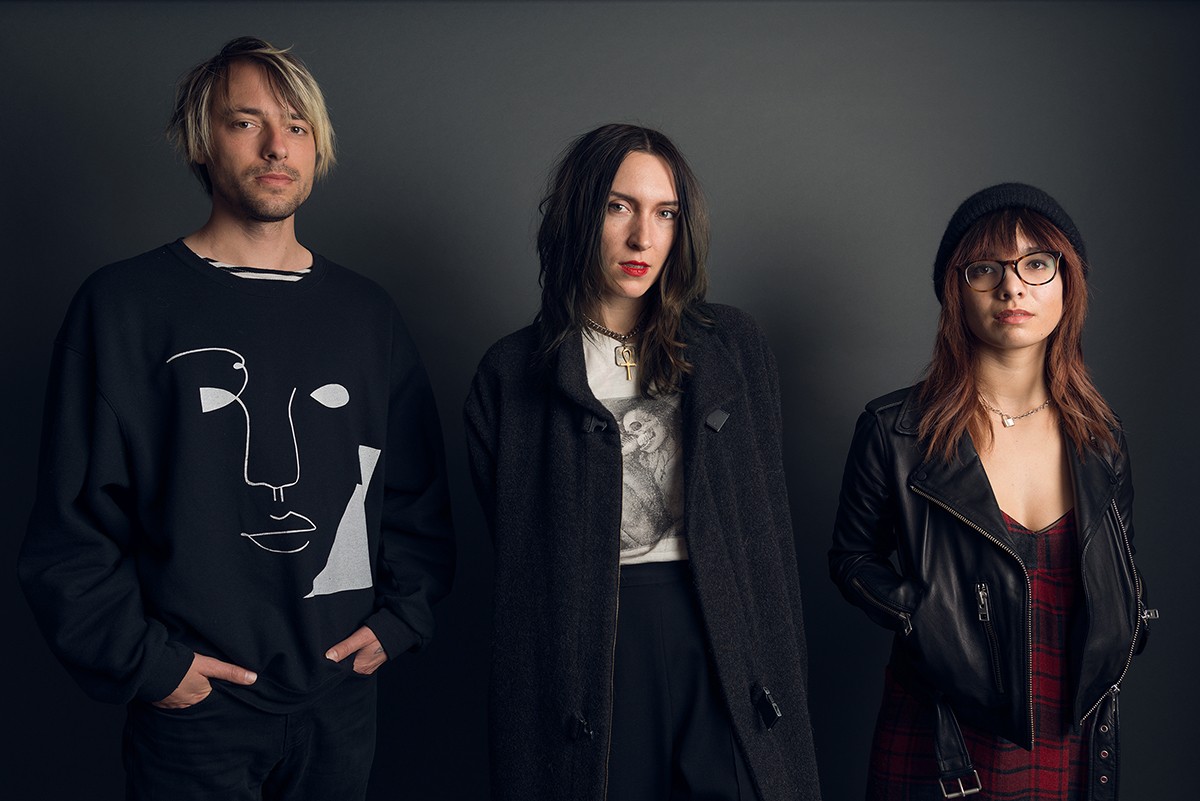 A couple years ago, Oakland musician and artist Hether Fortune learned some really bummer news. It was September 2015, and she found out her band Wax Idols' third record was going to be associated with Martin Shkreli: the universally hated "pharma bro," who'd notoriously raised the price of Daraprim, a prescription drug often used by HIV/AIDS patients, to a whopping $750 per pill.
Turns out, Shkreli was an investor in Collect Records, the promising indie label started by Thursday's Geoff Rickly. Fortune has nothing but good things to say about Rickly. But, still, the whole situation was shocking, disturbing, and challenging.
While other bands immediately ditched the label, Wax Idols'
American Tragic
was already in the pipeline, set to be released just one month after she found out. There was nothing Fortune could do but promote the album as planned.
Despite any stigma due to its association with Shkreli,
American Tragic
did extremely well, however, winning praise from heavyweights
Rolling Stone
and Pitchfork.com. The record label also completely sold out of copies.
But Collect Records unsurprisingly went under right after the release of American Tragic, so now Wax Idols is re-releasing the album this week — and, this time, on the band's own terms. A show this Wednesday in Oakland will celebrate the release, and the band is kicking off a tour afterward.
"We just wanted to take it into our own hands and commemorate it before we put out a new record and move on," frontwoman Fortune (Heather Fedewa) told the
Express
during a chat last month.
The only constant since Wax Idols formed in 2011 has been singer-songwriter Fortune, a Michigan-native who moved to the Bay Area about eight years ago and recently returned after a stint in Los Angeles.
She's done a lot in her first act: from working as a professional dominatrix and playing in Canadian punk band White Lung to running a zine called Orgazm Addict. But today, all of that's been stripped away, as Fortune, edging toward 30-years-old, resolutely focuses on Wax Idols. Well, that and her band's new label, Etruscan Gold Records.
The idea of starting a label has always lurked in the back of Fortune's mind, she said. It's something of a natural fit, one that aligns with her fiercely outspoken need for independence in all aspects of life.
In fact, all three of Wax Idols' albums were released with different labels, because Fortune wanted to purposefully avoid getting trapped into long-term ties with anyone. Though Etruscan Gold isn't exactly financially viable enough to take on a roster of acts — the budget is made up of whatever spare cash Wax Idols members throw in — the new label will reissue cassettes of
American Tragic
.
"I've just been waiting for a good reason to do it, and your record label going under is a pretty fucking good reason to do it," Fortune said, laughing about the road to this point in her music career.
Etruscan Gold's next release will be Wax Idols' fourth full-length,
Happy Ending
, which she says will probably come out this fall. It should continue the band's general trajectory toward pop over the past three records.
Wax Idols' debut full-length,
No Future
, boasted a collection of catchy, melodic garage-rock songs. Next, 2013's Discipline + Desire displayed sleek, gothic post-punk dripping with ice. And
American Tragic
managed to balance a dark, Joy Division vibe with fun, vocal-forward pop.
"We all love pop music, but we're also all punks," Fortune quipped.
Expect catchy hooks, intricate guitar work and "some psychedelic shit," which Wax Idols will preview at the Starline next Wednesday.
Fortune's vision for the band's sound is unique: "You know when you hear a song where you feel like you're going to explode into tears and/or laugh at the same time, because it's so perfect?" she said. "We're basically chasing that."
Happy Ending
will also mark the first completely collaborative Wax Idols album. In the past, Fortune — admittedly a control freak — mostly wrote and recorded everything by herself. Though Rachel Travers still plays drums, the East Bay-centered lineup got a reboot in 2015 with guitarist Peter Lightning and bassist Marisa Prietto, who is based in Los Angeles.
"I just was searching for the right configuration of people who understood the idea of the band, and I feel like I have that," Fortune explained. "It feels like the right time to let go of control and let it take on a life of its own."
The album is also the band's first concept record:
Happy Ending
follows the posthumous consciousness of a woman who can still perceive the world around her. The songs are still in flux, though, as the band continues to rewrite — and rewrite. Fortune started working on the record last year, and originally aimed for a spring release. But a lot has happened in the past few months — namely, losing friends to the Ghost Ship fire, and Donald Trump becoming President of the United States.
"What began as a concept for me trying to explore death in this ghost story way has become a lot more visceral, because we're all actually dealing with death, right now," Fortune explained. "Then, the fear of the world ending, all of our rights being taken away. … I definitely feel scared in a different kind of way these last few months."
During our interview, she talked about family members who are immigrants, and her half-Lebanese brother, who is frequently flying out of the country. Politically, it's intense and overwhelming just to exist right now, and Fortune said she's still reeling from the fire's aftermath, too. Working on Happy Ending has been therapy.
"It almost feels like my subconscious gave this coping mechanism to me ahead of time, in anticipation of what's happened," Fortune said. "So, now, I have this medium in place already to basically deal with grief, to confront death straight-on, to confront fear straight-on, and imagine what is beyond that."
She describes it as a process in taking herself out of her day-to-day insecurities, petty problems, and relationships. "[I'm] really forcing myself to really go into my subconscious, and really think about what life is, what it means to me, what might exist beyond that. What is subconsciousness? What happens when you die? What is there to be afraid of?" she said, then paused.
"What am I afraid of?"
Next Wednesday's Wax Idols' show at Starline Social Club is also the debut of the venue's "Local Series," which will showcase exciting, if lesser-known, Bay artists and bands. Each show will be $5. Learn more at StarlineSocialClub.com.