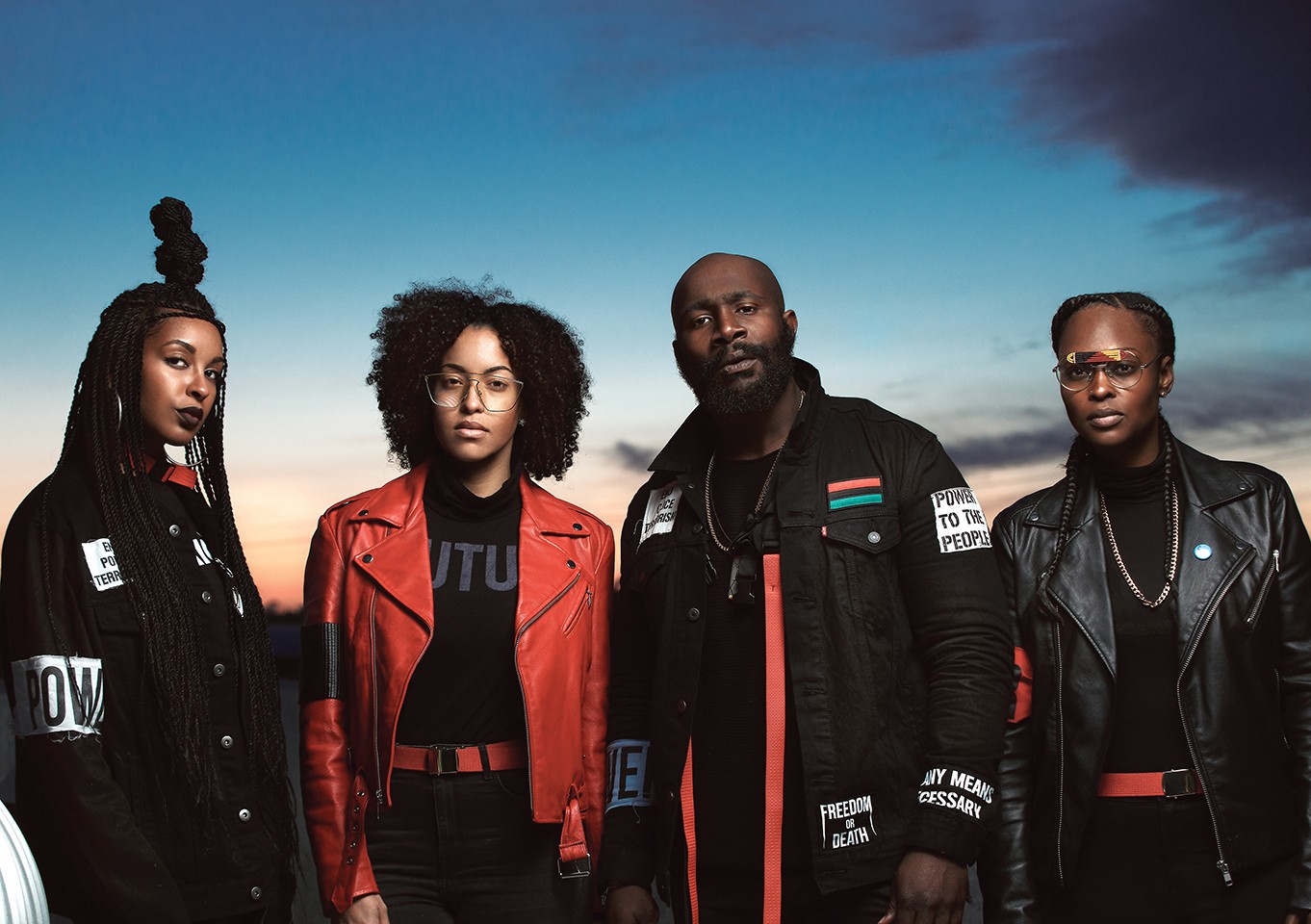 SOL Development's
forthcoming self-titled album is a lot of things: It's the fruit of nearly two years' worth of labor. It's hip-hop. It's praise. It's R&B. It's soul. It's jazz. It's individual sacrifices manifested in a collaborative project.
"More than anything, it's the ability to respond to what we've seen and lived," said MC Karega Bailey. "It's so critically important to start handing those jewels laterally to your peers who may be going through it, handing it down to the younger generation who may be coming up to see it."
The album, which is slated to drop in late spring, comes in the wake of a lot of things, too: Trump's election, increased racial and sexual violence, heightened xenophobia, turmoil and targeting within communities of color, and, perhaps, most painfully, the murder of Bailey's brother, Kareem.
"There's often a lot of dialogue and attention that goes to the victim in their grieving," Bailey said. "But there isn't very much told about the successes of their healing. This project is for healing."
For SOL — Source of Light — Development, the process of creating the album, which was recorded live, began back in October 2016 at Zoo Labs, a two-week music residency program in West Oakland where musicians come together to create while also receiving mentorship and training in industry-based business strategies. During their residency, Bailey, his wife, Felicia Gangloff-Bailey, Lauren Adams, and Brittany Tanner, who are all vocalists and songwriters within the collective, worked with more than a dozen musicians to craft their sound.
"Knowing how to create a project is so important," Bailey said, "and knowing how to be patient and find the right sound is so important, and knowing how to find your best self and help others find their best self is hella important."
That process, Bailey said, helped them become better people, songwriters, and musicians.
"We had the courage to go to some of the darker places and we wrote our way through it and out of that," Bailey said of the songwriting process. "And we went to some of the lighter places where light gathers."

[embed-2]

"Helicopters" is a sullen yet fiery, keyboard- and guitar-driven track that explores themes of pain, oppression, resistance, and resilience in a metaphor of airborne surveillance. While Adams, with conviction and vibrato, cries out the chorus and refrain: We are more than the fear that you carry, we are more than those Black lives you bury, Bailey dives in with booming, brazen bars:
Picture me rollin'
In a slave ship that was stolen
To my homeland, I am goin'
Leavin' land that was stolen
This freedom ain't no freedom
And you know it
The cops will pull the trigger in a moment
"It's taking the Black experience and putting it on display and then showing the world that it is a human experience," said Adams.
This is done in a way that neither polarizes nor vilifies one form of oppression or one type of oppressor over another. For SOL Development, pain is pain. Trauma is trauma. Healing is what they're after.
In "Brother," Tanner poignantly sings of the pain she's experienced witnessing both her father and brother's incarceration, while also charging them — or anyone who's shared a similar cycle of struggle — with words of encouragement.
"I feel like now more than ever, we are truly prepared to take on what will take place once the world does hear the album," said Tanner, who reflected on her own level of personal growth that she experienced while working on the album.
"We're not separate from our message," Bailey said. "We sing of the songs, we speak of it like it's embedded into us."
The power of the music, Adams said, comes from their commitment to practice what they preach. "As we listen to the album, it's almost a baptism for us," she said.
[embed-1]
For SOL Development, creating and performing in Oakland is done with respect and a divine sense of purpose. "We're not here to take from them like everyone else has, we're not here to strip them of culture or resources," Adams said. "We're here to add onto what's already being built here."
The members banded together, sidelining individual projects and leaving their lives in D.C., Miami, and other parts of the country to commit to the home of the Black Panthers as the place where they'd make an album that they say has been blessed by the people of Oakland.
"I love that the Black people here have remnants of a Black people who were gritty and divine," Bailey said. "You can't define our class or what makes us who we are. We rise from the margins."
Wherever they perform in Oakland, it's not uncommon for them to see a familiar face or an entire family who's seen them before and is back for more. SOL Development recently took the stage at the Black Joy Parade, where hundreds gathered with their fists raised in the air as they performed. One of Tanner's former students from Roses in Concrete Community School, where Tanner used to work and where the rest of the collective continues to work, commanded the mic singing the refrain from "Source of Light": It can be a dark world sometimes, but don't be afraid to be a source of light.
When their album drops, they plan to launch what they're calling "activation sessions" in ten cities. Within those sessions, SOL Development plans to engage with communities where gun violence is prevalent and further use their music as a catalyst for healing.