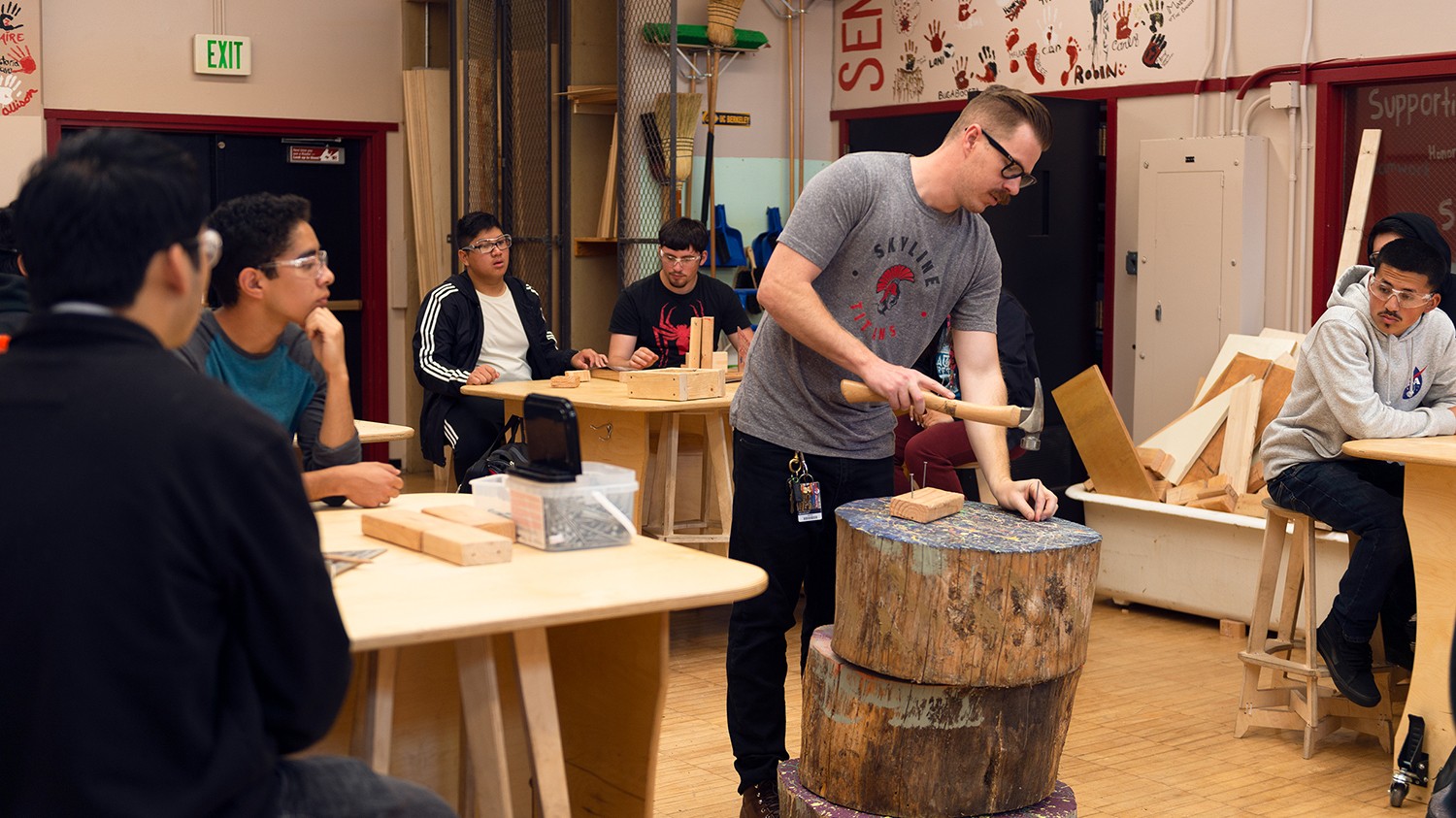 Anai Melendrez still remembers being only 7 years old when she first watched her father work. She said it was inspiring to see him deep in concentration as he fixed up ramshackle homes and buildings and cleared yards with dense, overgrown bushes and weeds. He transformed them into something beautiful and new.
Over time, she started dreaming about following in her dad's footsteps, especially when she discovered that she had a natural talent for the work. By age 14, she was cleaning and clearing areas for him, hammering nails, cutting wood, and learning how to use the tools of the trade. But as much as she loved hands-on construction work, she didn't think she could make a decent living at it, especially seeing how hard her dad — a Mexican-American immigrant — worked and yet only earned modest wages.
But all of that changed after she signed up for the Architecture Academy at Fremont High School in Oakland. When she took her first architecture, design, drafting, and construction classes, starting as a sophomore, it opened her eyes to the fact that she could pursue a career in construction — and if she joined a union-backed apprenticeship program and worked four years to be a journeyman, she could have a high-paying career, reaching into the six figures.
"For so many immigrants, it can seem that construction is the only job they can get, and so people really take advantage of immigrants, not being able to speak the language, and so they aren't getting paid as much for the work they are really doing, and I saw that played out in my family," Melendrez said. "But when I got more knowledge on the wages and benefits of working in construction through an apprenticeship program, that's when I learned that I could actually make a good living out of this."
Melendrez is one of the first of a new generation of Oakland high school students who are finding their calling in the lucrative construction and advanced manufacturing fields. After attending career fairs and series of pre-apprenticeship internships in the summers, offered by the Oakland Unified School District through partnerships with UCSF Benioff Children's Hospital, Turner Construction, and PG&E, Melendrez was exposed to different avenues in the skilled trades and learned the benefits of pursuing a career in construction work.
She learned she could start directly out of high school in the trades as an apprentice making about $29.50 per hour, plus benefits, with pay increases of about $3 an hour every six months. And in four years, she could become a journeyman who earns about $52 per hour or about $104,000 a year. From then on, she would also have the option of moving up higher in the ranks, as a supervisor or project manager. That's why after being accepted to a number of four-year colleges, she decided to take an apprenticeship to become a carpenter, sponsored by Turner Construction and Tradeswomen Inc., after she graduated last June.
Melendrez is the first direct-entry student into a skilled-trade apprenticeship from the Oakland school district in the last 20 to 30 years, said Emiliano Sanchez, Oakland Unified's director of Career Technical Education trades and apprenticeships. Sanchez has helped build up the skilled-trades career technical education program at the school district in the past three years.
Last year, the program, with Sanchez's help, won a $500,000 grant from the California Community College Chancellor's Office's California Apprenticeship Initiative to build pre-apprenticeship programs at Skyline and Fremont high schools. The money allowed the district to invest about $200,000 to create a high-tech Skilled Trades Fab Lab at Skyline High. Opened last fall, the lab is outfitted for students to learn construction work with a saw top table saw, two chop saws, two drill presses, a grinder, a variety of power hand tools, as well as high-tech machinery, including two 3-D printers, a laser cutter, and a wood-engraving CNC router. Fremont High, which has had one of the district's few construction labs as part of its long-standing Architecture Academy, also got an upgrade of about $125,000 through the grant. The rest of the money will be set aside for professional development for teachers and staff to help expose them to more offerings in the construction fields throughout the school district, Sanchez said.
In the past couple of years, the Oakland school district has revitalized its vo-tech program, which is now referred to as its skilled-trades career technical education, or skilled trade CTE. The term "vo-tech" isn't used anymore in many education circles, because it carries too many negative connotations from the past, where old-school shop classes were predetermining which kids should go into blue-collar work for the rest of their lives. The re-envisioned program is giving Melendrez and other students the chance to learn more about how to become carpenters, construction workers, welders, machinists, electricians, pipe-fitters, concrete masons, and the like for the 21st century.
OUSD's new skilled-trades programs also represent a stark turnaround from the college-for-all reforms that swept through the nation's public schools in the 1980s and '90s. The renewed emphasis on skilled-trades education recognizes that college isn't necessarily for all students and that tracking every student toward college, while well-intentioned, hasn't worked as designed. It's also a recognition that stereotypes and prejudices associated with blue-collar work have been counterproductive and that the district — like others throughout the nation — has failed to train young people for steady, good-paying jobs. The dearth of high school trades classes also has contributed to the current shortage of construction workers in the Bay Area and beyond.
"I hope it'll help more people be more open-minded about the benefits of this type of work," Melendrez said, "and that it'll help more women — and young people in general — to have their eyes open to a field that could be right for them."
In the past couple of years, the Oakland school district has placed a greater emphasis on career technical education under its new "linked learning" initiative, also known as "wall-to-wall pathways." In linked learning, nearly every Oakland public high school student in the city must select an academic career path or academy — such as health, engineering, computer science, biotechnology, or architecture and design — by the 10th grade, with hopes that it will encourage more students to graduate and motivate them toward real world careers.
Linked learning coincides with a resurgence and re-emphasis on providing career technical education, mainly for white-collar jobs, but it has made some educators realize the importance of teaching kids about the so-called blue-collar fields as well, Sanchez said. And that change has been a significant one for many students since Oakland Unified, like many school districts nationwide, completely moved away from vo-tech education about 25 to 30 years ago.
Oakland and school districts around the country dismantled their vo-tech programs after studies found that students from certain racial and ethnic groups, particularly Latino and African-American young men, were being tracked into the skilled trades and construction jobs in high school, preordaining them to blue-collar work for the rest of their lives, instead of giving them the chance to pursue college and become doctors, lawyers, engineers, and other white-collar professionals.
This educational tracking prompted a big push, nationally, to promote college for all by the mid-1990s. But today many educators believe that the college-for-all reforms went too far. "Instead of fixing the problem, they eliminated a viable option," Sanchez said. "They threw the baby out with the bath water."
Tadashi Nakadegawa, Oakland school district's director of facilities planning and management, said he still can recall the days when all of the district's five comprehensive high schools — Fremont, McClymonds, Oakland, Oakland Tech, and Skyline — had dedicated shop classrooms, including a wood shop, an auto shop or a metal shop, and other types of shops classrooms. When he started working at the district about 30 years ago, such classrooms existed, but they were hardly bustling. Participation was dwindling. They had very little instruction or classwork was going on in them, and within five to 10 years, all the remaining shop teachers had retired or been laid off.
By the late 1980s and 1990s, shop classrooms had nearly all been converted into other types of learning or support facilities. Fremont High was able to hold onto its shop program through its long-standing Architecture Academy, and Castlemont High rebuilt a Fab Lab in the past five years as part of its Sustainable Urban Design Academy, but other schools did away with such programs completely.
"The focus of the district shifted to college prep and away from shops or vocational education, and we were tasked with developing plans for alternative uses for the shops classrooms," Nakadegawa explained.
Former OUSD Superintendent Dennis Chaconas said he can still recall taking shop classes during high school in the summer to learn how to do work on his car. Chaconas had a long history at Oakland Unified. In the 1950s and 1960s, he was an OUSD student, and later, started his teaching career in the late 1960s and early 1970s in Oakland, then rising through the ranks to become a high school principal in the 1980s, and then district superintendent of schools from 2000 to 2003. He said that when he started as a teacher at Havenscourt Middle School in the late 1960s and early 1970s, there was a wood shop, metal shop, and car shop there.
But he said that throughout those years, "there was a huge gap in what students were learning and what they needed to go into the field. It was not at a level — to prepare you to enter the field. It was very basic. Technology was really changing, and what we learned, things like fixing a carburetor or fuel injection, was really low-level. It would not prepare a kid for working at a Ford dealership or something like that."
Also tracking was absolutely an issue, he said: In the '50s and '60s, you either were college prep or you were on a more traditional general-ed track. Later, as the district became increasingly diverse, "when you looked in the classes, all the kids who in the shop classes were African Americans or Latino, and all the kids in the academics are college prep or white or Asian, and that was a problem," Chaconas said.
Those inequities prompted him to commit to providing 21st century voc-ed classes that were devised to provide hands-on learning opportunities to kids, regardless of race or economic background, when he became principal at Oakland Tech in 1983. So, he started the Engineering and Health academies there, which were highly regarded precursors to the district's current push for wall-to-wall pathways. He also tried to reinstate more traditional vocational ed courses, as Oakland's superintendent of schools, that were more focused on actually getting kids working on construction sites, alongside journeymen, in carpentry and electricians and masonry, so students could learn those practical skills. But he said those ideas did not take off due to a number of factors, including a lack of qualified shop teachers and a slowing economy that led to less demand for those employees, he said.
He said that when the college-for-all movement started to flourish within K-12 education in the 1990s, traditional vo-tech shop classes finally got the ax. As graduation requirements increased, it decreased the number of electives, including shop classes, that students could take, he explained.
"But I've always thought it was important to help kids understand how the theoretical connects to the practical, as well as help kids, while still being college prep, get jobs, and learn a trade that could be a fallback, in case college didn't work out," he said.
In the past few years, there's been a growing backlash against the college-for-all hegemony that dominated K-12 education for the past couple of decades, as dropout rates have remained troublingly high, college tuition and debt have spiraled out of control, and many college graduates have struggled to find high-paying jobs, often ending up taking lower-paying jobs in food service, retail sales, and clerical work industries instead.
"There's a recognition now that college for all is not a great strategy for all students, and the data reflects that," said Danny Beesley, a technical expert on Fab Labs and vocational education as the founder of Oakland-based Idea Builder Labs, a company that has focused on developing and building Fab Labs in education. He helped to set up the first Fab Lab in the Oakland school district at Castlemont High five years ago, with Timothy Bremner, a teacher who created the school's Sustainable Urban Design Academy, which exposes kids to real world community projects in agriculture, environmental science, architecture, engineering, and design, about eight years ago.
"The college-for-all paradigm has been really been pushed for quite some time," Beesley said. "It's really been two decades almost that college for all has been the mantra, but if you look at the data for a lot of the school districts that really pushed that concept, 20 years of massive investment into that hasn't really moved the dial. You aren't actually sending more people to college by just by telling them to go to college."
By contrast, Bremner says that his academy's real-world approach toward teaching offers "a way to engage kids in learning around authentic community projects."
"It's fun, it's real, it's creative, it's innovative, and it has all the beauties of a hands-on project-based learning curriculum," he said of the Fab Lab. "It really teaches kids what I would consider a life skill. They learn how to use power tools, think like a builder, and have confidence around making something, which is a life skill. We're teaching what we all need to learn — to make repairs and think like a builder and be confident with those things — whether you go into design, architecture, engineering, or carpentry, or any one of the skilled trades."
Sanchez said that when he started his job as the district's Career Technical Education trades and apprenticeships director in 2015, some skilled-trades classes existed at a couple of high schools, but they weren't integrated with trades unions to have programming that not only teaches students the necessary skills but also guides them into careers. And although students at times found their way into careers in the trades, the district didn't have a tracking system or a formal way to introduce them to lucrative, blue-collar career pathways.
That has led to a shortage of skilled-trades workers statewide, nationwide, and in Oakland. Right now, the average age of an apprentice is 28, which means that people graduate from high school at 18 and they basically float around for 10 years until they find construction as a meaningful career, he said. Also, there's a concern that with more than 50 percent of the skilled-trades workforce nationwide due to retire in the next five to 10 years, "there won't be enough talent to fill that void, if we aren't lifting it up in the schools," he added.
But with the pre-apprenticeship programs at Skyline and Fremont and another that is in development at Castlemont High that the district is trying to find funding for, "careers in the skilled trades and advanced manufacturing are now starting to be recognized as viable options, and not as an afterthought," he said.
Tim White, Oakland school district's deputy chief of facilities planning and management, said what is also largely unknown to many is that the district has a "project labor agreement" with the local building trades unions that mandates that any construction agreement funded by the district's general obligation bonds in the last 10 to 15 years comes with a commitment by the unions and general contractors that the workforce be about 50 percent local. As a result, he said, there is potential for a built-in pipeline for Oakland students through pre-apprenticeships to get jobs working on those sites. But it has yet to fully materialize.
"So, although there are some good programs scattered across the district that have recently emerged under Emiliano [Sanchez], or have been established earlier by Timothy Bremner at Castlemont, we've struggled trying to make that linkage, and that's a still a huge unrealized resource," White said.
Similar provisions exist for construction projects at the city of Oakland and Peralta community colleges that require contractors to hire locally first, Beesley said. "And Oakland is going through a massive construction boom," he noted. "We are starting to look like San Francisco right now with the number of cranes and high-rises going up, and the vast majority [of people] doing that work do not live in Oakland, because Oakland has not been producing people to do that work. Most from come from the Central Valley and other places."
The district also is working to address the gender gap in the skilled trades and advanced manufacturing by partnering with Oakland-based Tradeswomen Inc., whose mission is to address gender inequity and create inclusive cultures in the skilled trades. Currently, less than 3 percent of labor force in the skilled trades is female, though the Oakland school district's project labor agreement specifies that it should be 20 percent — and the group's goal is to bring that amount to 20 percent in 2020.
In August 2016, the school board passed a policy to start a Workforce Development Fund, through the project labor agreement, which requires that 20 cents of every work hour by each worker at a district construction project be paid by the general contractor into a district fund, especially earmarked to help educate kids in the skilled trades and advanced manufacturing to address these shortages, Sanchez said. So far, it's earned only $12,500, but he hopes that over time, the fund can accumulate enough to help expose kids to these often overlooked, high-growth and lucrative career fields, he said.
"We hope to at least double the amount during this academic year given the projects in progress at OUSD, and use of those some funds to do some career exploration work, as well as pay for items to support programs in skilled trades, i.e., buy hard hats and work boots for students," he said.
It's been at least a couple decades since the vast majority of Oakland students got any exposure to anyone in their K-12 education who knew anything about the merits of going into the skilled trades. Rather, they generally had teachers, guidance counselors, and administrators who all graduated from college — and that's all they knew to counsel kids toward, when it came to future careers, too, Sanchez said.
But all that changed at Skyline with the hiring of Nick Beasley. He was an English teacher for three years at the school, before starting to teach full time in industrial arts program at Skyline's Fab Lab this year.
He says he grew up in the union hall, with his dad working as a roofer and many others in his family in the skilled trades. And although he enjoyed teaching English, he said the satisfaction he gets from teaching kids about the skilled trades goes far beyond what he experienced teaching students about Shakespeare, Hemingway, writing, and rhetoric.
"In English class every year, I might be trying very hard to help kids to make a grade-level-or-two improvement in their reading or writing, but enlightening a kid to a whole career spectrum is huge, and these are massive gains for them," he said. "When I have a kid realize there are so many different opportunities out there, they have a different outlook on what their potential is."
Nearly 30 years old, Beasley also said he has a lot of friends who are going into the skilled trades now after doing contract work in white-collar jobs in public relations and advertising. "A lot of people see the appeal of blue-collar jobs, where the jobs are stable and you can support yourself and they are not all erratic, because you're not working for startups.
"The pay, the benefits, and the stability are huge," he continued. "We think of blue collar as lower class, but you look at these paychecks, you realize a lot of these white-collar jobs aren't really paying as well, and the benefits aren't as generous. And so many people leave college with massive debt. But I know a lot of electricians that got paid to go to school, and now they are working in a trade that pays them quite a bit."
At times, both Beasley and Sanchez admit it has been a struggle to get everyone to see the value of skilled trades and advanced manufacturing classes as part of the linked learning, because those career pathways are considered to be all college track.
"I'm not going to lie and say it's been easy," Sanchez said, explaining that "there's still a stigma attached" to construction work. "But my work has been working with individuals and trying to show them that skilled trades also are applied math and sciences. It's all part of the same realm — architecture, construction, and engineering. All three go together. You can't have one without the other, and there's just no success without the other. If an architect designs something, but there's never an engineer, and it never gets built out, all he did was a nice drawing and stuff."
Because Oakland's skilled-trades classes are taught within a college-track pathway, such as engineering, architecture, and sustainable design academies, it's hoped that there will be less concern over tracking — though it's always something to be careful not to do, he said. Even still, the bigger challenge at first might be helping kids overcome the stigma of choosing to pursue their passion — in the face of still lingering prejudices against blue-collar careers.
Melendrez said that she experienced similar pressures when she chose a carpentry apprenticeship over her college acceptances. "Many people at school tried to influence me otherwise," she said. "But they didn't understand the benefits of working construction, and they were misinformed about it as a career. People emphasize so much the importance of college, and they believe that you can't make it out any other way, but there were people who supported me and cared for me — and knew me for who I am and what I would want to do — and what would make me happy."