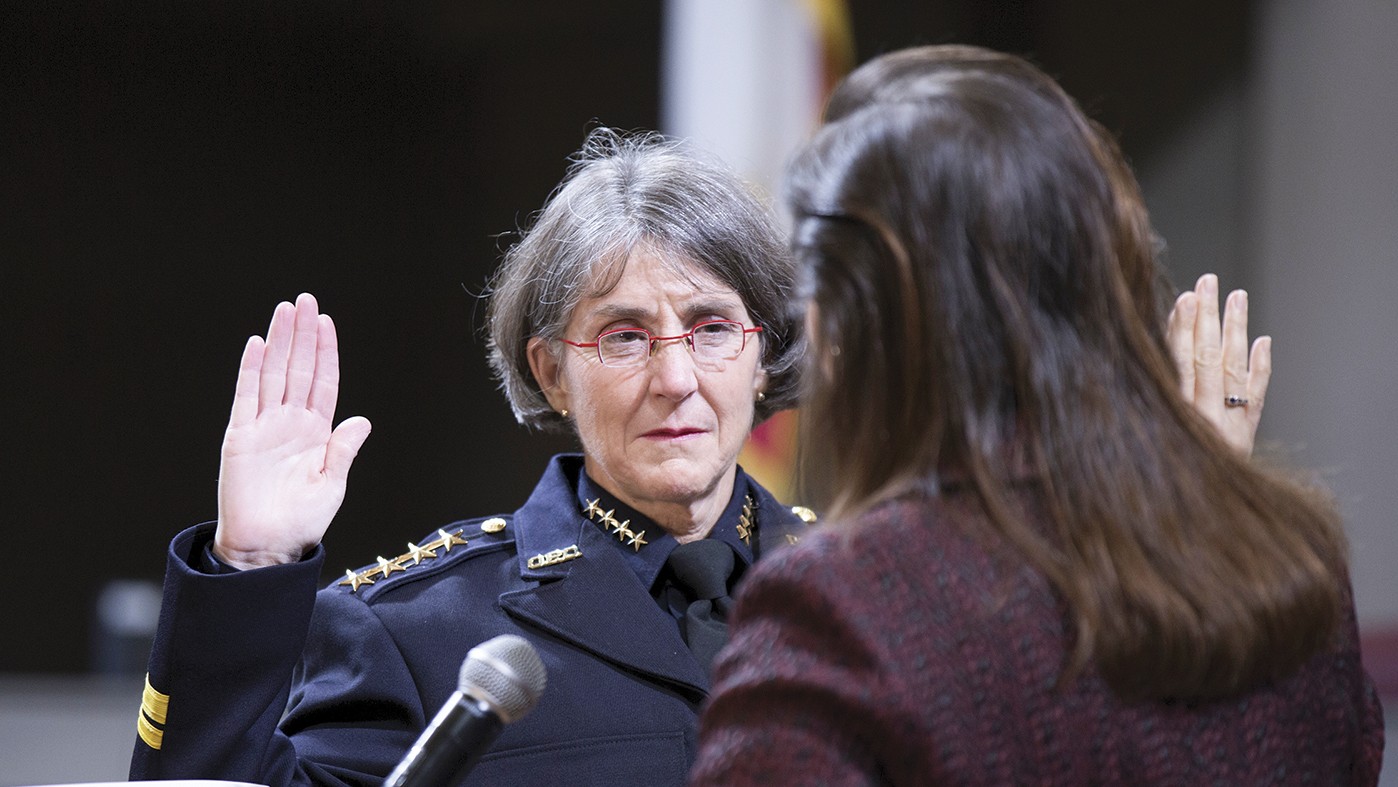 During her first ten months working as Oakland's police chief, Anne Kirkpatrick wasn't legally authorized to make an arrest or enforce any laws. That's according to state records obtained by the
Express
.
There was nothing wrong with her lack of certification, and she had full authority over the department as police chief. Nevertheless, if Kirkpatrick had been in uniform and alone, and witnessed a crime, she wouldn't legally have been allowed to make an arrest or issue a citation.
The unusual situation came about because Kirkpatrick was hired without having previously worked as a cop in California. She therefore lacked certification from California's Commission on Police Officer Standards and Training (POST).
Established in 1959, POST ensures that all California law enforcement officers complete a basic training program and meet minimum standards before using their badge and gun.
Kirkpatrick was sworn in as chief on Feb. 27 last year and under state law she had two years to prove she received training from other states' agencies, and also by passing a series of tests at a police academy in Fresno.
"The reality is that a big city chief likely will never personally take enforcement action, but technically by law they cannot exercise those enforcement powers personally until the process is completed," explained Scott Loggins, the basic training bureau chief for POST in a February email to OPD Sgt. Bryan Hubbard, who oversees recruit training and was helping Kirkpatrick obtain her California certification.
OPD media spokesperson Officer Marco Marquez told the
Express
that this situation was handled by having an OPD POST certified officer accompany the chief most of the time she was in public.
According to state records, Kirpatrick first attended a police academy in Memphis in 1982, but that department subsequently lost the course outlines that detailed the specific kinds of training she received. The chief went through another 80 hours of training in Washington State when she moved there to take a job as police officer in the city of Redmond in 1987.
Kirkpatrick rose through the ranks of several police agencies in Washington, ultimately becoming chief of the Spokane Police Department and then deputy undersheriff of King County in 2012. In 2016, she spent a year in Chicago's police department working as a bureau chief before applying for the Oakland job.
To fulfill California's requirements, Kirkpatrick obtained a basic course waiver by showing she had received training in Memphis and Washington, and then demonstrated competency in firearms use, including handgun and shotgun safety, how to use a baton, takedowns and control holds, and proper handcuffing and search techniques at a state police training center in Fresno.
The exact results of the tests were not made public. According to POST they are confidential law enforcement personnel records.
Kirkpatrick passed the tests and was certified by POST on Nov. 13.
Correction: The
Express
incorrectly attributed  information provided by OPD as being from Public Information Officer Johnna Watson. It was Officer Marco Marquez who provided the information.