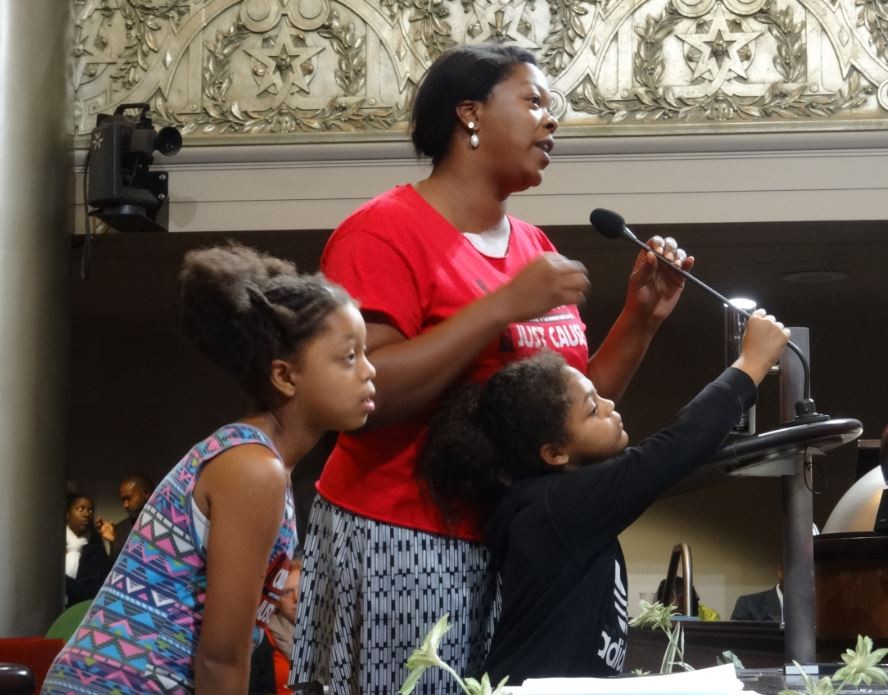 Last night the the Oakland City Council approved a 
housing equity roadmap
, which includes a palette of measures that the city can use to make housing more affordable for everyone in Oakland. The council approved the roadmap after a lengthy special hearing on the city and region's housing crisis.
But approving the housing roadmap doesn't mean any of the policies spelled out in it – from restricting condo conversions, to implementing a housing impact fee, to dedicating public lands for affordable housing – will actually be put into practice. Each of these ideas, and other laws that could address the housing crisis, must be brought to the council separately and voted on. Therefore it remains an open question as to when, and if, the city will take action to address the growing crisis of affordability and displacement that is pushing out longtime residents, especially low-income households.
See also:
Will Oakland Protect and Expand Affordable Housing?
[jump]
Oakland residents, who waited several hours to address the council, are clearly frustrated by what they see as the slow pace of the city to address the problem.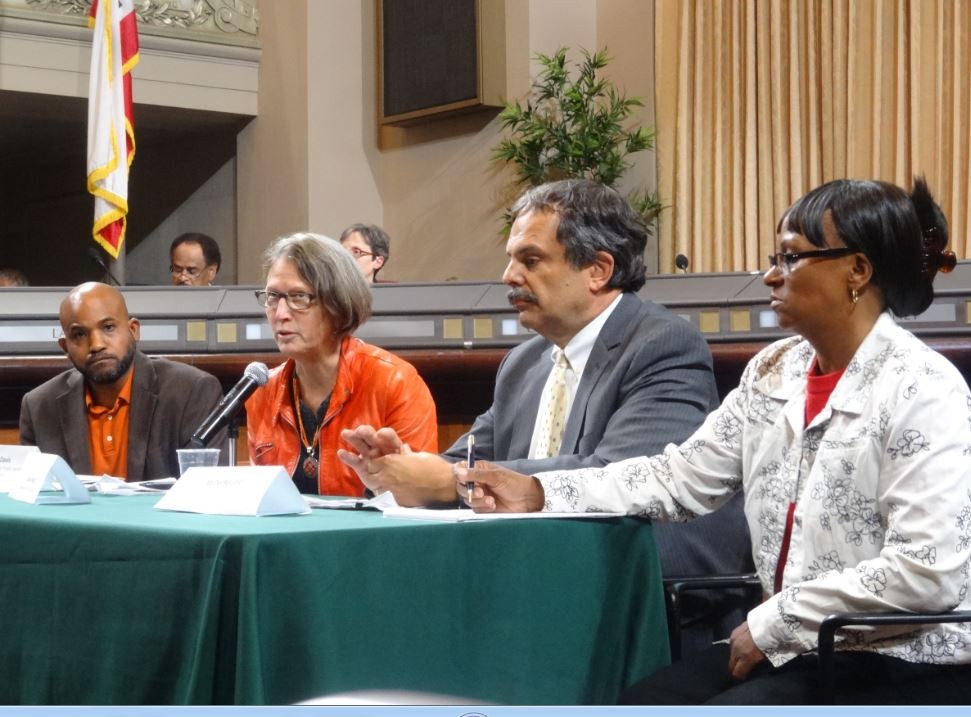 "We're beyond talking. We need action now," said Oakland resident Jabari Wilson during the public comment period.
Speaker after speaker, many of the members of Oakland's shrinking Black community who have been hit hardest by rising rents and home prices, came to the microphone to tell stories of displacement and dispossession from neighborhoods they grew up in.
And an expert panel assembled by Council President Gibson McElhaney laid out some of the causes and consequences of Oakland's housing crisis.
Alma Blackwell, a housing rights organizer with Causa Justa/Just Cause, said the current change in Oakland's affordability began when Jerry Brown was mayor and the city was purposefully geared toward attracting higher income residents by building expensive condos and apartments around downtown. She said that while Oakland has done a lot in recent years to attract capital to the city, there hasn't been enough attention on preventing the influx of more affluent newcomers, and the redevelopment of vast portions of the city, from squeezing out the poor. Blackwell added that while it's necessary for the council and mayor to pass new laws and find new sources of funding to keep housing affordable, the city also needs to enforce its current housing laws, especially for building code violations and tenant protections.
Ed Del Beccaro,
a real estate broker
with the Transwestern company, told the council that the problem is fundamentally about a regional jobs and housing mismatch. Del Beccaro estimated that between now and 2022 Alameda County will need about 44,000 new units of housing to accommodate population growth, but the projected number of units being built is only 27,000, leaving a deficit of about 16,000 units. "Where are these people going to live?" Del Beccaro asked the council.
But Muntu Davis, the county health officer for Alameda County said that simply building more housing won't solve the problem. Oakland must enact economic policies like the minimum wage to lift up the lowest income populations and ensure that they can afford housing, said Davis.
Kalima Rose of PolicyLink, who worked on the housing equity roadmap with Oakland city staffers, listed other forces, besides supply and demand, that are driving housing insecurity in Oakland, especially for low-income households. These include investors who have bought up tens of thousands of single family homes in the aftermath of the foreclosure crisis, and have now jacked up rents. Single family homes are exempt from rent control, meaning that between 2008 and the present, thousands of houses in Oakland were converted from owner-occupied housing into rental housing, and the new landlords can set whatever rents they choose.
Rose also said the city's
condo conversion ordinance
needs to be fixed soon, or else Oakland could experience a wave of tenant evictions similar to what has happened in San Francisco as landlords convert rental apartments into condos for higher-income buyers. Currently, there are 29,000 apartments in two- to four-unit buildings that are unprotected by Oakland's existing condominium conversion ordinance. Landlords are free to push out tenants and convert these apartments into condos, and there is no requirement that they replace the apartments with new rental housing stock.
Councilmember Dan Kalb's office is working on reforming the Oakland condominium conversion ordinance, and this morning Mayor Libby Schaaf announced her support for expanding tenant protections in two- to four-unit apartment buildings that are threatened with condo conversion. City staff have estimated that as many as 2,000 apartments are threatened with conversion into condos over the next seven years if nothing is done.
City staff is also working with a consultant on studying impact fees, but the process has dragged on for well over a year. In contrast, other cities such as
 Emeryville
and Berkeley have been quick to implement and fine-tune their housing impact fees. The council is expected to receive a staff report on impact fees early next year, but it's unclear where different councilmembers stand on the issue.