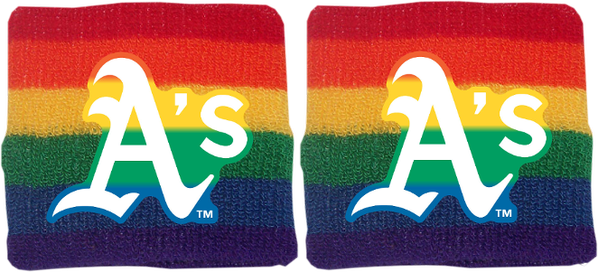 The Oakland A's are planning its first ever LGBT Pride Night game on June 17 against the San Diego Padres. The game will be like any other, except it will include "two Pride wristbands, and partial proceeds will benefit AIDS Project East Bay and Frameline, a non-profit supporting the LGBTQ media arts," as the A's website states. Sounds pretty innocuous, right? Well, apparently it was too much for some homophobes, who took to social media to express their discontentment and to try to sell their tickets to the game.
See Also:
Three-Quarters of Americans Support Signing Professional Gay Athletes
These Female Skateboarders Are Changing the Sport for the Better 
[jump]
After seeing some of these negative tweets and Facebook statuses, Eireann Dolan, the girlfriend of A's pitcher Sean Doolittle, reacted in an awesome way. On her
blog
Dolan wrote that she "was saddened to read some of the replies about their decision to have a night of inclusion for the LGBT community." She also wrote that she was raised by two moms, who happen to live in San Diego, but are big A's fans.
Dolan decided to buy the tickets from those who were "uncomfortable" attending a baseball game with queer people (FYI: You already do! Queer people are like quinoa: WE'RE EVERYWHERE), and said that she and Doolittle would donate the tickets to Our Space LGBTQI Community Center, a local, queer organization for teens and young adults. 
Then, to top that, Dolan said that Doolittle agreed to match her donations up to $3,000, and started a GoFundMe
campaign
to purchase more seats for the youth center. Donations quickly reached the campaign goal of $6,000 on the first day, and as we write this, its at almost $15,000. Dolan plans to donate overflow funds to other LGBT organizations who want to attend the Pride Night game. 
Not only is Dolan a terrific LGBT ally, she's also quite funny. Read her description about how Pride Night was made for her moms:
This night was made for them. In fact I'm starting to suspect that the Athletics focus-grouped this event idea with just my two moms and nobody else.

It couldn't be any more perfectly tailored to my moms than if the team announced that NPR's Terry Gross will also be throwing out the first pitch and there will be a free notepad giveaway on which my moms can write down all of the reasons I should have majored in something more practical in college.
The A's are supportive of Dolan and Doolittle's efforts and released a
statement
about it: "We are hopeful that the support that has been expressed for the event in the past few days will make it an even more successful first-year event and demonstrate that the A's organization welcomes and supports the inclusion of all fans."
A home run for all involved. Oakland pride!