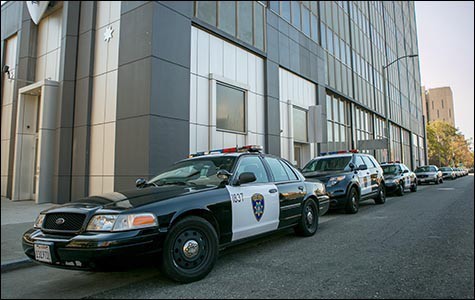 The Oakland Police Department was criticized this week after issuing an announcement on Monday that claimed there is an increased likelihood of drunk driving during Cinco de Mayo.
On Facebook, for example,
Oakland Latinos United
posted a response stating, "Oakland Police has posted on their Twitter account [they're] going to put out Extra Patrols for you drunk Mexicans on Cinco de Mayo. How does it feel. As a Mexican Chicano I wonder if OPD will be posting DUI PSAs for every ethnic & culturally based holiday?"
Others pointed out that OPD hasn't issued similar advisories warning Oakland residents about drunk driving for holidays like St. Patrick's Day.
[jump] Oakland resident Joel Tena decided to call out the message online. "As a Chicano, I know the awful legacy of racism against the Mexican community here in the United States," Tena told the
Express
. "When I saw this, I was incredibly offended by it."
Tena linked the OPD message in a post on Nextdoor.com, and responded to it. 
"I just received the Tweet, NIXLE, and NextDoor post from the Oakland Police Department regarding drunk driving and Cinco de Mayo. Drunk driving is no joke and I hope folks do not drink and drive no matter what day of the year," Tena wrote in his original post. "However, I find it extremely problematic that OPD is specifically focusing on DUIs during Cinco de Mayo celebrations – a holiday celebrated by folks like myself, people of Mexican descent who are from the United States (and also Mexicans in general and other non-Mexican folks too)."
But shortly after OPD's public apology on Tuesday, Tena said his post critiquing OPD's original statement was removed from the popular private social network by Dan Toone, a Nextdoor lead from the Oakland Lincoln Highlands neighborhood. Tena said he received no warning or explanation about why his post was deleted.
According to Tena, Toone said he removed the post because "OPD removed their nixle posting" and Toone felt "it is appropriate this is removed also at the request of other neighbors."
Despite OPD's apology – which Tena called a positive step – he said that Toone's decision to remove his Nextdoor post doesn't make sense, and neighbors have a right to discuss the original post made by the police department.
Frustrated by what he said was an act of silencing of important conversation on issues surrounding race and the police, Tena wrote to Nextdoor officials asking for an explanation.
Director of Neighborhood Operations Gordon Strause replied to Tena, stating that "leads should only remove discussions that violate Nextdoor's Guidelines for Neighborly Behavior," and if it turned out that this was not the case in this instance, Nextdoor will "follow up to ensure that Lead powers are used appropriately going forward.
But Tena said the response was insufficient and that it did not address the unwarranted censorship some leads have exhibited on Nextdoor to "silence community voices around these issues of racial justice."
Emphasizing that this is not the first time Nextdoor leads have used their authority to censor controversial discussion or
exclude some people's opinions
, Tena pointed to other cases of lead abuse such as that surrounding Hugh Bartlett, who the
Express
featured last year in an article about
racial profiling on Nextdoor
.
"[Nextdoor] has to allow for the hard conversations around law enforcement, race, and race relations," Tena said in an interview. "If we can't have these conversations on Nextdoor, they are doing the community a disservice."
Tena has since requested that his
original post
be restored, and said he has yet to receive another response from Nextdoor officials.