Stories you shouldn't miss:
1. The possibility of a third BART strike this year moved closer to reality after the transit agency's board effectively voted on Friday to reject the tentative deal its management team had reached with unions and requested more negotiations. The BART board and top managers contend that they mistakenly agreed to a provision that would give transit agency employees six weeks of paid family leave, the CoCo Times reports. However, the unions, which have already approved the deal, contend that the agreement was not a mistake and have indicated that they do not intend to renegotiate. BART officials also announced that they have terminated the contract of their high-priced consultant, Thomas Hock, who signed the paid leave benefit.
[jump]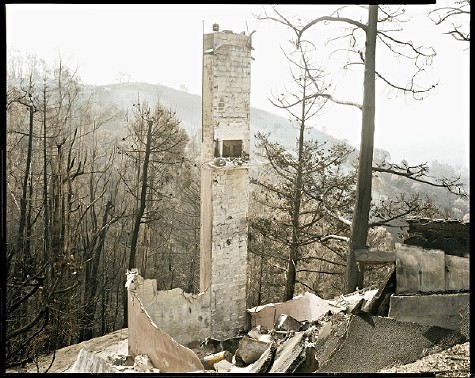 Richard Misrach/file photo
The wildfire prevention tax was designed to help Oakland avoid a repeat of the 1991 deadly firestorm.
2. Oakland hills property owners narrowly defeated the renewal of the city's wildfire prevention tax, which was designed to help Oakland avoid a repeat of the deadly 1991 firestorm. The Trib reports that the prevention tax, which was voted on by mail by hills homeowners, fell just 66 votes shy of passing. It received 66.3 percent of the vote, but it needed 66.7 percent. Oakland City Councilman Dan Kalb, who represents the area devastated by the 1991 firestorm, said he would push to put the tax on the November 2014 ballot.
3. The state has lost track of 174,000 tons of hazardous material in the last five years, because it's system for keeping tabs on hazardous waste is broken, the LA Times$ reports in a special investigation. State regulators have lost track of loads that "include more than 20,000 tons of lead, a neurotoxin; 520 tons of benzene, a carcinogen; and 355 tons of methyl ethyl ketone, a flammable solvent some in the industry call 'methyl ethyl death.'"
4. Governor Jerry Brown's administration released industry-friendly fracking rules that won praise from oil and gas interests and criticism from many environmental groups. The LA Times$ reported that Catherine Reheis-Boyd, president of the Western States Petroleum Association, a trade group, said the rules "will ensure that the potential energy resources contained in the Monterey Shale formation can be responsibly developed." The rules came in response to the passage of SB 4, a new law that mandates that the state approve all fracking requests if certain conditions are met.
5. And the private company that screwed up the federal Obamacare website is run by executives who used to operate a computer firm that mishandled at least twenty other IT contracts for government agencies, the Washington Post$ reports.