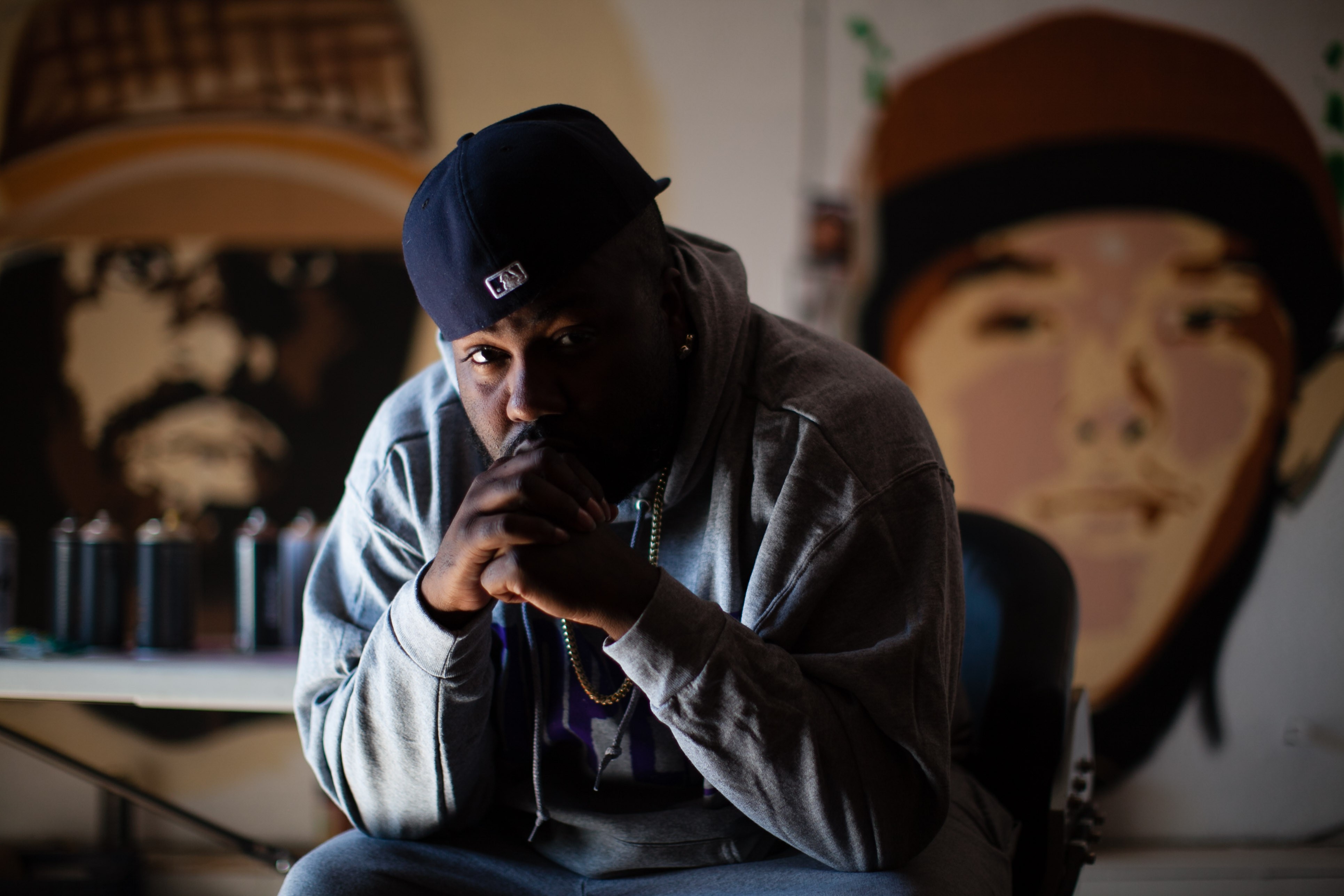 He's known nationally as a Bay Area hip-hop legend. But in Oakland,
Mistah F.A.B.
is simultaneously a local icon and an accessible, ordinary citizen (well, almost) working for positive change — in the trenches too, not from some ivory tower.  
For the past ten years, he's spearheaded dozens of grassroots initiatives— including backpack and school-supply drives for local kids, Thanksgiving turkey giveaways, domestic violence prevention initiatives, and basketball tournaments that promote ending gun violence.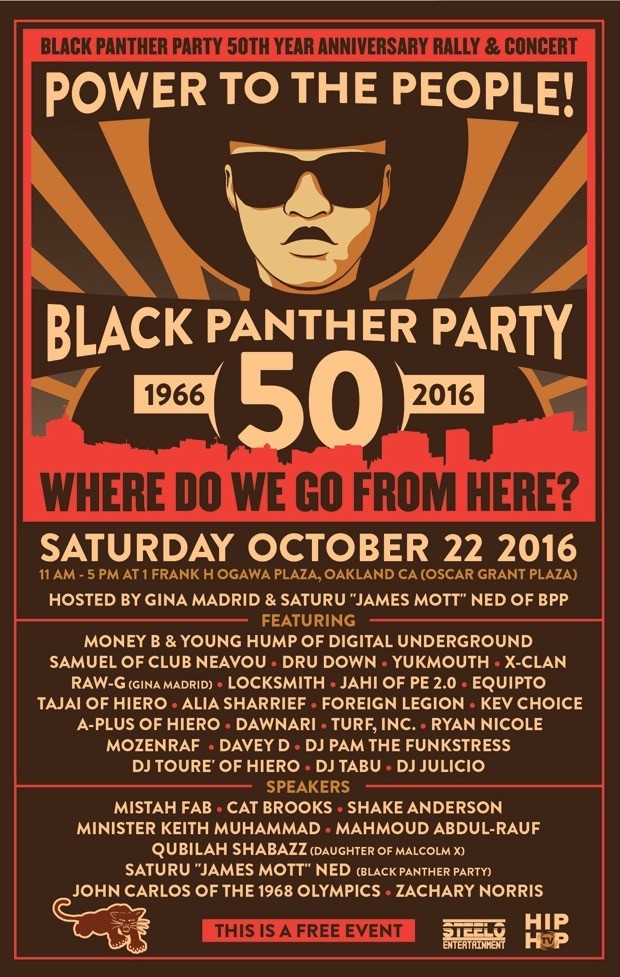 While he's widely regarded as a pioneering figure of the hyphy movement, many people don't realize that F.A.B. is also a political thinker who uses his position of influence to fight for justice.
From October 20 to 23, Oakland is celebrating the fiftieth anniversary of the Black Panther Party with
a city-wide conference and gala
under the theme "Where Do We Go From Here?" And F.A.B. is a featured speaker at the Power to the People rally and concert on Saturday, October 22, at Frank Ogawa Plaza. The free event has plenty of musical guests to look forward to, such as local legends Dru Down and Tajai and up-and-coming feminist rapper Alia Sharrief. And F.A.B. and other activists such as Cat Brooks and Qubilah Shabazz will be dropping knowledge, as well.
I caught up with Mistah F.A.B. on a recent afternoon at his shop,
Dope Era
, to chat about what social justice-minded young people can learn from the Black Panthers' legacy. 
See more:
Oakland Rap Legend Mistah F.A.B. Moves Past His Hyphy Legacy and Makes a Different, Lasting Impact on his Hometown
Former Black Panther Newspaper Staffers Discuss Social and Racial Justice
The Oakland Museum of California's Homage to the Black Panther Party
[jump]
So you're speaking at the Black Panther concert and rally this weekend? I was wondering what you'll be talking about specifically.
Pretty much about the influence of the Panthers in the city, as well as what they've done to inspire me and influence me and some of the work that we do here in the community. The philanthropy and the child development and the reconstruction of the community is a lesson launched from their teachings. … I've definitely studied their blueprint and tried to emulate it as much as I possibly can, but one man can't do what the organization was able to do — only characteristics of it. So I'll talk a little about that and the important things, the pivotal points, of what the organization meant to me and the city, and what we can do to galvanize that kind of feeling back again, some how, some way.
What do you think today's activists can take away from the Black Panthers?
They fed people, policed the community, governed themselves, taught each other, gave opportunity; put books in the hands of young, intelligent men that were on the streets that probably would have went to prison or went on to do other things, but they gave those guys hope, they gave them identity. They gave them something to cheer for. They gave them something to look forward to. … They gave hope and opportunity, and in life those are two essential things that can bring happiness. You can paint a masterpiece once you master peace, and the inner peace of knowing there's something to go to, knowing there's somewhere to fall back on, knowing there's something to fight for — in these streets, I'm pretty sure in those times and today, there are soldiers with nothing to fight for.
What I've been thinking about with the Black Panthers' fiftieth anniversary coming up is how today, there's the big exhibit at the Oakland Museum of California and all this stuff commemorating the Black Panthers, but I feel like that's easy to do now that it's so far in the past. But at the time, they were so vilified by the media and government. It reminds me of how today, when protestors shut down the freeway for a Black Lives Matter protest, people don't see the point of it and it's similar to the ways the activists back then were misunderstood.
Nah, I wouldn't necessarily compare the two struggles because when the Panthers was rioting or marching — or doing their public work in the community in the fight against the government to overturn the judicial system of the time — it was a cause, it wasn't just recklessness. … No disrespect to those who have stopped up the freeway or things like that, but I don't think that frivolous activity can amount to the significance of what the Panthers did it for. I think the rioting and standing against the injustices and doing something about it, in that sense, yeah. But what they're doing about it is definitely different. A march on the state capital is far greater than stoppin' up a freeway.
So do you think protests of today need more organization and focus?
Structure. When we're protesting, let's not get caught in the act of protesting and lose sense of why we're protesting. If you look at a similar situation with
Kaepernick
, there have been people who have looked at the kneel and made a mockery of the kneel instead of understanding why he's kneeling. They're focusing on the secondary issue and not the primary.
What brings forth change is protesting for things that need to be changed [and going through] the proper steps, whether it be judicial adjustments, whether it be the legislation, whether it be us informing and teaching. … We live in the information age but the information is not being digested smoothly as we're getting it. We're getting so much information we don't have the time to process it.
I've heard people say we have more information and less wisdom.
Most definitely.
Any other thoughts about the Black Panther anniversary?
I'm anxious to see how it goes. I recently took my [eight-year-old] daughter to see the [Oakland Museum] exhibit. She definitely had a great time and shocked me because she knew a little bit more than I thought she did about the situations with the KKK robes. They have a display of a KKK robe and she knew what it was and the story behind it. It was very fulfilling for me for her to be able to see that.
I brought pictures of her great-great-uncle, a very influential Black Panther at the time, and let her know our family is a part of that and there are leaves from the branches of our tree that have significance in this. It's dope, it's a great exhibit. 
I'm happy that, like you said, in hindsight it's easy to look back and give someone the accolades and give them the credit for the change that they've done. But we need to acknowledge things in the moment. We can't wait for another Dred Scott case, two hundred years, to finally realize, 'Oh man, he was right.'
Women's suffrage, equal rights, segregation — these are things that in hindsight, to the generation now, it looks so long ago. But chronologically if we look at life for what it is, it's not that long ago. It's not that long ago that this would be wrong, us sitting down, you coming to this neighborhood. That was a grandparent away. My grandmother used to tell me, "Shit, slavery was two grandparents away." My great-great-grandmother was an indentured servant, a sharecropper. And her mother was a slave. So it wasn't that far away when you look at it like that.
So we have to know what we've gone through. We have to be considerate of our struggling. And modern-day people have to humble themselves to other people's struggles. You have a lot of people like, "Oh, well my grandmother did this." You can't compare the struggles. It's different. Especially for a Black man in America. What we've done, what we've had to endure, what we're still enduring. It's easy to talk about the stories of the past. Well let's talk about the current stories. What's the different between public lynchings and public assassination? It's very similar.
For these things to be addressed is great and to see an organization like [the Panthers], I wish it was still powerful and … I would love to see that fruitfulness fulfilled in the city again. … We have to study from [the Panthers], especially people like myself who have influence, so we can inoculate these things and some of the ideologies that Huey, and Bobby, and Angela, and so many others brought forth. It's needed in modern-day times. We must teach, we must learn, we must educate the modern-day youth.