Welcome to the Mid-Week Menu, our weekly roundup of East Bay food news.
1) The sale of Peet's Coffee & Tea to German investment company Joh. A. Benckiser is the big news this week. As previously reported in the Express, the publicly-held company's effort to keep stockholders happy has caused a shift in culture, from laid-back to straight-up corporate. The stock buyout could increase Peet's' presence nationally (it currently includes 200 storefronts, plus a robust distribution model). And we all know the East Coast could use more good coffee. Peet's' headquarters are expected to stay in Emeryville.
2) Also going private is Rogue Café, the pop-up brunch spot located in a South Berkeley backyard (complete with treehouse). The two-person operation became a private club on Monday, just hours after Berkeleyside published a piece about it. A spate of irate comments from readers about commercial zoning ensued. "We're taking heat," said chef-owner Eric Thoreson in a recent email, "and this is the only way to keep it 'legal.'" To remain privy to Thoreson's homemade English muffins and silky-smooth pour-overs, email hyperbole (at) oneninetyseven.com.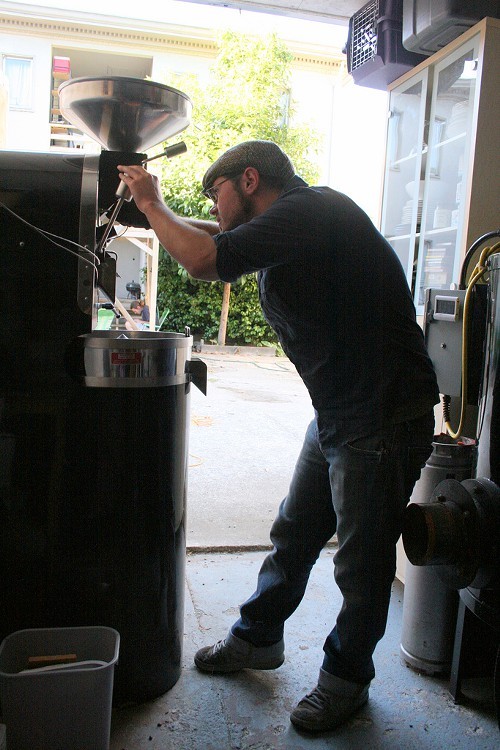 Eric Thoreson of Rogue Cafe
3) Another hurdle to East Bay food fun: The postponement of the opening of the Uptown Farmers' Market in Oakland, which, besides the usual market stands, promises a beer and wine garden featuring local brews. The farmers' market, one of the few in Oakland operated by an Oakland-based company, was set to open in early August, but due to issues of location, the projected opening is now next spring.