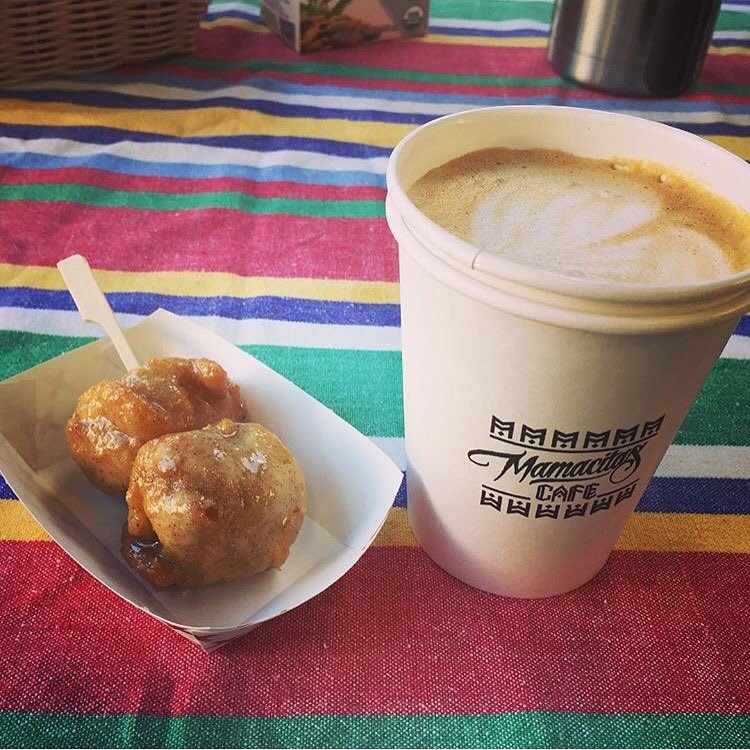 Welcome to the Mid-Week Menu, our roundup of East Bay food news.
1) A year ago, What the Fork
reported
on a new venture that promised to empower young women in East Oakland and West Oakland by teaching them entrepreneurial and leadership skills — all through the medium of a pop-up business selling doughnuts and coffee. Now,
Mamacitas Cafe
has taken a big step forward: It now has a brick-and-mortar cafe that's open for business in downtown Oakland at 1714 Franklin Street,
Berkeleyside Nosh
reports. Go snag one of the cafe's signature doughnut "kebabs," a cup of Red Bay coffee, or one of a handful of
new savory items
, including a few different polenta dishes.
[jump] 2) Bad news for crab lovers: The
Chronicle
reports that the California Department of Public Health is warning people to not eat crabs caught off the California coast until further notice, and it looks likely that the commercial Dungeness crab season will be postponed — and possibly even canceled altogether. The recreational season has already been postponed 180 days (or until the crabs are deemed non-toxic) after a California Fish and Game Commission vote this morning, the
Bay Area News Group
reports. The health warning is a response unsafe levels of domoic acid found in crabs due to a toxic algae bloom.
3) Last month I
reported
that Merritt Bakery's Kwik-Way location likely wouldn't be long for this world. Now, according to the
Splash Pad monthly newsletter
, it appears that the owners of the building are negotiating with Dunkin Donuts and Baskin Robbins about a joint venture in that location — an outcome that would surely disappoint neighborhood activists who campaigned to keep McDonald's out a few years back. For now, it looks like nothing is settled, and co-owner Charles Hahn has said that the original plan — to build a mixed-use housing project at that spot — is still on the table. Hat tip to Twitter user
@tim_mulshine
.
4)
Inside Scoop
reports that Farm League — the restaurant design and management group behind such projects as Tigerlily, Westbrae Biergarten, and Drake's Dealership — is planning a new restaurant and beer garden near the MacArthur BART Station, at the intersection of 40th Street and MLK Jr. Way. The restaurant, Arthur Mac's Tap & Snack, will be part of a larger Hive/Impact HUB-like complex.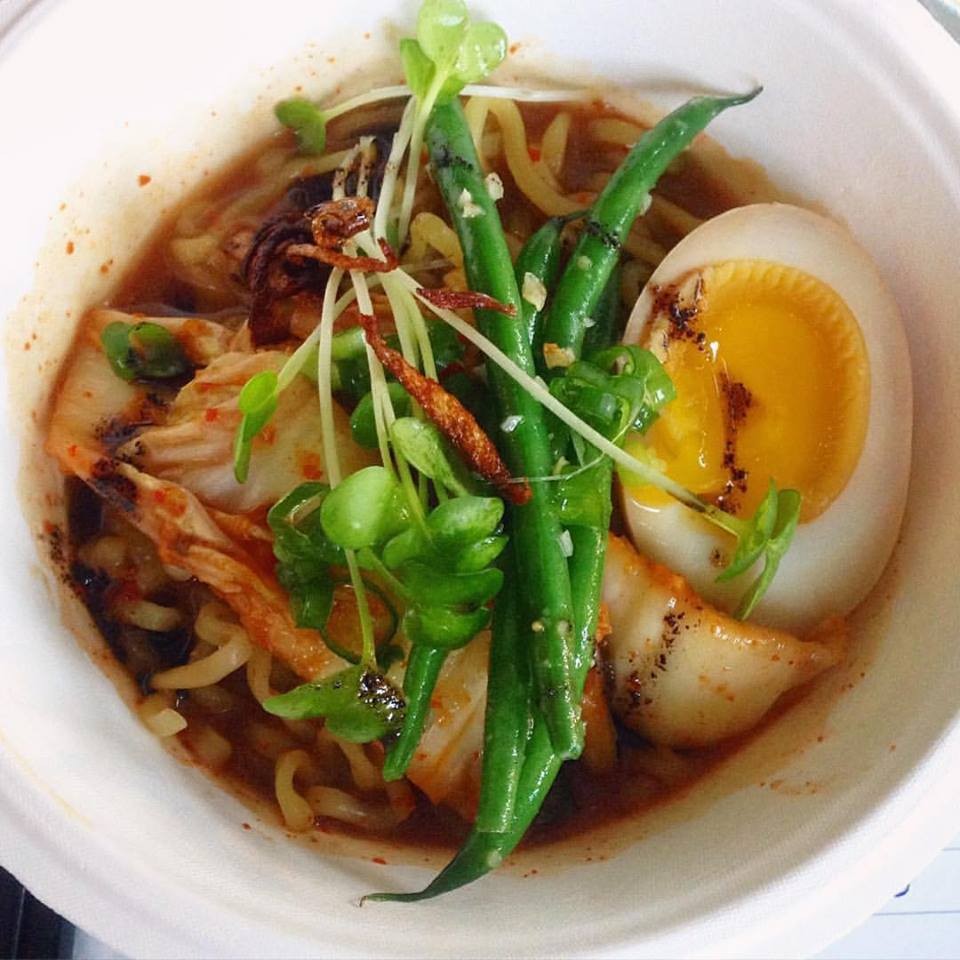 5)
Mudita Ramen
, a new ramen pop-up, will be coming to Laurel district restaurant Communite Table every second Sunday of the month, starting this Sunday, November 8, 5–9 p.m.,
East Bay Dish
reports. Each of the three ramen dishes on offer will be vegetarian — and can be made vegan by request.
6) La Marcha (2026 San Pablo Ave., Berkeley), the Spanish tapas restaurant from the owners of the Ñora Spanish Cuisine mobile catering business, is now open for business,
Inside Scoop
reports.
7) Former New York Times food writer and recent Berkeley transplant Mark Bittman has finally announced the new gig(s) he hinted at in his
farewell column
earlier this fall.
Berkeleyside Nosh
reports that Bittman is now the "chief innovation officer" and recipe developer for The Purple Carrot, a Boston-based vegan meal kit delivery company that has just started West Coast deliveries. And he has also joined the board of
Josephine
, an Oakland-based startup that allows home cooks to sell meals out of their own kitchens.
8)
Inside Scoop
reports that Parlour, the Uptown Oakland woodfire pizza/whole-animal restaurant, has a new chef: Anthony Robert Roark. (
I reviewed Parlour
back in May and enjoyed several of the whole-animal dishes, if not the high prices — though it appears the prices
have been lowered
a bit since then.)
9)
Berkeleyside Nosh
reports on a juicy lawsuit involving a high-end Berkeley wine store and several million dollars' worth of undelivered wine futures.
10) ICYMI, I wrote about a new
"decolonial" Mexican cookbook
by two Bay Area professors who advocate a return to the traditional (and vegetarian) foods of their ancestors.
Got tips or suggestions? Email me at Luke (dot) Tsai (at) EastBayExpress (dot) com. Otherwise, keep in touch by following me on Twitter @theluketsai, or simply by posting a comment. I'll read 'em all.