Welcome to the Mid-Week Menu, our roundup of East Bay food news.

1) Berkeleyside Nosh has the scoop on Republic of V (1624 University Ave.), a new vegan boutique and specialty shop that just opened in Berkeley. The all-vegan one-stop shop carries snacks, groceries, apparel, beauty products, books, and more. This Sunday, March 16, from 3-9 p.m., Republic of V is hosting a grand opening celebration at the store and at the Monkey House art space a few doors down at 1638 University Avenue. There will be vegan food samples, vegan team trivia, a vegan spelling bee — vegan entertainments aplenty. The Monkey House, where most of the festivities will take place, is BYOB.

[jump]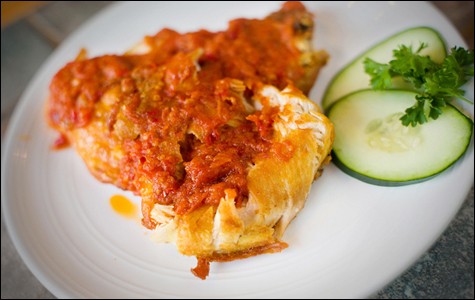 Padi's smashed fried chicken with sambal.
2) Sadly, the Indonesian restaurant
Padi
(2965 College Ave., Berkeley), one of my favorite spots in Berkeley's Elmwood neighborhood, has closed. Chef-owner Jimmy Sujanto told What the Fork that he decided to shutter the restaurant because he found the rent for that location to be too high for him to make much of a profit. Fans of Padi's
fiery sambal-based dishes
can still visit the restaurant's other location in San Leandro (16695 E. 14th St.). Now that he's consolidated his operations, Sujanto said he hopes he'll be able to expand the menu slightly at the San Leandro Padi.
3)
Berkeleyside
reports that Zenshen Sushi Express (2516 Durant Ave.), the conveyor-belt sushi restaurant, has also closed after less than a year of business.
4)
Tablehopper
has details about the sister bar that
Bar Dogwood
(1644 Telegraph Ave., Oakland) owner Alexeis Filipello is opening in the space next door: Darling's (1635 Broadway) will mostly be a space for private events, but it will also be open as a bar Thursday through Saturday, with an emphasis on drinks made with old-fashioned things like house-made phosphates and lactarts and a more extensive menu focused on the same kinds of things currently on offer at Dogwood: cured meats, sandwiches, and such. Oh, and once Darling's is open, perhaps by November, Filipello plans to enact a (soft?) ban on the use of cellphones and other forms of technology at both bars.
5)
Inside Scoop
reports that Cugini Manzone (2930 College Ave.), a new Italian wood-fired pizza spot, is now open in Berkeley. Check out the
menu
, which also features a selection of traditional pasta dishes and entrées, here.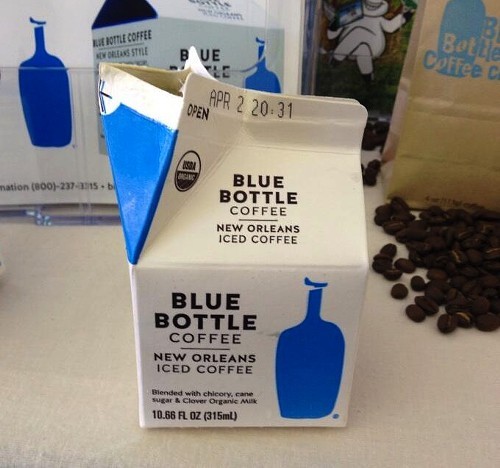 6) Blue Bottle Coffee founder James Freeman first tweeted out a
picture
, and
Eater
fleshed out the details, so now it's official: Blue Bottle's widely celebrated New Orleans iced coffee will soon be available, in cute little pre-packaged cartons, at a store near you. Look for them in the coming weeks at all Blue Bottle cafe locations and, perhaps by next month, at Whole Foods.
7) As an incorrigible wi-fi leech, I feel it's my duty to report that
Barkada
(4316 Telegraph Ave., Oakland) is now a wi-fi-free, laptop-free business. In fact, Barkada's owners
just announced
that isn't a bakery or cafe at all anymore, but rather a full-service sit-down restaurant exclusively (though breads and pastries continue to be featured on the menu). The latest news is the culmination of a gradual shift I noted when I
reviewed
Barkada a couple of months back. Stay tuned to see what other changes are brewing.
8)
Juhu Beach Club
(5179 Telegraph Ave., Oakland) is marking its
one-year anniversary
with a big outdoor (i.e. in the parking lot) Holi party — a celebration of India's festival of love, wherein merrymakers wear all white and throw colorful powders at each other.
Tickets
are $20, which covers food and entertainment. Chef Preeti Mistry promises there will be cheap drinks for sale as well.
9) OK, this sounds like fun: It's been about two years since Michael Davidson (aka
GrilledCheezGuy
) has hosted one of his Behind the Cart "mobile underground restaurant" events, wherein local food cart vendors and other cheffy types get together, cook a big meal, and tell their stories. The twist for this edition of Behind the Cart —
coming up on Saturday, March 22
— is that dinner will take place on a boat, somewhere in the waters surrounding San Francisco. Participating chefs include Eddie Dick (formerly of Nopa), Kirk Lombard (aka the "Sea Forager," previously profiled by
What the Fork
), and, of course, Davidson himself. You can check out the full lineup and buy tickets — $105 for eight courses —
here
. (As of this posting, it looks like the 8:30 p.m. seating is all sold out, but there are still a few spots left for 5:30 p.m.)
10) ICYMI, here's this week's batch of What the Fork posts: Local 123 has
joined the third-wave coffee roasting game
, and SolidariTEA is an
iced tea company with a social conscience
.
Got tips or suggestions? Email me at Luke (dot) Tsai (at) EastBayExpress (dot) com. Otherwise, keep in touch by following me on Twitter @theluketsai, or simply by posting a comment. I'll read 'em all.