Straight outta the rap hotbed of, uh, Minnesota: a dope new mixtape from the harshly named Marijuana Deathsquads, featuring Bon Iver, P.O.S., Poliça, GANGS, Doomtree, Solid Gold, Har Mar Superstar and many more.
From the Deathsquads' label, Totally Gross National Product, via Doomtree:

"The album, 'Tamper, Disable, Destroy' is a small selection from a vast library of freestyles Ryan Olson accumulated at after parties in his Minneapolis studio, and late nights during a session at the infamous Wisconsin studio, April Base. The mixtape successfully blends the eclectic electronic sound Deathsquads have become known for, with pure, uninhibited, Rap.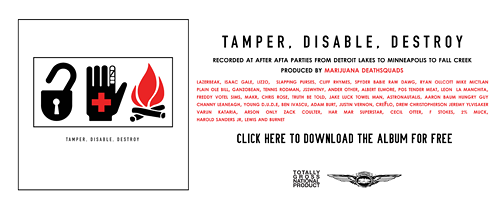 Click here to download the album for free. Happy Friday, ya'll.