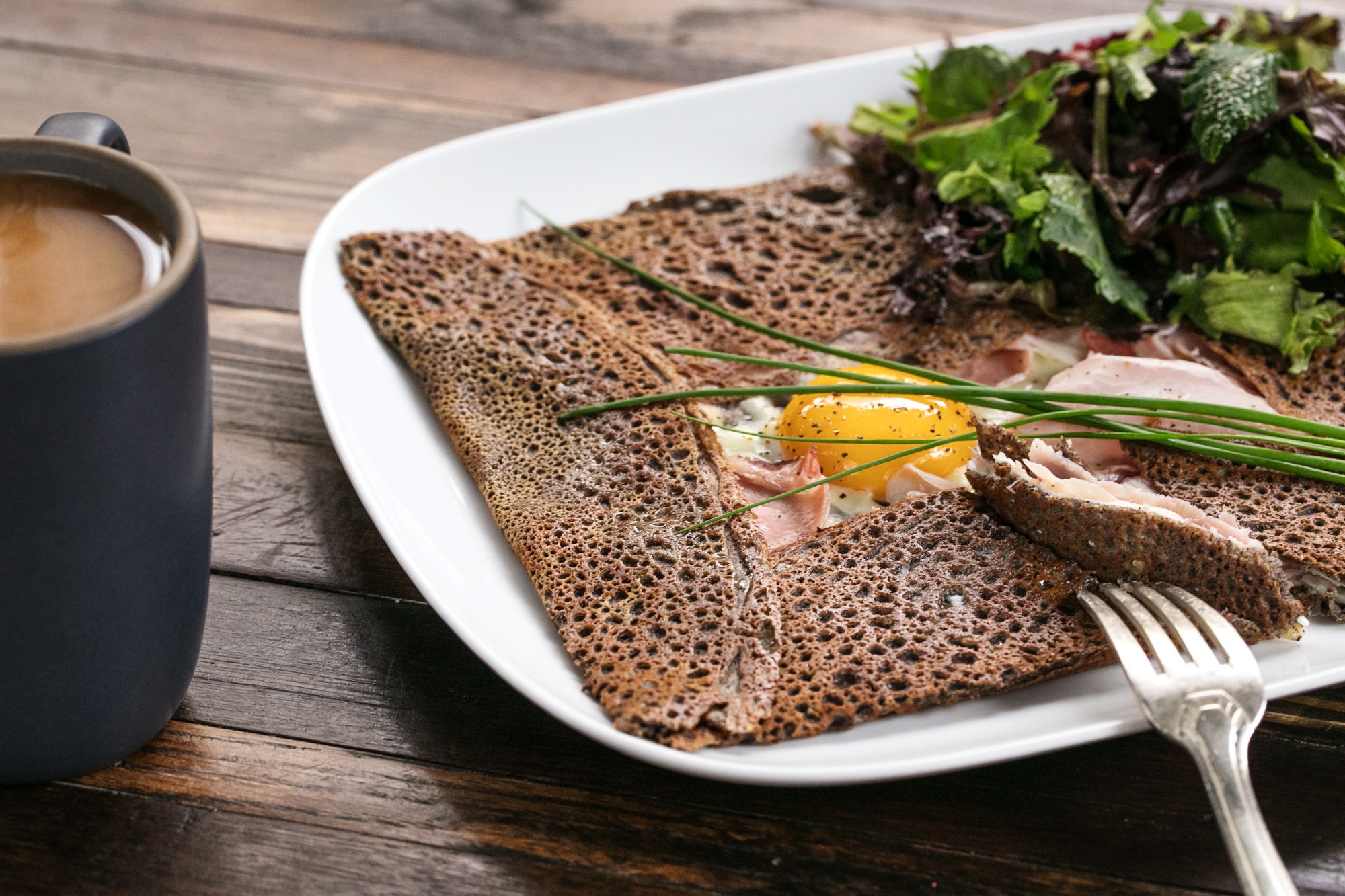 One of the things I like best about French
crêperie
and cafe Maison Bleue is that, despite its bold coat of blue paint, it's one of the least conspicuous places in downtown Berkeley. Off the main drag, half sunken into the street beside the Berkeley Public Library, I feel like I'm sitting down in a bunker. A nice one, with big windows and comfy, upholstered seating.
Maison Bleue is in the old premises of Café Clem, a spinoff of the perennially popular La Note that served Provençal-inspired French fare:
café au laits
in bowls and croissant sandies. According to Berkeleyside, Café Clem closed because owner Dorothée Mitrani-Bell found herself stretched a bit thin with two restaurants. She sold it last September to a Parisian couple, Patrice Fayet and Clara Vu.
Fayet and Vu, together with their business partner Fadhly Bey, have put a bit of city polish on the place. Its bleu isn't a bright, seaside sky blue, but an earthier one. Gone is Café Clem's large pastry case and bowls of
café au lait
, as are the crowds of Berkeley students that descended at lunchtime. In their place is a bar of marble and reclaimed wood, a counterperson with suitably moody eyes, and good, chocolate-y RoastCo coffee, served in a mug. The heavenly scent of butter and sugar wafts frequently from its two cast iron griddles. The Pixies and Pat Benatar waft, too.
Maison Bleue's concise menu of crepes and sandwiches is unpretentious and traditional. "This is the food we ate when we were small," Vu told me. Locally sourced Niman Ranch ham and Acme Bakery bread lend familiar, robust flavors to its classic preparations, while a few things direct from France lend a bit of interest. There's an unusual selection of French pastries, overnighted frozen and baked fresh each day. I found the pain aux raisins to be tender, mellow with lots of butter, and filled with just the right amount of custard and yellow raisins.
It gets very buttery here. Vu said that she missed France's butter most of all, and it shows with great effect in Maison Bleue's
croque monsieur
.
Croque
is the word for crunch, and crunchy my particular monsieur happened to be, due to the sandwich's slow grilling — or should I say frying — in a pan with European-style butter. Inside was a thin spread of Mornay sauce — a béchamel enriched with cheese —and thin slices of ham stacked half-an-inch thick, plus Comté cheese. It's an item that as former Express food editor Luke Tsai lamented, Café Clem simply didn't make as decadently as is traditional. I'm happy to say that Maison Bleue does it up right.
I liked Maison's take on the savory buckwheat galettes, or crepes, of the Brittany region. My
galette complète
was crisp at the edges and deeply toasted. And it had taken on a caramel brown shine, from a liberal application of butter, which the kitchen brushes on both the griddle and the top of its crepes. It was chewy and substantial —more substantial than the more delicate ones at Brittany Crepes, but I found I liked it more. I liked that I could really taste the nutty buckwheat, and I wondered if perhaps the flour was truly, 100 percent whole grain, with nothing sifted out, giving it such a pronounced character. (I was later told by Vu that most stateside
creperies
import its buckwheat flour from France, while Maison has chosen to get it here.) The sunny-side up egg in the middle was a good, cage-free one. And instead of the usual thin slice of silky ham, Maison slices its ham quite generously. Adorning the corner was an arugula salad, its beautiful, tangy balsamic vinaigrette sweetened with honey and perfectly balanced to complement the savor of the crepe.
The place can make a three-egg omelet, too. Mine was well-browned on the outside — again, the cafe does not hide its love affair with butter — and its middle was runny and fragile. The chopped bacon that filled it was tender and crispy, embedded in the egg, and I could really taste that its mushrooms were cooked in its fat.
Butter and bacon, cheese and ham —it sounds rich, and it is, but not overwhelmingly so. I suppose that's the lovely trick of good French food.
That said, I thought Maison's French dog might end up being something of a whopper, but it was surprisingly light. Lavishly dressed in onion confit and Dijon mustard, I could still taste the black pepper in its lean Toulouse sausage, which Maison gets from Goudy's French Cuisine, a local charcuterie spot. The Acme baguette it was served in was sweet and airy, its crust crisply toasted and easy to bite through.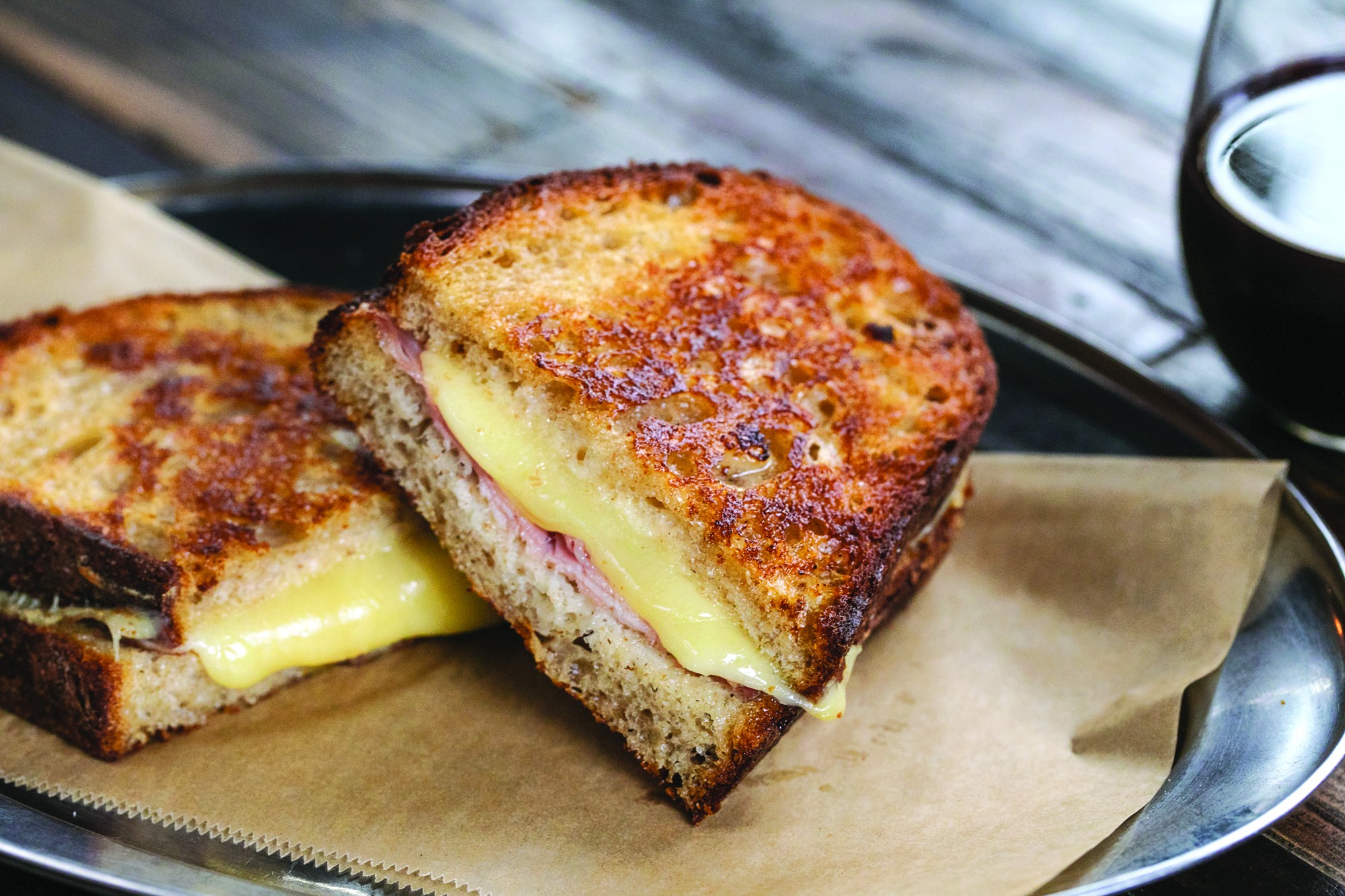 Ultimately, Maison's fare was not rich for richness's sake, but about flavor. Those looking for less-filling fare may prefer the Marin, a sandwich expertly filled with tender lox and light mascarpone, or a half sandwich, and be quite content.
Whether you've navigated the savories wisely (or even unwisely), the dessert crepes will nevertheless tempt; the place smells like an ice cream parlor. The simple citron, dressed with lemon and a puff of powdered sugar, tastes like a hot lemon cake.
There were a few kinks that made me think that the bistro hasn't quite nailed down some of its finer details. The parsley that finished my omelet was more bruised than chopped fine. And did the kitchen really mean to seal up a hot, sweet crepe in a to-go box for its whipped cream to melt into a warm puddle?
On the whole, the general effect of the place is convivial — it percolates pleasantly when it's full, regular customers exchange bises with the staff, and it feels very "civilized" to be so removed from the hectic buzz of the neighborhood.
As home-like and fun that Maison Bleue is, its decor may make casually dressed customers feel a little out of place. But I don't think Maison means to be upscale — there are many under-$10 options that keep the menu accessible.
I hope that, when the restaurant completes work on its outdoor patio, it will help to clarify its intent — to feel like a Paris café, with communal tables that beckon passersby to sit down, relax, and enjoy a coffee or a glass of wine in the sun.
Maison Bleue
2020 Kittredge St. Berkeley
510-900-1845
Hours: Mon.–Thu. 8 am.-2:30 pm., Fri. 8 am-7:30 pm, Sat. 9 am-7:30 pm, Sun. 9 am.-3 pm

Sample Menu:
Galette complète $10.50
Marin sandwich $12
Citron crepe $7