First, the local black metal band had to deal with its tour-mates, Mayhem, canceling its US tour in January; then when Ludicra managed to reschedule dates to headline on its own, guitarist John Cobbett's appendix ruptured and he had to undergo surgery on the second day of the tour. The band had to cancel some dates and is forging ahead without Cobbett until he heals, but the band is asking for help with donations to pay Cobbett's medical bills (like so many musicians, he doesn't have health insurance). Earlier this week the band was selling posters, but have since sold out. Now pals Wolves in the Throne Room (who play Slim's 4/16 with Earth) are accepting donations on behalf of the band. Send Paypal donations of any amount to [email protected] (donations of $300 or more get WITTR three full-length albums on CD as well as the Malevolent Grain EP).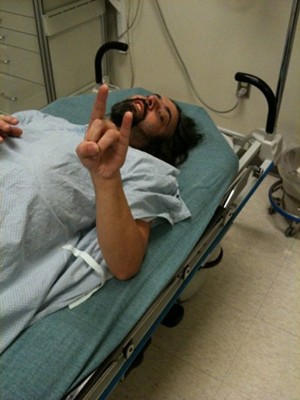 Here's what happened, according to the band:
"A week before the tour commenced, Ludicra guitarist John Cobbett felt a pain in his abdomen, and visited the hospital in San Francisco. He had self-diagnosed appendicitis, but the hospital staff dismissed his concerns and sent him home, unaided. That night, John played on stage in support of Pentagram while his appendix continued to rupture. Over the next week, a large abscess grew around his failing appendix, yet John worked his job, and performed the first gig of tour in Portland, OR.
On day two of the tour, John was struck down by an incapacitating pain. Though John's home is San Francisco, he's currently laid up in a hospital in Olympia, WA—facing uninsured surgeries while his band-mates are soldiering on, and will soon resume performing and selling merchandise in order to recoup a fraction of the money lost by show cancellations, and imminent, astronomical medical bills."
Ludicra is touring in support of latest release The Tenant, and finishes with a show at Cafe du Nord on May 8.