Rapper L-Deez (Laurence Walker) has been active in Oakland's underground music scene since the early Nineties, but few of his recordings have survived into the digital age. In the era of "pics or it didn't happen," facets of culture that aren't meticulously archived online tend to get lost. L-Deez' music, which he previously had only pedaled in CD form, effectively slipped under the radar until this summer, when the taste-making Brooklyn record label Fool's Gold put out his EP, Lamborghini Ferrari.
On it, L-Deez' gravelly voice zooms over bare-bones break beats that foreground his revved-up flow. Throughout the project's three tracks, he delivers playful verses about fast cars and fast women with an audible, tongue-wagging grin. Lamborghini Ferrari's pared-down production highlights L-Deez' skills as a seasoned wordsmith, and its nostalgic beats and catchy hooks (Paint wet, drip/Young, look at that body/Go hella fast/Lamborghini Ferrari) imbue it with a pop sensibility that evokes Eighties party rap.
L-Deez' longtime friend, the prolific East Bay rapper and beat maker Trackademicks (Jason Valerio), produced Lamborghini Ferrari and helped L-Deez gain national exposure through his relationship with Fool's Gold. Trackademicks has worked with the label for several years and said in an interview that its founders, Nick Catchdubs and A-Trak, decided to publish the EP in a leap of faith after he played it for them in a meeting during a recent trip to New York.
"I love the fact that Fool's Gold — they've never seen or met you before — wanted to put this out, no story, no nothing," recalled Trackademicks as he turned to L-Deez, who sat beside him in front of the large desktop monitor illuminating Trackademicks' Oakland studio. "It's like, the music is there. [Catchdubs] was like, 'Me and A-Trak have been looking for something like this to work with.'"
L-Deez and Trackademicks, who are both in their thirties, have been making music together since they met at the now-defunct Jack London district club Mingles in the early Aughts. At the time, Mingles was a hub for local hip-hop and its regular patrons included influential rappers such as Mistah F.A.B. and J. Stalin. L-Deez and his music collective, Rich Peasants, performed at the club on a weekly basis until it shut down in 2006, at the height of the hyphy movement, after a shooting outside its doors left a pregnant woman dead.
"I think about the Bay Area in terms of Batman's villains, and it would definitely be the Joker because it'll catch you off guard," L-Deez said, reflecting on the gun violence that he has witnessed in Oakland over the years. "The Bay plays too much, and it overdoes things."
In the years that followed the tragic incident, Rich Peasants grew into so large a collective that it became difficult to organize, and eventually, the group dissolved as its members grew older, started families, and transitioned into other careers. "When life shows up, at the end of the day, everybody has a family to feed and a lot of people don't go out on faith like that," said L-Deez. "A lot of people can do other things better than just make music."
Still, L-Deez persevered with his solo project, and in 2010, released his last full-length album — an energetic collection of hyphy-inflected boast raps, MackArthur Maze Part 1. He and Trackademicks continued to collaborate on and off while Trackademicks began working with Fool's Gold and became active with his R&B group, The HNRL, which is well known in the local music scene.
Over the past two years, L-Deez and Trackademicks began coming together in the studio on a regular basis once again. And though they've made music together for more than a decade, the two artists agreed that their recent work has been some of their best as a duo because they've learned to use each other's strengths. Trackademicks' production lends L-Deez' work a cohesive, polished sound that was missing from his previous projects. Meanwhile, L-Deez has pushed Trackademicks to make rambunctious, old school-sounding beats that cater to his idiosyncratic flow.
"With L-Deez, my whole process is different from how I work with everybody," explained Trackademicks. "Usually, I'm an introvert, and I make beats by myself and then people get on them. There's not one beat that I've just given him. … I've learned that I need to play my position around his raps."
High off Lamborghini Ferrari's online popularity, L-Deez has spent the past several months in Trackademicks' Oakland studio laying down tracks for his forthcoming album, MackArthur Maze Part 2, which he plans to release early next year. While Lamborghini Ferrari focuses on lighthearted topics, on MackArthur Maze Part 2, L-Deez parses through personal struggles, albeit with his signature sense of humor. Trackademicks' production on the LP is more robust and melodic than the staccato rhythms on Lamborghini Ferrari — as are L-Deez' rhymes, which prioritize storytelling over hooks.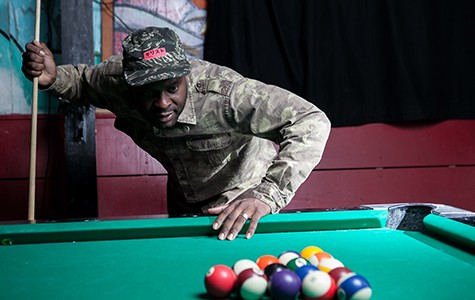 L-Deez explained that making up verses comes naturally to him as a way to process his emotions. He wrote many of the songs on MackArthur Maze Part 2 in reaction to difficult circumstances that he's had to deal with in recent years, such as losing his home amid Oakland's housing crisis and turning his life around after struggling with alcohol. But the record is ultimately triumphant and pays homage to the friends and family that stuck by the rapper during difficult times.
Currently, L-Deez and Trackademicks are putting finishing touches on MackArthur Maze Part 2 and plan to shop the album around to different labels in the hopes of continuing the momentum they've built with Lamborghini Ferrari. While L-Deez has long been one of the most original voices in Oakland's music scene, it seems that the rapper is starting to earn his due recognition as a result of his persistence over the years.
"It's crazy because if he had stopped rapping — there are so many amazing rappers out there who, when life shows up, can't do this," said Trackademicks. "I've been doing this for hella long and there's probably parts of my life that I've neglected or not developed because I do music."
To which L-Deez replied, "You need to follow your dreams because if you don't, there's nightmares you can't get away from."