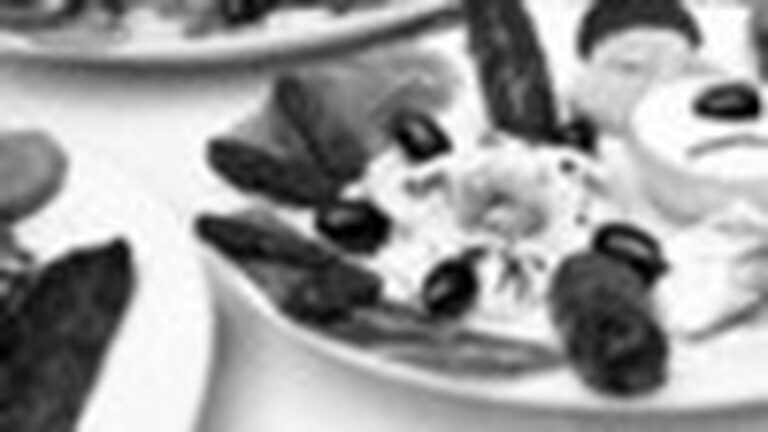 It's always surprised me that in spite of the Bay Area's long love affair with all things Mediterranean, Greek cuisine has never taken off here. In most locales, it's possible to calculate the population of an ethnic minority by the number of restaurants it sustains. But that's not true with Greeks – at least not here. Many of the Greek Orthodox churches on both sides of the bay – and there are more than a couple of them – do sponsor annual food festivals, but for everyday dining, it's hard to find even a humble gyros stand. What's the deal?
I asked Marios Veris, co-owner of the Aegean Grill on Solano Avenue, for his theory. Veris recently moved here from the East Coast, where everybody and his mother is familiar with souvlaki and pastitsio. "I think Mediterranean cooking is getting a lopsided image here," said Veris. "Because the first or best-established 'Mediterranean restaurants' happened to be from the southeast, that's what people are expecting. People send back our eggplant salad, complaining that it's not baba ganoush."
Veris is a Greek who grew up in Istanbul. He met Mikail Jevrial, now the chef, at the Istanbul Grill, Jevrial's old restaurant. The two opened the Aegean Grill nine months ago because they wanted to transcend the traditional animosity between Turks and Greeks to celebrate their common cuisine.
With Odyssia on Shattuck out of the way, Albany's Aegean Grill has taken on the perhaps unenviable task of offering Greek cuisine to testy foodies in upscale surroundings. "We bake our own bread and pastries, and make our own cheese, yogurt, sausage, and pickles," states the menu.
The Aegean Grill is definitely new-school Greek – with a couple of old-school touches. One of the menu specials, saganaki, jumped out at me. My sister and I used to clamor for saganaki every time we visited Chicago's Greek Town as kids. The waiter would appear at our table with a plate of cheese held out in one hand. He'd anoint it with brandy and then, with a lighter and a shout of "Opa!" would flambé the cheese until it melted. What more could an eight-year-old ask for? My mother says that as soon as we finished the dish I'd beg for a second round.
---
Alas, my childhood memories didn't seem to live up to my modern-day standards – but I swear it was because the Aegean Grill didn't use kasseri, a semi-firm sheep's milk cheese. Their version seemed to mix feta and a second melting cheese, which sprawled all over the plate as it sizzled away and tasted more like, well, melted cheese on a plate.
In order to sample as much as possible on one visit, we opted for all the combo plates we could find. The Aegean calls itself a "wine and appetizer bar," and I'd recommend taking it at its word. The wine list specializes in Greek wines: not just pine-laced retsina but unfamiliar vintages from Anatolia, Macedonia, and Thesseloniki. My 1998 Lazaridis Amethystos from Macedonia (a blend of merlot, cabernet, and limnio, a local grape) was straightforward, rich, and jammy – perfect with grilled meats.
Some of the meze on our super appetizer platter lacked character, such as the flaky spanakotvropita pastry stuffed with dried-out, tasteless greens. Some, like the salmon-hued taramosalata and the creamy, garlicky hummus, fared much better. And some revealed a new Greece to me. The dolmas, stuffed with a rich, complex mix of rice, pine nuts, currants, and herbs, tasted nothing like the canned tubes drenched in rancid olive oil you normally get. I had always dismissed tzatziki as a condiment, but Jevrial's version, made with a custardy, tart yogurt fragrant with garlic and dill, came into its own. And we inhaled the Anatolian cold cuts – translucent slices of bresaola-like pasturma, lean beef dried in a moist shell of complex spices, and small squares of a black, cuminy sausage. Everything came with round, house-made rolls flecked with black caraway.
Our second combo plate arrived with the entrée course: one lamb souvlaki (also known as shish kebab), one chicken souvlaki, and a soutzoukaki, a long, thin kebab of mildly seasoned ground beef, all served with a cup of sharp, runny yogurt. Though the soutzoukaki had a little red at its core, both the souvlakis were tough and carbonized. We doused them with yogurt to make them palatable. They were the low point of our meal.
The high point was the sea bass in sherry sauce, perfectly moist and basted with a tangy sauce made with Maurodaphne, a Greek dessert wine. Other entrées include the fabled mousaka and vegetarian clay pot with barley pasta. Most came with white rice, roasted potatoes, and sides of grilled vegetables. The green and red peppers, eggplant, tomato, and zucchini all could have used a little marinating and a little more time on the grill over indirect heat to soften and sweeten them up, but at least they were fresh, and freshly grilled.
It was a pleasure to sit in the restaurant, an open room with the spare, square geometry of Greek architecture. The walls are painted pale peach and russet brown instead of Aegean blue and white, and on them hang maps of the Greek islands and rugs with geometric patterns. Only the periphery of the room was seated, perhaps because of the disaster on the East Coast. Our server seemed to notice the absence of diners: She kept refilling our bread basket (a plus when the bread's so good) and offered us complimentary cordial glasses of a port-like dessert wine with our baklava.
---
Near the other end of the spectrum is family-style Luke's Grill in San Leandro, which has been around for years. "I like your pita," I told its owner as she leaned over to say a few words to us, the last table of the night. "Did you make it?"
"Everything we make from scratch," she replied. My dining companions raised their eyebrows. Luke's Grill, on East 14th and Dolores in San Leandro, is the kind of Greek restaurant I went to in Chicago's Greek Town as a child. It's got the Parthenon picture, the blue-and-white pottery-style borders along the walls, and a seaside mural. It's the Greek equivalent of a red-checker-tablecloth Italian restaurant, with friendly service and food that matches the décor.
And that is not a compliment. While some menu items were worth the visit, much was not. The pita we received with our elaborately designed Greek appetizer platter was top-notch – clearly fresh from the griddle, with crisp edges and a spongy texture. I hoarded triangles for scooping up the salty taramosalata (carp-roe mousse) and feta drizzled with olive oil and fresh herbs. We enjoyed a couple of other items: the herb and garlic-marinated lamb chops, grilled until pink and juicy, and the galaktoboureko, creamy cinnamon-flecked custard baked in a filo crust.
But the rest tasted straight out of a 1960s Betty Crocker cookbook: bland (the hummus and eggplant salad), canned (the avgolemono soup), or just plain mediocre. Diners not in the mood for Greek can order Italian from the other half of the massive menu. They might have better luck. My New Zealander roommate, who has lived in Northern California for 99 percent of his fifteen years in the United States, couldn't finish his gyros platter. We had to explain to him that most Americans expected gyros to be processed-meat slices slathered in thin yogurt, not a shawerma-like sandwich. I didn't have the heart to attack my soft, pallid moussaka after a couple of bites. I even left half the treacly baklava.
I'll give Luke's a miss in the future, but I plan to revisit the Aegean Grill. Despite the restaurant's faults, I left hoping that more diners in the East Bay discover that the Aegean Grill, like Greek food itself, merits further exploration.