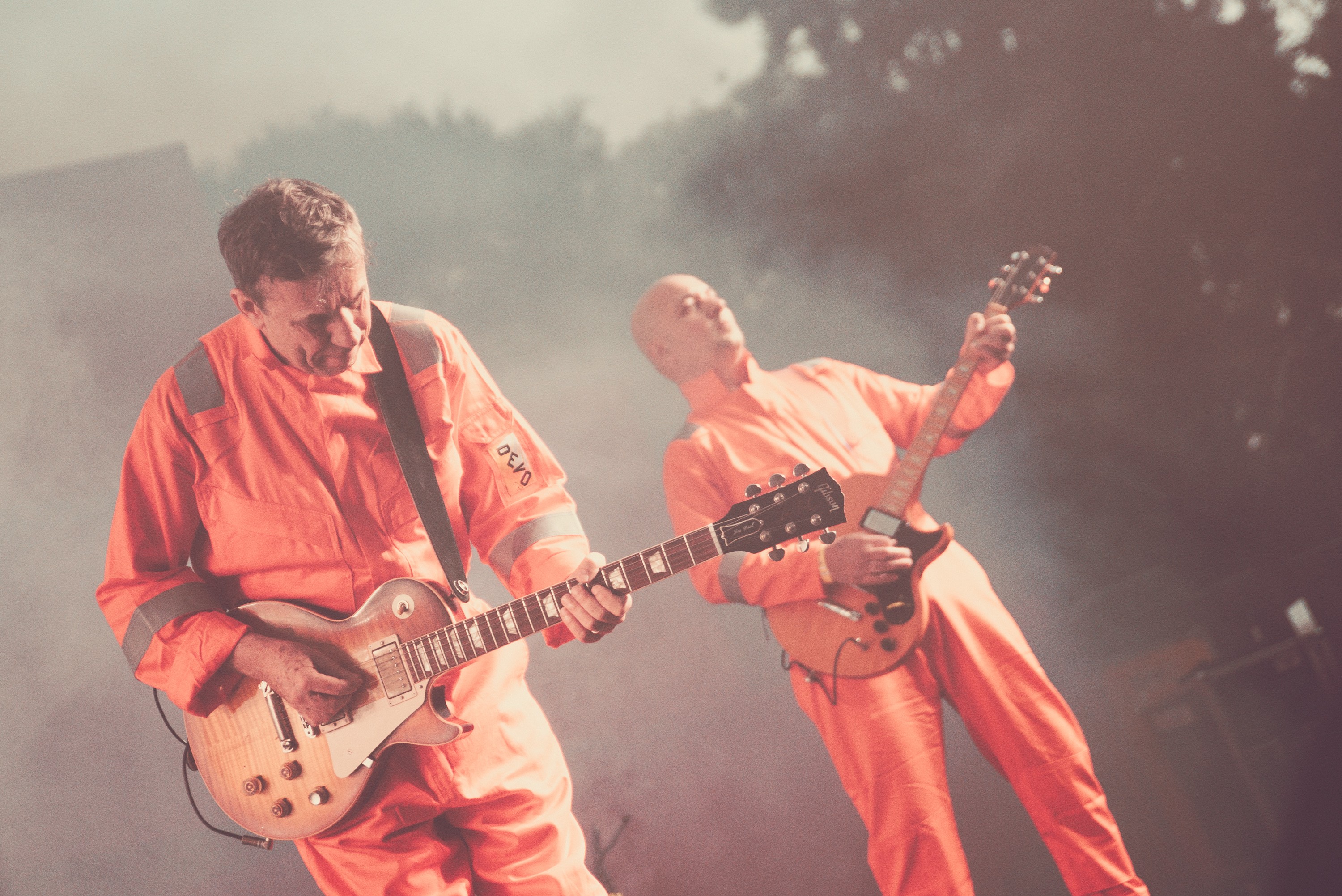 Burger Boogaloo is perhaps the Bay Area's most eccentric summer music festival: a quirky, crusty celebration for garage punks held in Oakland's Mosswood Park. Hosted by John Waters and organized by DIY-aesthetic indie label Burger Records, this year's lineup featured art punks Devo and U.K. punk pioneers The Damned as headliners.
But things got off to a bit of a rocky start when Oakland police officers cleared out homeless camps at Mosswood Park mere days before the festival, inciting social media outcry. While the timing of the camp closures didn't look good for the festival, Oakland Assistant City Administrator Joe DeVries
confirmed to KQED
that it was the city's initiative to remove the encampments rather than Burger Boogaloo's.
The festival released a
statement
on its website expressing concern and support for the homeless crisis: "Burger Boogaloo has donated to the following homeless assistance organizations and we encourage our friends and anyone concerned about the plight of people here in our community to do the same." They also partnered with Homeless Action Center, a homeless advocacy organization, which had a table at the festival.
While Boogaloo handled the controversy fairly well, the incident was indicative of the larger issue of displacing the homeless in the Bay Area — and of even bigger themes of non-inclusivity. Many of the festival's acts took political stances, and bands Hunx and His Punx and Pookie and the Poodlez encouraged people to donate to the Homeless Action Center. However, the lineup itself was lacking in diversity, with almost no people of color and only six out of 22 total bands having female-identifying members (none of which were headliners).
Punk rock has been a genre historically dominated by white men (despite it having roots in African American music), but in recent years, a more representative wave has arrived. Take Afropunk, for example, or even Oakland's own Near Dark Fest at The Golden Bull, whose organizers carefully select its lineup to include mostly acts with people of color, members of the queer community, and women. Last year, a new festival called
The Universe is Lit: Bay Area Black and Brown Punk Fest
also took place in Oakland and San Francisco, featuring four days of POC music and art — and it's scheduled to return later this summer.
One band in particular on Burger Boogaloo's lineup felt tone-deaf in this modern context: Sunday's The Rip Offs. Pulling up to the stage on a police motorcycle and sporting black nylons over their faces, the San Francisco band proceeded to act as edgy as possible in the most distasteful way. Women in sexy police officer getups acted as their backup dancers, and their stage banter included objectifying comments about audience members' breasts.
It would be remiss not to mention that the crowd, too, was mostly white — the product at least in part of inclusivity issues present in the punk community as a whole. In Oakland, one of the most diverse cities in the world, it felt jarring to see such an unrepresentative crowd. (To be fair, though, many attendees travelled from outside the Bay for the festival.) Businesses present at the festival were mostly helmed by white workers as well, including one vintage store selling a pair of underwear with the words "ghetto booty" emblazoned across the butt area (yikes).
That's not to say the music itself was a disappointment. On Saturday, Hunx and His Punx, featuring Shannon Shaw from Shannon and the Clams, endeared the audience with its punk-meets-'60s-girl-group sound and frontman Seth Bogart's goofy antics. The Mummies also played a memorable set, forced onto the stage in their typical mummy garb by people in
Planet of the Apes
costumes, who announced, "We have trained man animals to play music!" They kicked the band off stage at the end of their set, smashing their instruments and reassuring the audience that next time, they'd bring something better — perhaps trained salamanders.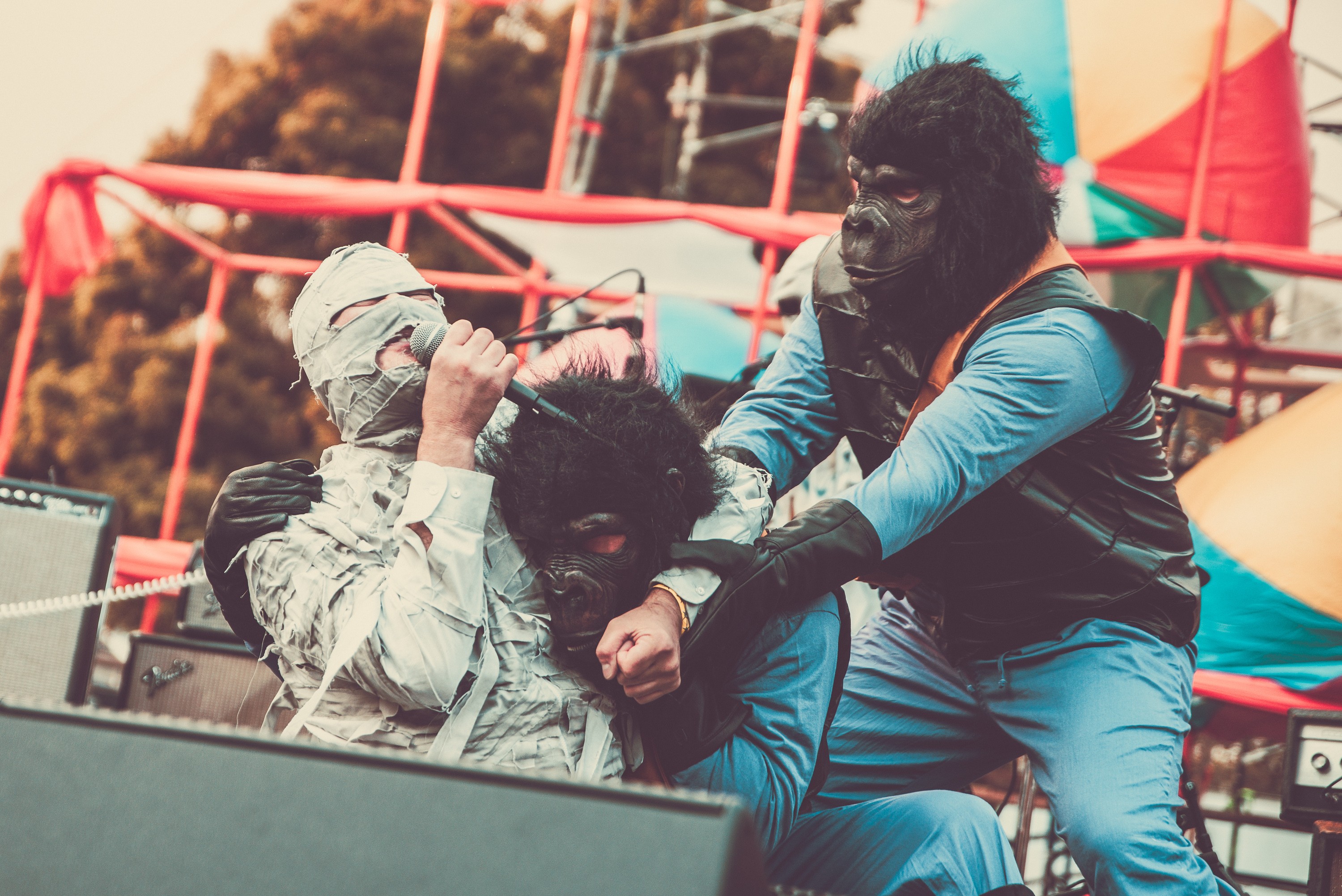 But Saturday belonged to
Devo
, who played for the first time in four years with surprise guest Fred Armisen (
Portlandia, Saturday Night Live
) on drums. They traded their usual yellow jumpsuits for orange but still donned their signature energy dome hats. Seeing "Whip It" live nearly 40 years after its release was surreal, and young and old alike sang along to every word. The band also used its stage time to connect its original inspiration for an art movement — the "devolution of our culture" in the context of their friends being gunned down at Kent State — to the current political moment, referring to Donald Trump as an "orange fuckhead."
Sunday's lineup included Quintron and Miss Pussycat, a husband-and-wife act that featured a light-activated drum machine and a puppet show that was, fittingly, about gentrification. Other highlights included Japanese power-pop band Firestarter, the rare reunion of electropunk band
Le Shok
, and, of course, headliner The Damned, with lead singer Dave Vanian looking spooky in a long black coat and gloves and sounding somehow even better than he did 40 years ago on hits like "Smash It Up Parts 1 & 2."
This year's Burger Boogaloo was a bittersweet weekend, filled with great music but lacking some of the social awareness and inclusive representation that could make it something truly special. In 2018, punk is not a space reserved solely for angry white men anymore — and punk festivals should reflect that.