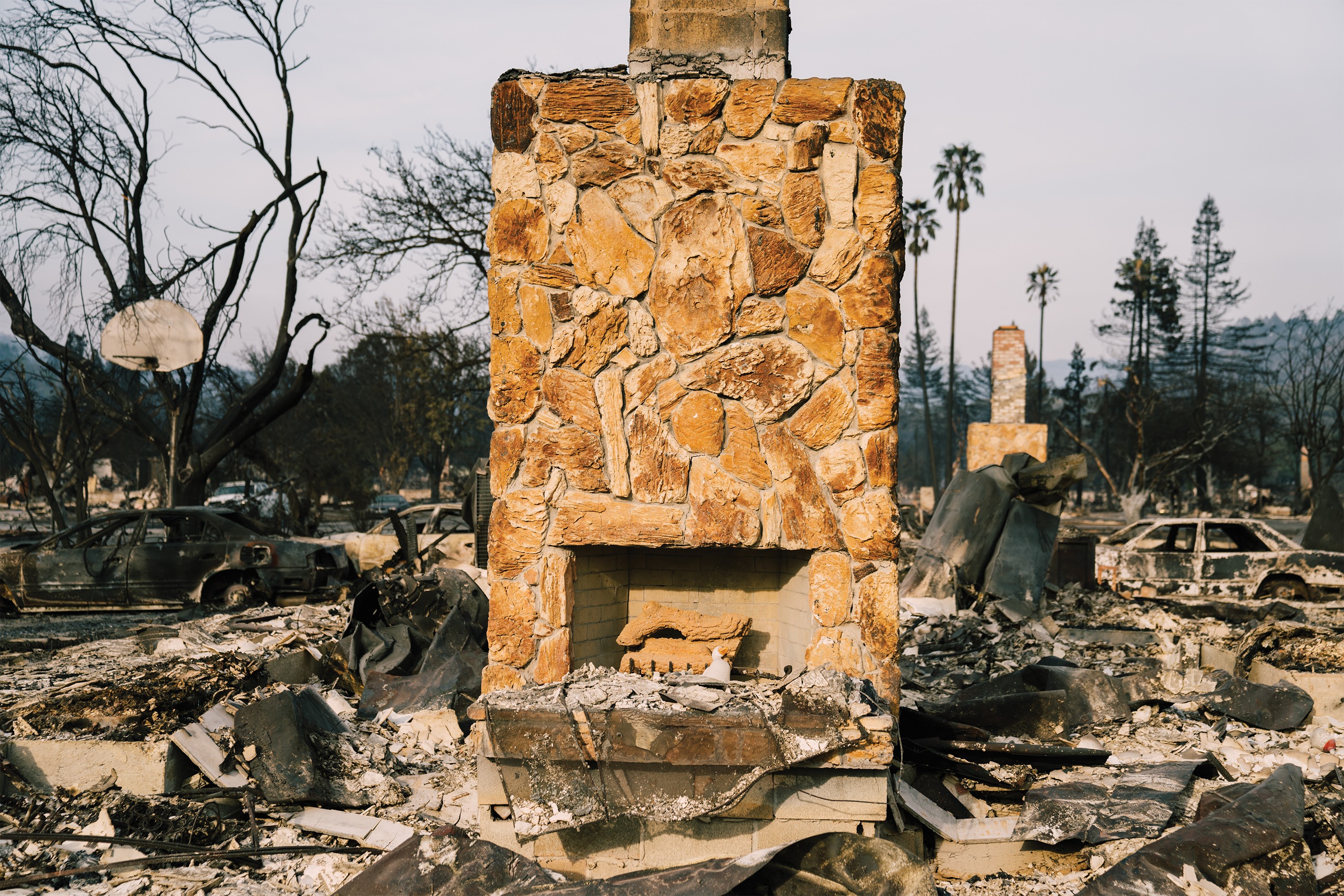 State officials have named it the "October Fire Siege," an unprecedented swarm of 21 infernos throughout California that burned 245,000 acres, incinerated 8,900 structures, and forced more than 100,000 people to evacuate. A total of 43 people died as a result of the disaster. By far, the worst fires tore across Sonoma and Napa counties, propelled by high winds and dry foliage.
The only thing in history that comes close is the Oakland-Berkeley hills firestorm of 1991. So, East Bay residents know very well what the North Bay is going through.
Thankfully, there are numerous nonprofits and businesses raising funds for the relief and reconstruction effort. They're focused on addressing the needs of vulnerable groups and building a more resilient community that can withstand future disasters.
Here are a few ways you can contribute to their work.
UndocuFund
One of the groups most at-risk of being displaced by the fires is the undocumented community. UndocuFund was set up immediately following the fires by the Graton Day Labor Center, North Bay Organizing Project, and North Bay Jobs with Justice — three local nonprofits with a track record of working closely with Sonoma County's immigrant community.
Omar Medina, an organizer with UndocuFund, said the need to channel assistance to undocumented immigrants was underscored by fears that FEMA was sharing information about a person's immigration status with the federal Immigration and Customs Enforcement agency.
"Once people started to apply, they noticed language on the forms that caused them to hesitate," said Medina. "It said FEMA would share information with ICE, and FEMA said it couldn't provide any guarantees it wouldn't."
According to organizers, 100 percent of the money raised through UndocuFund will go toward meeting people's immediate needs, and their information won't be shared with the federal government.
"The primary issue people are facing right now is housing," Medina explained. "They were evacuated, or their employer was, so they've lost wages, and some of their homes burned. So, right now, we're just helping them meet their rent, lost wages, and help them with money to get a deposit for a new place."
Medina said assisting community members who are undocumented helps the broader community because it brings dollars into the region's hard-hit economy, and helps employers hire back workers. Furthermore, some of the reconstruction work will likely employ undocumented construction laborers and craftspeople.
To contribute to UndocuFund, go to Undocufund.org/donate.
North Bay Organizing Project
Lots of Sonoma County residents fear that the fires will only exacerbate problems that were already afflicting their communities. Affordable housing is the biggest concern. But laborers who clear the rubble and rebuild homes could be cheated or exposed to dangerous conditions.
"When we think about a recovery here in Sonoma County, we want one that dignifies workers and immigrants and that protects the environment and tenants, all at the same time," said Davin Cardenas of the North Bay Organizing Project.
NBOP has been at the forefront of campaigning for things like rent control and just cause eviction protections. Now they're pivoting to make sure the North Bay's shortage of affordable housing, especially now that the fire has destroyed thousands of homes, doesn't become a second disaster.
And to address people's psychological and physical health, Cardenas said his group has partnered with other organizations and volunteers to host "people's healing clinics," which provide free access to grief counseling, herbal consultations, yoga, acupuncture, massage, and other holistic health services.
"We set up two pop-ups and we have a regular location in Roseland," said Cardenas, referring to Santa Rosa's Latino neighborhood. "It's been a great turnout, something we want to make a regular part of our organizing."
To contribute or volunteer with the NBOP, contact them at NorthBayOP.org.
North Bay Fire Relief Fund
The biggest fundraising effort to benefit those affected by the fires in Sonoma, Napa, Mendocino, and Lake counties is being led by the Redwood Credit Union, The Press Democrat newspaper, and state Sen. Mike McGuire, who represents the North Bay. To date, they've raised more than $19 million to pay for temporary housing, food, and other necessities for displaced people.
Redwood Credit Union is paying for all the overhead, ensuring that 100 percent of donations go to fire victims. To give, visit RedwoodCU.org/northbayfirerelief.
Habitat for Humanity
Habitat for Humanity of Sonoma County was already funding and building affordable housing in the heart of the wine country before the firestorm. But the group's executive director, Tamara Stanley, wrote in an open letter after the fires that "there is a significant risk that many people will be forced to leave Sonoma County permanently due to the lack of available affordable housing."
In fact, Habitat for Humanity's Santa Rosa headquarters and ReStore, its giant discount warehouse that sells building materials and furniture to raise money for the group's mission, were in the path of the Tubbs Fire. Embers landed in the parking lots around the buildings. Fortunately, they escaped unscathed. Now Habitat for Humanity is exploring large-scale and innovative solutions to rapidly building affordable homes in the areas hit hard by fire.
To give to Habitat for Humanity of Sonoma County, go to HabitatSoCo.org. The organization is also seeking volunteers for construction crews.