After a year-long period of social distancing, Oakland's Fruitvale neighborhood looks forward to bringing back heritage to its community with live music, dancing, events, colorful ofrendas and a virtual mercado to celebrate its 26th Annual Dia De Los Muertos Festival.
The Unity Council, a nonprofit Social Equity Development Corporation located within the Fruitvale community, will host the one-day festival on Sunday, Oct. 31 from 10am to 5pm on International Boulevard between Fruitvale Avenue and 2nd Avenue, where live performances and events will take place both in-person and virtually. This year's theme, "Curando Corazones," or "Healing Hearts," offers a physical safe space for people to gather to use art and culture as tools for community healing.
The virtual mercado will continue, after its success last year during the pandemic. The mercado will feature food and shopping options from local establishments from Oakland, as well as still allow those who attend to shop and eat at local businesses physically represented at the festival. The mercado will be available during the whole month of October for those who can't attend.
Dia De Los Muertos is a three-day festival that is mostly observed in Mexico but celebrated around the world. It is very popular in California. Though the celebration is still observed as three days, the Unity Council decided to make it a one-day festival to focus on creating a smaller-scale festival that promotes social distancing. The holiday celebrated in Mexico is a 3,000-year-old Aztec tradition of All Saints' Day and All Souls' Day that is portrayed more as a joyful celebration than the mourning of loved ones.

Since the festival will not be hosting in-person vendors and stages, the Unity Council partnered with Alameda County and Kaiser Permanente to provide Covid-19 vaccines and testing on-site, in addition to the healing ceremonies and events that will take place. Those who would like to use these resources will not need to show proof of health insurance, nor pay any fees. Attendees will not need to show proof of vaccination or negative tests, but masks will be required throughout the entire event.

Attendees will be greeted to 20 ofrendas, created by local artists at the beginning of the festival, which will be decorated with calaveras, skeletons and marigold flowers. Aztec dancers will start off the ceremony with a live performance, to set the mood for the entire festival.
In collaboration with Oakland Roots Sports Club, a part of the street will be transformed into a soccer field, where anyone can join in on a game while attending the festival.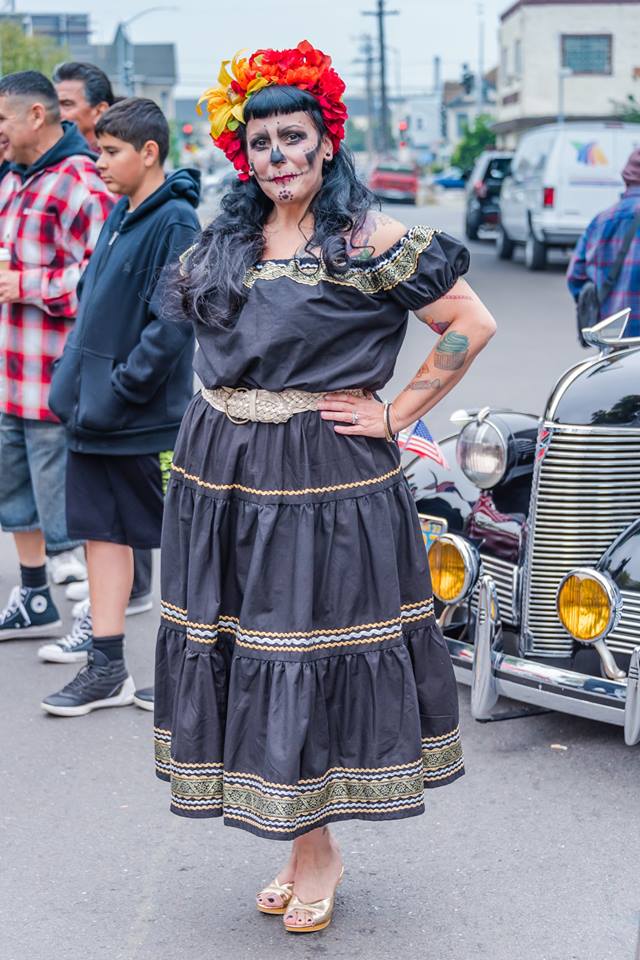 Another longtime continuing festival highlight will be the lowrider show. These cars have been in the festival since it debuted.
Daniel Camacho—a local Oakland teacher and artist whose art is focused on Mexican-American/Latino culture—made this year's poster. He, too, has participated in the annual event since the first Dia De Los Muertos festival in 1995.
Camacho took the theme of healing hearts and implemented the healing woman, a woman who is a traditional healer in Mexico, as she focuses on healing the mind, spirit and body through medicinal processes, as mentioned by Itzel Diaz-Romo, interim director of development & communications for the Unity Council, during an interview.

Diaz-Romo is very excited for the festival to return in-person on a smaller scale while still offering online services to those who are not comfortable attending the event.
As of Wednesday, Latinos make up 18% of Covid-19 deaths—the second-highest demographic impacted by the pandemic, according to the Centers for Disease Control.
"I keep hearing from the community members, from artists, that they need this event," Diaz-Romo said. "They need this event so that they can have closure. There's been a lot of loss and trauma in our society, so the community wants to come together to celebrate and heal."

For more information about the virtual Día de los Muertos Festival, visit the site at www.diaoakland.com or call the Unity Council at 510.535.6900.