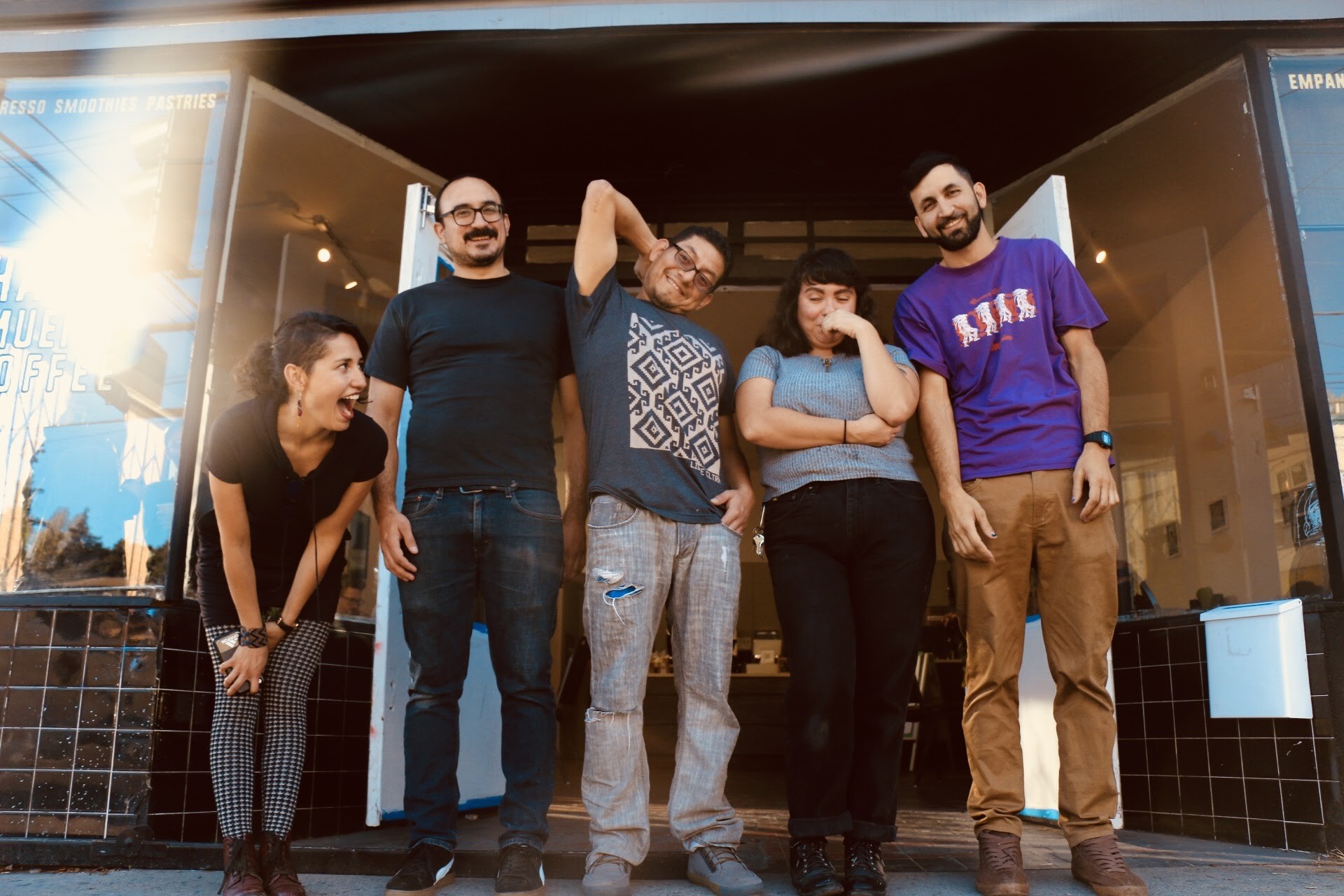 A Latinx-owned,
collectively run coffee shop is set to debut in Oakland's Fruitvale district.
After years of plotting, Hasta Muerte Coffee (2701 Fruitvale Ave.) — a third-wave cafe, radical bookstore, and community events space — will hold its grand opening at 9 a.m. on Sunday, Nov. 19. While hip coffee shops are often thought of as gentrifying sources, the Hasta Muerte collective is working to actively subvert that notion. Its five members — who have experience in community organizing, activism, art, music, and bikes — were primarily drawn to coffee as a way to bring people together. Another element working in their favor is that three of them actually live in Fruitvale.
"The first step is offering coffee, community, and solidarity," worker-owner Matt Gereghty said. After normal coffee-consuming hours, Hasta Muerte plans to organize cultural events like film screenings, workshops, and art shows — "things that are centered on holding down our various and vibrant cultural identities," Gereghty said.
A small bookstore within the cafe is curated with an eye toward decolonizing struggles.
"What trends can history teach us about making it through the present moment and times to come? We want to add fuel to the flame of resilience and resistance," Gereghty said.
There's a conference room in the back, which Gereghty said Hasta Muerte plans to lend to community groups in need of meeting space. The main, 600-square-foot cafe space seats about 25 people and features a robust play area for kids.
On the coffee side of things, Hasta Muerte members linked up with a roaster in Berkeley to learn more about direct sourcing and roasting. The goal is for Hasta Muerte to handle these aspects independently within the next few years. Together, collective members developed a medium-roast blend that's darker and more full-bodied than what most third-wave roasters are putting out right now. Worker-owner Melanie Garza described it as smooth with notes of chocolate and fruit.
"I wanted something that my grandparents would want to drink," she said. "A lot of coffees right now are super bright and floral, and I really like that, but it doesn't feel familiar."
One thing the group has wrestled with is pricing. A cup of black coffee at a trendy cafe can go for as much as $3.50, which isn't exactly an affordable, everyday expenditure for many Oakland residents. But the collective also wants to build a sustainable business model for themselves. They landed on an 8-oz cup of coffee for $1.60, pastries for less than $3, and a kids' menu, including fruit smoothies for $3.50 and hot cocoa for $2.25. The most expensive item is the $5.50 Argentine-style empanadas, which are large enough to function as a light meal. There are meat and vegetarian variations, with a gluten-free option still to come.