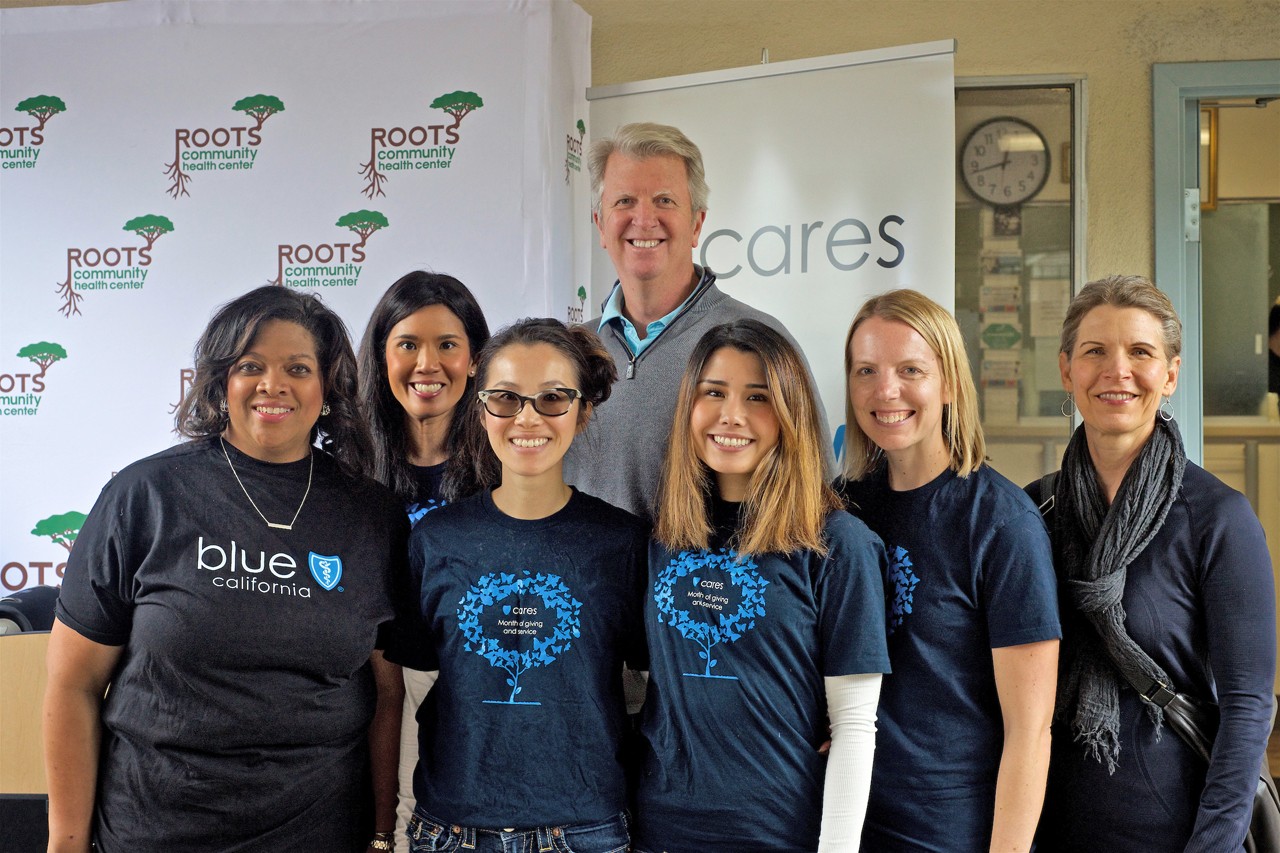 At the Roots Community Clinic in East Oakland, more than 20 percent of patients suffer from hypertension — otherwise known as high blood pressure. The "silent killer," so called because it often has no obvious symptoms, is epidemic in communities of color, which also suffer disproportionately from obesity and diabetes, contributing factors to hypertension.
But help is at hand. In honor of Black History Month and American Heart Month, Blue Shield of California launched its first "#80ForOakland" initiative by opening a free, self-service blood pressure kiosk at Roots on Feb. 27.
The kiosk is also a partnership with the American Heart Association, which, according to Roots founder and CEO, Dr. Noha Aboelata, has been a "tremendous partner" to the clinic. The AHA did the "matchmaking" between Roots and Blue Shield, resulting in Blue Shield providing the clinic with state-of-the-art equipment. Aboelata described the kiosk as "a low-barrier way for clients to check their blood pressure on a walk-in basis." Installed in the Empowerment Center, where community members come for a variety of reasons, the kiosk allows users to access Roots "health navigators," who have been trained to encourage blood pressure screening and monitoring, assist clients at the kiosk, and provide additional education and linkage to care.
This follow-up is vital, according to Dr. Chris Esguerra, senior medical director, Blue Shield of California Promise Health Plan, because African Americans are at higher risk for adverse outcomes from high blood pressure, including stroke, end-stage renal disease, and congestive heart failure. "Contributing factors involve difficulty accessing culturally sensitive health care, negative experiences with health care when accessed, and mistrust due to historic experimentation," he said.
"Many people in our community have avoided or not had access to medical care for too long," said Aboelata. "We see the kiosk as a tool to help those individuals get one step closer to identifying and managing their conditions." When the blood pressure reading is out of normal range, the patient is offered a nurse consult, meeting with an RN to discuss what blood pressure means, factors affecting blood pressure, other cardiovascular risk factors, and an opportunity to schedule a visit with a primary care provider.
Cost has long been a deterrent to those in low-income areas needing treatment for hypertension, but clinics such as Roots help address this. "Most of the medications used to treat high blood pressure are generic and very inexpensive, including some combination medicines," said Esguerra. Those covered under Medi-Cal don't have a co-pay for their medications and can also access transportation to get to medical appointments and pharmacies.
Roots' health navigators are key to success in engaging those who otherwise may not connect to care, said Aboelata. Navigators are from the community, are trained in community health outreach and health coaching and work with their own panel of patients from a focus population, such as those who are homeless, those with multiple chronic illnesses, those with behavioral conditions, or those returning from incarceration, she explained. Because navigators also staff the Empowerment Center on a rotating basis, the kiosk presents the perfect opportunity for additional navigator exposure and training on the nuances of blood pressure readings, risk factors for a cardiovascular event, and a deeper understanding of barriers and misconceptions their clients have related to blood pressure and medication.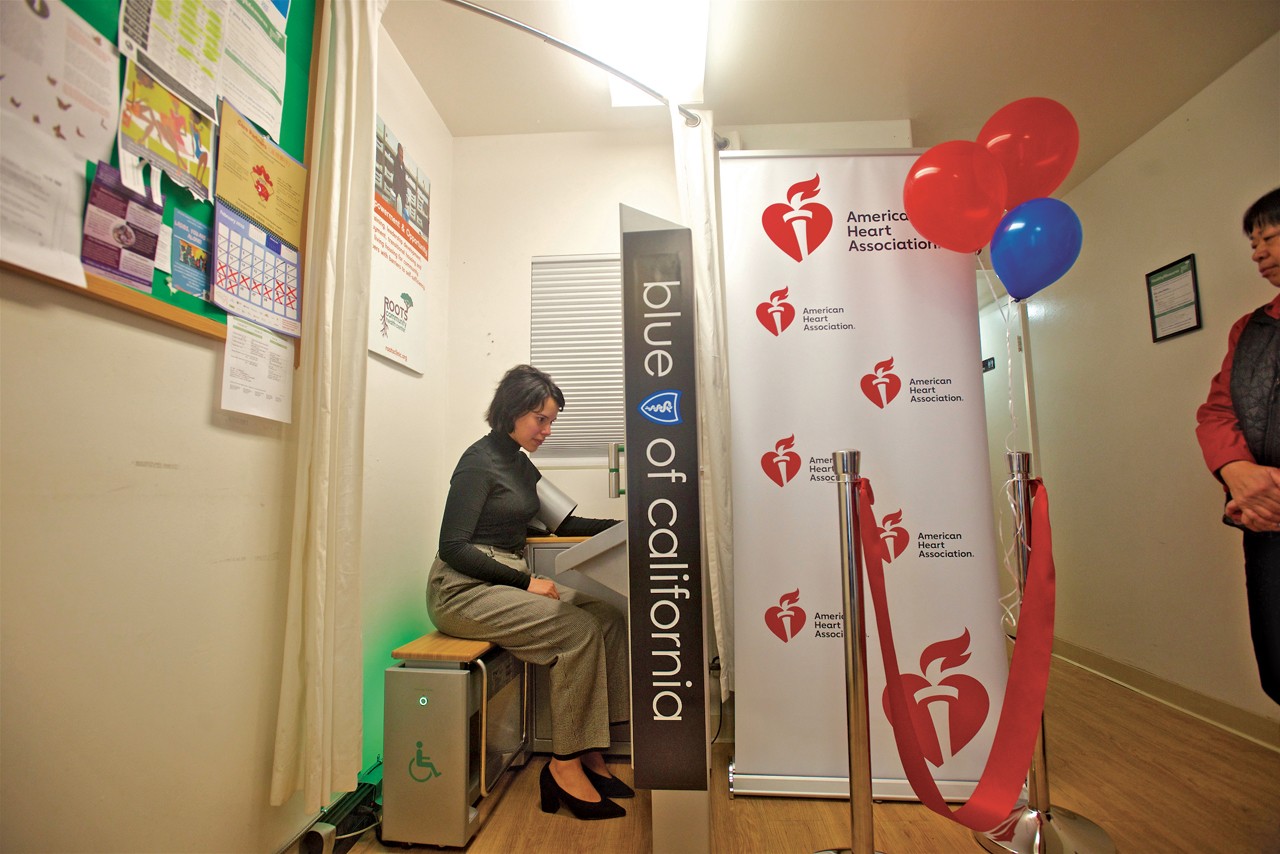 Roots is raising awareness of the valuable new community resource through email, flyers, posters, social media, and official communications to resident leaders, local organizations, policymakers, and community residents. "We are thrilled to have this new tool in our armamentarium," said Aboelata. She noted that Blue Shield's new physical presence in Oakland will open the door to many community-based opportunities.
"In addition to increasing awareness of blood pressure by doing community outreach with projects such as the blood pressure kiosk, Blue Shield of California is helping to lead the Right Care Initiative, a statewide campaign to eliminate strokes and heart attacks by attacking the three modifiable risk factors of hypertension, diabetes, and lipid control," said Scott Flinn, regional medical director at Blue Shield of California. Blue Shield works with its provider partners to increase awareness of the importance of hypertension control and the impressive short-term impact it can have on decreasing heart attacks. Provider organizations are aided to do a self-assessment on how they are delivering care, and then in implementing plans for improvement of the delivery. 
"Roots is an integral part of the Oakland safety net, serving thousands of people who are either entirely or partially outside the mainstream channels of health care delivery," said Aboelata. "By working together with Blue Shield, we'll be able to reach more people with conditions that otherwise might go untreated, and improve the health of a community that has long struggled with too little access to care."