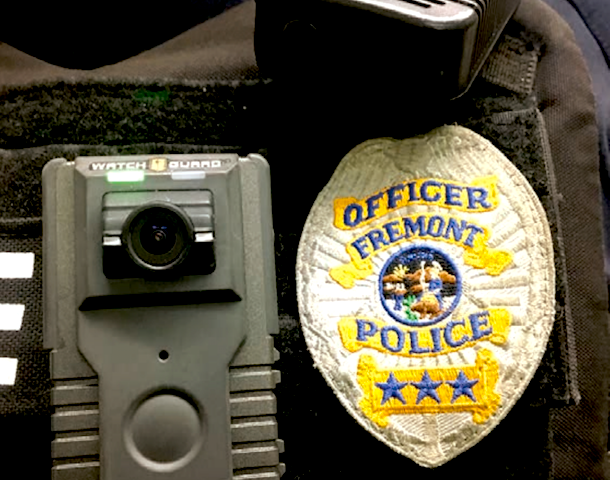 The city of Fremont plans to spend as much as an additional quarter million per year to comply with two new laws requiring police departments to disclose previously confidential records.
The new laws, SB 1421 and AB 748, mandate that police agencies make investigative records of police shootings and uses of force resulting in great bodily harm, including videos of these incidents, available to the public on request. SB 1421, authored by state Sen. Nancy Skinner, D-Berkeley. also requires the disclosure of records of police misconduct in cases where an officer was found to have sexually assaulted someone or behaved dishonestly.
Cities and counties across the state have been preparing for months to comply with the new rules, which mark a dramatic shift in how police records are treated. For decades, police personnel files have been kept secret in compliance with state law.
Few departments have voluntarily adopted policies to release videos of officer-involved shootings and other uses of force.
Fremont, for example, has always held that videos of shootings and other "critical incidents" resulting in serious injury or death are exempt from the Public Records Act because they are evidence. AB 748 overturns this policy.
But according to internal city records, Fremont officials believe the new transparency laws will cost them up to a quarter million or more a year and thousands of hours in staff time.
According to an analysis done by city staff last year, AB 748 will require the city to expend as much as $232,018 per year just to process videos of police shootings and other incidents. The cost includes hiring new staff to redact confidential information and review videos before disclosing them.
The city provided the cost estimates to the
Express
in response to a public records request.
A similar cost estimate wasn't prepared for SB 1421, but the law's expansive requirements mean that in addition to videos, many other types of investigative files are now also open to public inspection. Some information in these files such as home addresses, or medical and financial information, can still be redacted. So too can the names of police officers who weren't found to have committed misconduct.
In 2017, the year in which Fremont staff analyzed the possible impacts of the new laws, the city had eight incidents of proven police misconduct. A summary table released by the city this week doesn't describe the exact nature of the allegations, but staff assumed in their analysis video records from these incidents could be subject to disclosure now, meaning they could have involved sexual misconduct or dishonesty.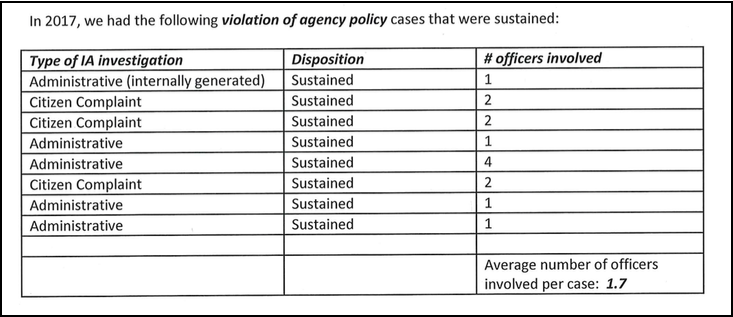 Also in 2017, the city had five use of force incidents that resulted in a death or great bodily injury. This included four officer-involved shootings and the use of a K9 dog to arrest a suspect.
The city defines great bodily injury using the same definition that the state Department of Justice uses for serious bodily injury: "a substantial risk of death, unconsciousness, protracted, and obvious disfigurement, or protracted loss or impairment of the function of a bodily member or organ."
Just to review videos of these 13 incidents and make information available to the public, Fremont officials believe that their police chief will have to spend 78 hours. A captain will also have to work 78 hours on reviewing records of these incidents. A deputy city attorney will need to spend 233 hours reviewing the videos. In total, the city's analysis found that it will require 10 city staff to work for 1,268 hours.
Other Bay Area cities are also anticipating that the new police records transparency laws will require increased staffing. But none of the seven other cities and counties that responded to a request for records have produced a detailed breakdown of how the new laws might financially impact them.
However, Richmond Police Chief Allwyn Brown wrote in a memo to Richmond's mayor and city council last month that "given the volume of production likely to be generated, and given the highly technical and limited nature of the conditions for withholding or redacting such records/recordings, additional staff whose sole function would be the processing of such Public Records Act requests and manage associated production are required."
The Richmond police are exploring software that can automate redacting within records, potentially saving staff time.
The San Mateo County Sheriff's Office plans to spend $3.9 million on body-worn cameras for deputies and jail guards under a new contract with Axon. According to a memo sent by Sheriff Carlos Bolanos to the board of supervisors last month, part of the reason for the purchase is that Axon's cameras and Evidence.com software include features that make it easier to redact videos. "In order to comply with AB 748 and SB 1421, the SO will need a solution like Evidence.com," the sheriff wrote.
Fremont police visited Las Vegas last year to watch how that city's police redact videos for release to the public. Nevada laws are not as strict and police there routinely share videos and other information regarding officer-involved shootings with media and the public.