Portland-based indie label Kill Rock Stars is kindly offering a free 21-song sampler for download, including tracks by local (or formerly local) artists Thao, Deerhoof, and Xiu Xiu. Get it here. Here's the tracklist: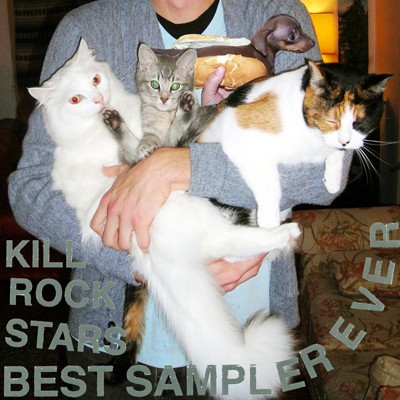 1. ELLIOTT SMITH "Angeles" from Either/Or
2. THE THERMALS "Now We Can See" from Now We Can See
3. GOSSIP "Standing In the Way of Control" from Standing In The Way of Control
4. THAO "When We Swam" from Know Better Learn Faster
5. SLEATER KINNEY "Oh!" from One Beat
6. PANTHER "Love Is Sold" from Entropy
7. UNWOUND "Corpse Pose" from Repetition
8. THE PAPER CHASE "What Should We Do With Your Body? (The Lightning) from Someday This Could All Be Yours (Part 1)
9. XIU XIU "Dear God, I Hate Myself" from Dear God, I Hate Myself
10. DEERHOOF "Believe E.S.P." from Friend Opportunity
11. QUASI "Repulsion" from American Gong
12. MARNIE STERN "Transformer" from This Is It…
13. STEREO TOTAL "I Love You, Ono" from My Melody
14. LILIPUT "Ain't You" from Liliput
15. BIKINI KILL "New Radio " from New Radio
16. BRATMOBILE "Die" from The Real Janelle
17. COMET GAIN "Kids In The Club" from Realistes
18. THE SHAKY HANDS "Allison and the Ancient Eyes" from Let It Die
19. THE DECEMBERISTS "16 Military Wives" from Picaresque
20. HORSE FEATHERS "Curs In The Weeds" from House With No Home
21. JEFF HANSON "Hiding Behind the Moon" from Son
We heart Unwound.