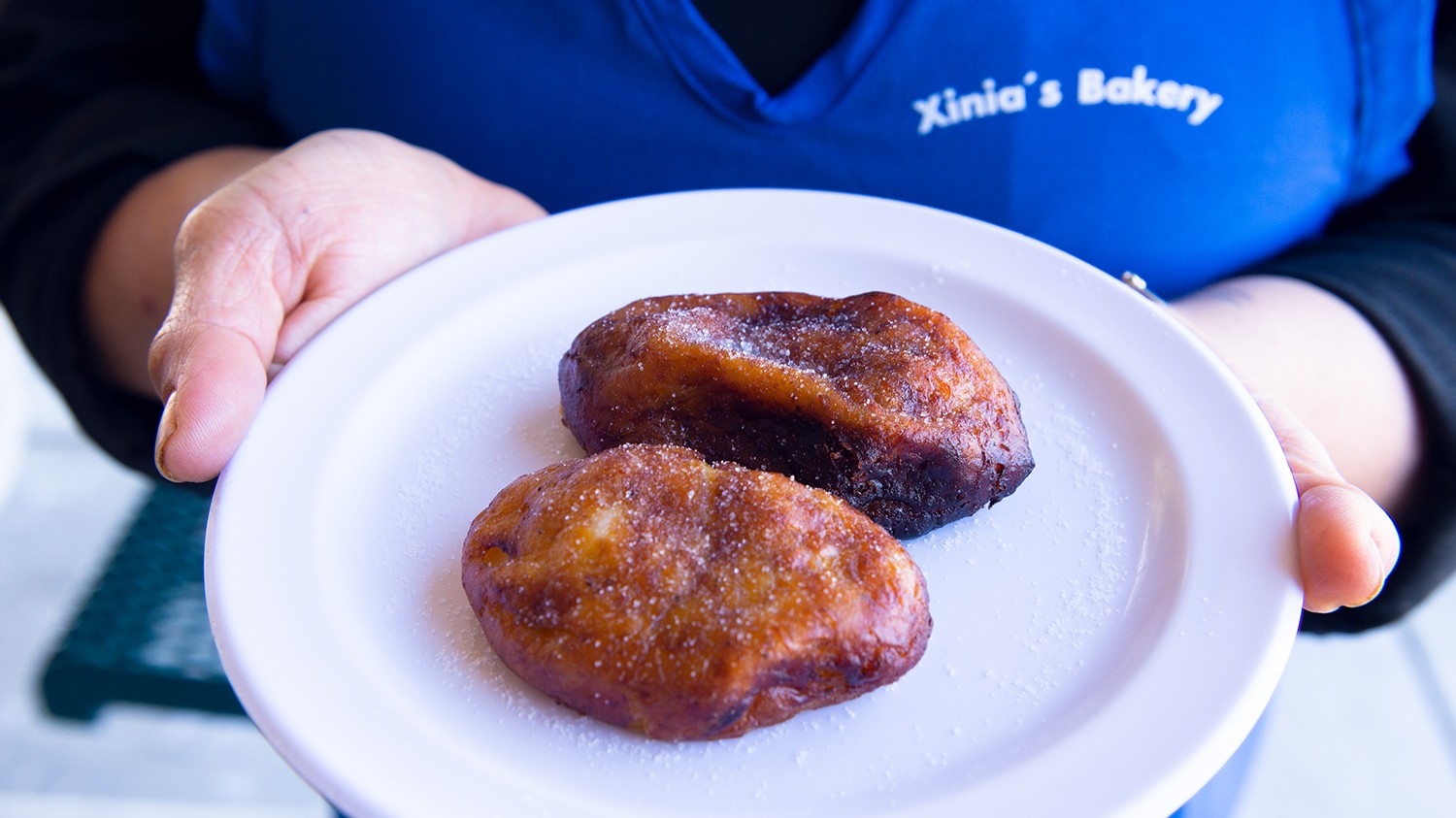 A few Saturdays ago, after a lively wedding, many bottles of wine, and the resulting hangover, I laid on the floor of my bedroom and craved sancocho de res, a beef soup made with yuca and corn that had saved me many times when I lived Colombia. I hadn't eaten sancocho in years, but in that moment I needed it urgently. A hangover craving is a particularly potent craving — longing driven by desperation — and yet, I failed. I couldn't find sancocho de res, or even a Colombian restaurant. Turns out, in the East Bay there are few restaurants from any country south of Mexico.
Xinia's Bakery is not Colombian, but it's worth a visit. The El Salvadoran restaurant is tucked in Plaza Sobrante, the type of unassuming strip mall that seems to transcend time and place. In Plaza Sobrante, if you squint a bit it could be 1999 and you could be in any small town. It's the type of strip mall where within 20 steps you can visit a lawyer, a dentist, and an insurance agent. El Sobrante means "surplus" or "the remainder" in Spanish, and that's kinda how it feels. I love it.
Xinia's Bakery transcends place, too: Inside, it feels like a neighborhood restaurant in Latin America. The little tables have brown plastic tops and the wall art encourages kindness, sometimes explicitly. Baked goods, like pastelitos (small cookies filled with fruit jam) and tres leches cake sit in glass cases, available whole or by the slice. Behind the counter, the menu is written in chalk and offers mostly antojítos (small bites). Some are savory, some are sweet. Xinia Cruz herself will probably be at the register.
Baking runs in Cruz's family. Her father was a baker and her family in El Salvador still runs bakeries and a restaurant. Cruz had already been in California almost 15 years, raising three kids and working as a preschool teacher when she decided, on a whim, to go back into the family business.
"My main purpose is to be authentic," she said. "To somehow bring some memories from El Salvador here…. This morning I had someone buy 30 pastelitos de piña because her mother loved them."
Cruz's antojitos make good use of native Central American fruit and vegetables, in particular yuca, maiz, and plantains. I tried the nuegados de yuca — yuca dough formed into disks and deep-fried to order. The outside was crispy, golden brown, and puffed away from the hot, chewy masa inside. They arrived drizzled with brown sugar syrup and seasoned with allspice and cinnamon.
The empanadas at Xinia's differ from those made with flour or corn dough and filled with meat, typical in Argentina and Colombia. The El Salvadoran empanadas are made with ripe plantains (plátanos) instead of dough. At Xinia's, they're stuffed with vanilla cream custard, deep-fried until nearly black, and then sprinkled with sugar. The exterior was caramelized to a chewy texture, which stuck pleasantly to my molars almost like taffy. Inside, the plantain was hot, soft, and very sweet, while the custard was light and creamy.
Both of these dishes were rich and delicious. I think the way to properly eat at Xinia's is to go with a friend, go hungry, and try everything. Because we haven't even gotten to the star of the show: the pupusas.
There's something about a pupusa that feels fundamental, like the way a slice of warm, fresh baked bread feels. There's history there. Archeological evidence suggests that ancient Pipil tribes in El Salvador had been grinding maiz flour, making dough, and cooking it on a comal, or griddle, for at least 2,000 years.
Cruz learned how to make her pupusas from her father.
"He always said, 'You better learn the [baking] skills because you never know.' It was true," Cruz said. "Now I'm baking pupusas and I think, 'Oh my God, this is my dad.'"
The pupusas at Xinia's Bakery arrive with a pleasant brown marbling from the griddle. I tried the bean and cheese, and the loroco and cheese (loroco is a vine with edible buds that taste like a light green pepper). They were perfectly cooked, and the dough-to-cheese ratio was balanced. They come with spicy tomato salsa and a zippy curtido (cabbage slaw) on the side. I sat there, listening to the buzz of the soda fridge, the chatting in Spanish between customers and Cruz, and some obscure international TV show discussing tariffs, and I was happy.
Between noon and 2 p.m. the restaurant has a pupusa "happy hour." They're $2 each.
The fried yuca was just how you'd want it: Crispy and salty. The guisado de res, a beef stew with carrots, tasted hearty and homemade, but was not worth $14.99, especially when that could buy you seven(!) pupusas during happy hour.
One unexpected standout was the atol de maiz, a hot drink made with blended corn and milk that I didn't think I'd care about, but loved. It was sweet and salty and thick, like a really good hot chocolate made with some thick whipping cream.
Here's the thing about Xinia's Bakery — there's care in the food. It really feels like a mother is cooking for you, and that's probably because a mother is cooking for you. You walk in, and maybe it's 1999 and you're in a small town. Are you in El Salvador? It doesn't matter where you are because the woman who owns the place is standing there and she is sincerely kind, and if you ask her about El Salvador she'll tell you with a tear in her eyes. You're going to eat some handmade pupusas filled with melted cheese. You're going to eat various fried sweet things and feel happy. The fridge will buzz and the bell will clang when people come in and out. You might keep ordering because there's plenty to try and she'll just add it to the hand-written receipt. That's what the food at Xinia's Bakery reminded me — that food isn't just about "wellness" but it is about nourishment. Or, at least, it should be. Sometimes I think I forget that, or even what it actually means. Now at least I know where to go when I need a delicious reminder.
Xinia's Bakery
3550 San Pablo Dam Rd., Ste. B-1, El Sobrante, 510-669-5259
Hours: Mon.-Fri. 8 a.m.-8 p.m., Sat. 9 a.m.-8 p.m., Sun. 9 a.m.-4 p.m.
Cash, all major credit cards
Sample Menu
Empanadas (2) … $3.99
Yuca frita … $9.99
Nuegados de yuca … $3.99
Pupusas … $2.50 each
Carne guisado … $14.99