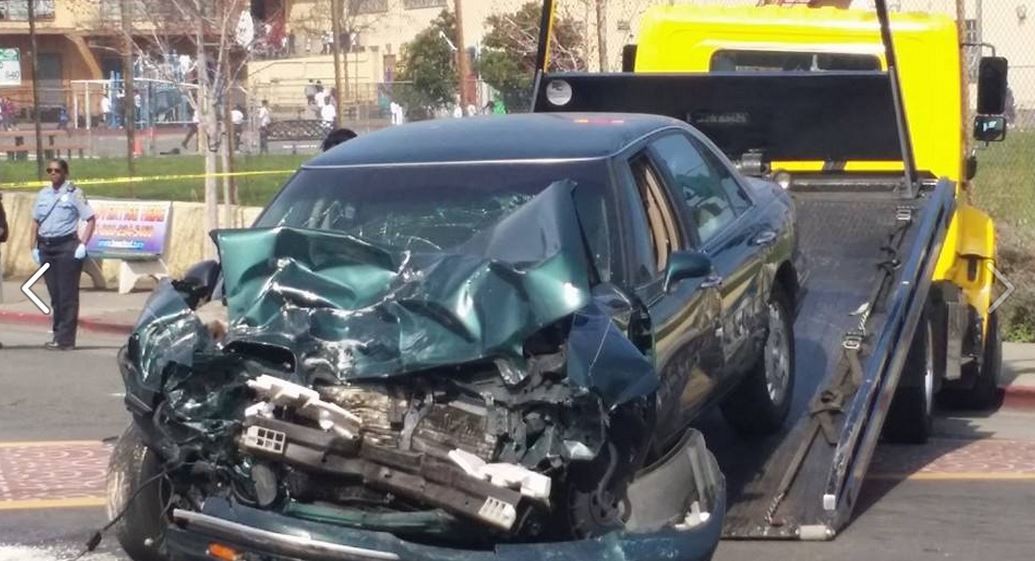 A vehicle speeding away from US Marshals violently collided with a paratransit bus in Oakland's Fruitvale neighborhood earlier today, sending the car's occupants to Highland Hospital. Initial reports from officials stated that a "suspect" of an investigation emerged from a nearby location that was under surveillance, and got into the car, prompting federal agents to attempt to pull the vehicle over. The vehicle fled and crashed moments later at the intersection of Foothill Boulevard and 23rd Avenue.
But an
updated report
in the
San Francisco Chronicle
quotes Deputy US Marshal Joseph Palmer saying that the man who got into the car, triggering the chase, was in fact not the person the Marshals thought they were following and attempting to detain.
The man in question, Jabari Shaw, is a well known resident of Oakland, an activist, and father. From his hospital bed in Highland Shaw is telling a different story. (See the video embedded below, posted originally to Facebook by Tur-Ha Ak.)
[jump]
According to Shaw he was leaving a friend's house with his daughter, and a woman named Mary Valencourt who was driving, when an unmarked black car cut them off in the road. A black unmarked truck also pulled up, and several men in plain clothing jumped out running at their car. Fearing for their safety, and not seeing signs that these were federal agents, Shaw said Valencourt sped away, but several blocks later violently collided with a paratransit bus.
Shaw said in a video posted to Facebook that he didn't realize they were being chased by US marshals until they reached the intersection of East 19th Street and 23rd Avenue.
"I see the light is turning red, and at this point, this is where I know it's the police, when we get to East 19th and 23rd," said Shaw in the video. "The first three cars that approached us were unmarked vehicles, and the police did not have on any uniforms. They blurped the light, the light only in the grill, not on top of the car, and [Mary Valencourt] starts slowing down."
According to Shaw, Valencourt then attempted to stop at the intersection where the light was turning red, but their vehicle was "hit from the back."
"I honestly believe a police car hit us and pushed us forward into the paratransit truck," said Shaw in the video.
Shaw said he was then pulled from the car at gunpoint, and kicked by an officer.
Carol Fife was on the scene shortly after the crash and said several neighbors who witnessed the chase saw a vehicle push the car carrying Valencourt, Shaw and his daughter.
"There were several witnesses," said Fife. "The car ran into the back of the vehicle Jabari was in when they tried to stop. They didn't know it was law enforcement, it was an unmarked car. The car pursued them."
Phone calls to the US Marshal's office and Oakland Police Department were not immediately returned.
(function(d, s, id) { var js, fjs = d.getElementsByTagName(s)[0]; if (d.getElementById(id)) return; js = d.createElement(s); js.id = id; js.src = "//connect.facebook.net/en_US/all.js#xfbml=1"; fjs.parentNode.insertBefore(js, fjs);}(document, 'script', 'facebook-jssdk'));