California farmers, vintners, and small business owners are calling on Governor Jerry Brown to halt the highly water-intensive oil- and gas-extraction process known as fracking. Brown has continued to support Senate Bill 4, the piece of legislation he signed last fall that greenlights expanded fracking from the Monterey Shale, which sits beneath some of California's most prized farmland.
"In the short term, fracking makes competition for California's water even more fierce, which could have a significant negative effect on farmers, ranchers, and vintners," Paula Getzelman, owner of Tre Gatti Vineyards in Monterey County, said in a statement. "But the long-term consequences of fracking are even more devastating. California needs to be investing in the people who cultivate the land and feed people, not the oil companies that threaten to pollute our land, water, and communities."
[jump]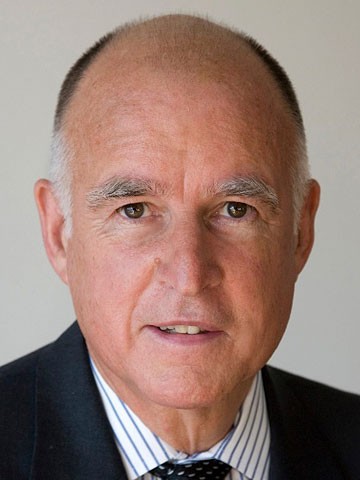 Farmers and vintners delivered a 145-signature petition to Governor Brown's office on Wednesday, urging a memorandum on fracking, which has exacerbated the drought's strain on California's agricultural sector.
"Water is the lifeblood of a farm — without clean, affordable water we cannot grow food," said Shafter almond farmer Tom Frantz, who caught on video the illegal dumping of fracking wastewater in an unlined pit next to an almond orchard. "This drought has already put many of California's small and midsized farms on the brink. To allow fracking on some of California's most fertile agricultural land will further devastate California's bucolic heritage. I don't think this is the legacy that Governor Brown wants to leave behind."
Restaurateurs and small business, also feeling the economic pressure from the drought, have also urged Brown to reconsider his fracking policies. Jerome Waag, head chef of Chez Panisse restaurant in Berkeley, delivered a fracking moratorium petition to the governor signed by 171 chefs, restaurateurs, brewers, retailers, and winemakers from across California.
The new petitions add to a towering stack of others in Brown's office that were submitted by environmental organizations and concerned citizens urging him to ban fracking. Since 2013, more than 200,000 petitions reportedly have been delivered to the governor office by environmental justice groups, public health advocates, local elected officials, students, celebrities, and others.
The farmer petition and list of farmers who have signed can be found here. And the chef petition and list of chefs who have signed can be found here.