Sponsored content by Drake's Brewing Co.
Drake's Brewing Co. has long been a pioneer in the craft beer industry, and its many fans won't be surprised to see the local San Leandro brewery named "Best Brewery of the East Bay"—again.
Drake's has been brewing top-quality beer in the East Bay for over 25 years, and its commitment to excellence shows in every batch. Drake's always offers something tasty, from Best Coast IPA and Flyway Pilsner to innovative seasonal brews like Foraging Racoon and Block Party Hazy.
Drake's Brewery and Barrel House, proudly located in the gritty environs of industrial San Leandro, is a welcoming space where everyone can enjoy a pint or two with friends in the beer garden or the taproom. Beer lovers can choose from as many as 24 beers on tap—including small batches of Belgian beers, IPAs, Pilsners, Stouts, Sour Ales, and Porters, often only available only on tap at the Barrel House. In addition, hungry guests can enjoy tots, burgers and other bites from the Brew! Kitchen.
Drake's loyal fan base is as diverse as its line up of beers. "We stay innovative," says owner John Martin, "by creating inclusive environments at our taprooms and having fun brewing beer styles that we love to drink."
Drake's second East Bay location, Drake's Dealership, a beer garden in Uptown Oakland, was voted "Best Microbrewery Food in the East Bay" by East Bay Express readers.
The Dealership's menu features wood-fired pizza alongside a full menu from burgers and fries to burrata and salads. Beyond a large rotating selection of Drake's beers, the Dealership serves ciders, wine and kombuchas, giving you and your friends the option to sample a range of locally produced beverages in one place.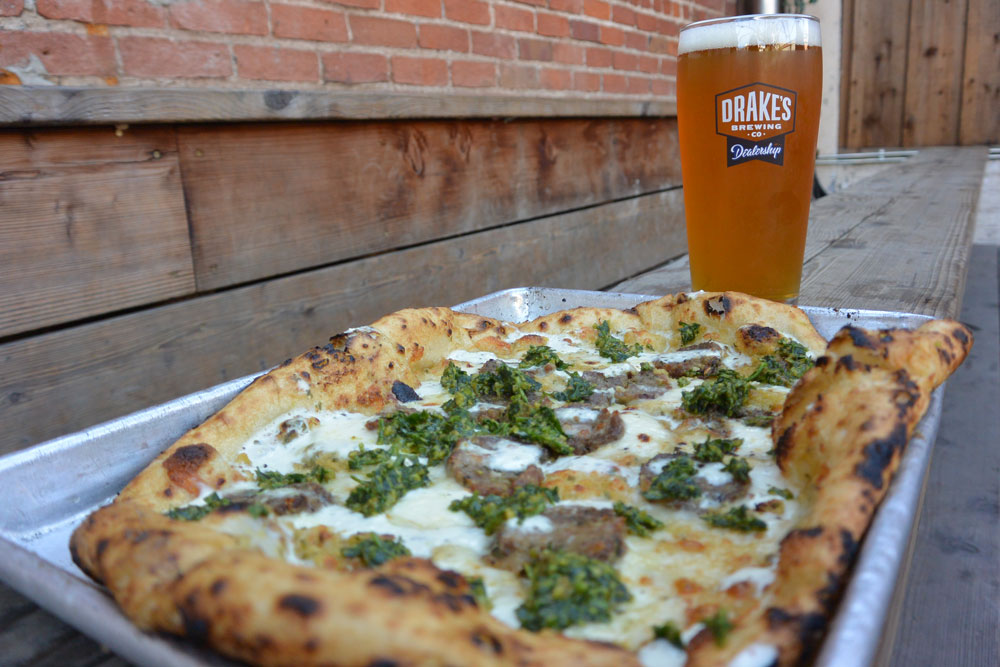 An East Bay Brewery Here to Stay
The true test of any company is how well it adapts. Drake's was founded as Lind Brewing Company in 1989 by Roger Lind, a local brewer who focused on making draft-only English-style Ales.
By 2008, when John Martin and Roy Kirkorian bought the company, Lind Brewing had become Drake's Brewing Co. Then, and now, Drake's is best known for its Denogginizer Double IPA and Best Coast IPA, which won the gold at the Great American Beer Fest.
In 2011, Drake's Barrel House opened in San Leandro, and in 2015 Drake's Dealership expanded the East Bay brewery to new fans in the Oakland area. In West Sacramento you'll find its third location, Drake's: The Barn, which opened in 2018.
A Brewery for Everyone
In San Leandro, Brewmaster DeVonne (Devo) Buckingham manages a team of over 30 people brewing, packaging and getting craft beers on tap and in bottle shops.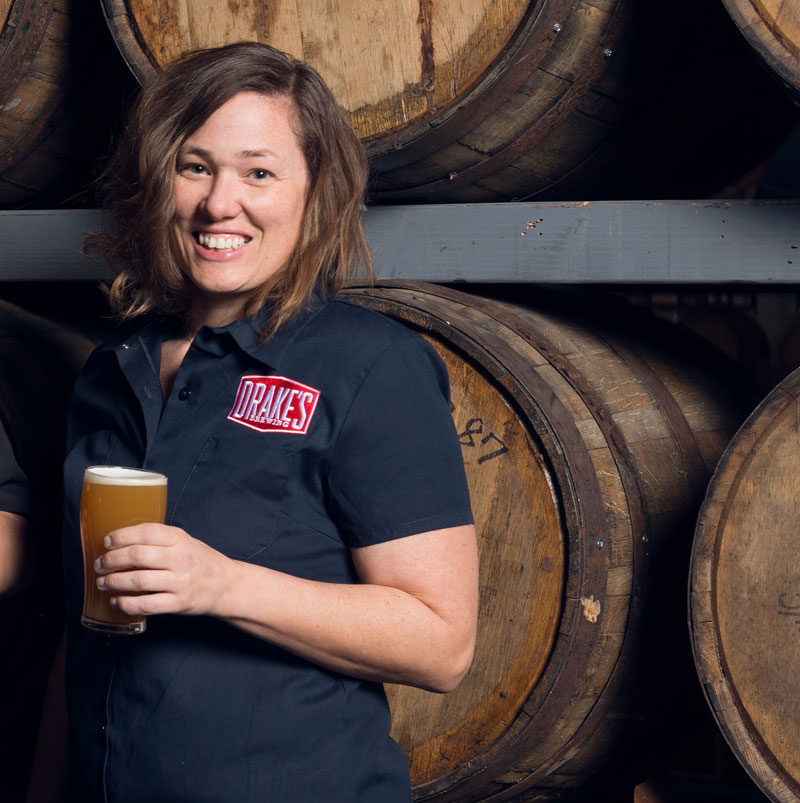 She and everyone at Drake's are dedicated to creating an atmosphere in the taprooms and brewhouse where everyone feels welcome, accepted and safe.
Drake's is deeply committed to providing opportunities to anyone who shares its passion for creating and serving unparalleled craft beer. "I was a regular customer at Drake's and started working events, giving tours and bar backing whenever they needed it," says Devo. "I was hungry to learn and willing to work. I was offered a part-time job as a production assistant, cleaning drains and scrubbing floors. Soon part time became full time. As my knowledge and abilities grew, I worked my way up to my current position as Brewmaster."
More than an IPA Brewery
Devo and her team are proud of Drake's core beers, which "have evolved as trends and consumer palates have changed." she says.
And Drake's has the most fun with its smaller batch seasonal and one-off beers. "These are where we get to play," says Devo. "We make everything from bright, fresh lagers to crazy hazies, extreme West Coast IPAs and specialty Stouts and Porters. We experiment with new hops, innovative brewing processes and unique yeast." Experimenting with different yeasts led to Drake's newest release, Block Party, a unique tropical IPA.
Devo describes fan-favorite beer Foraging Raccoon as a "new-school, West Coast IPA, with no caramel malt, lighter-bodied. It's totally Drake's."
Fans need to follow Drake's (@DrakesBeer) on social media to find the most limited special releases and collaboration brews, as they sell out fast.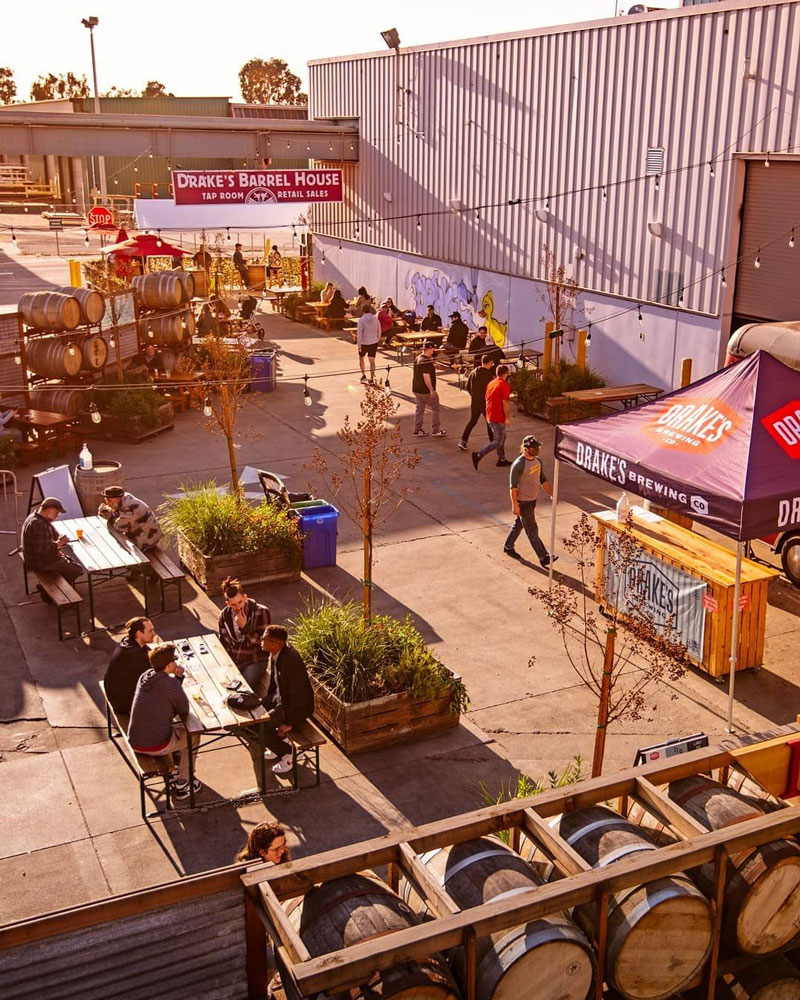 In addition to having fun in the brewhouse and beer gardens, First Fridays at Drake's Barrel House are a great way to enjoy some delicious local beer while giving back to the community. Drake's partners with different nonprofits each month (like the Boys & Girls Club) and donates a portion of proceeds from growler and crowler sales to these nonprofits. In addition to great beer, guests can enjoy music, food booths and sometimes even a magician.
So whether you enjoy Drake's beers at the Barrel House and Dealership or in taprooms, restaurants and bottleshops across the East Bay, raise a glass to celebrate the best craft beer in the East Bay, voted by readers of the East Bay Express.
To find out where to get Drake's beers or to learn details about grabbing a pint at one of its East Bay taprooms, visit https://drinkdrakes.com.