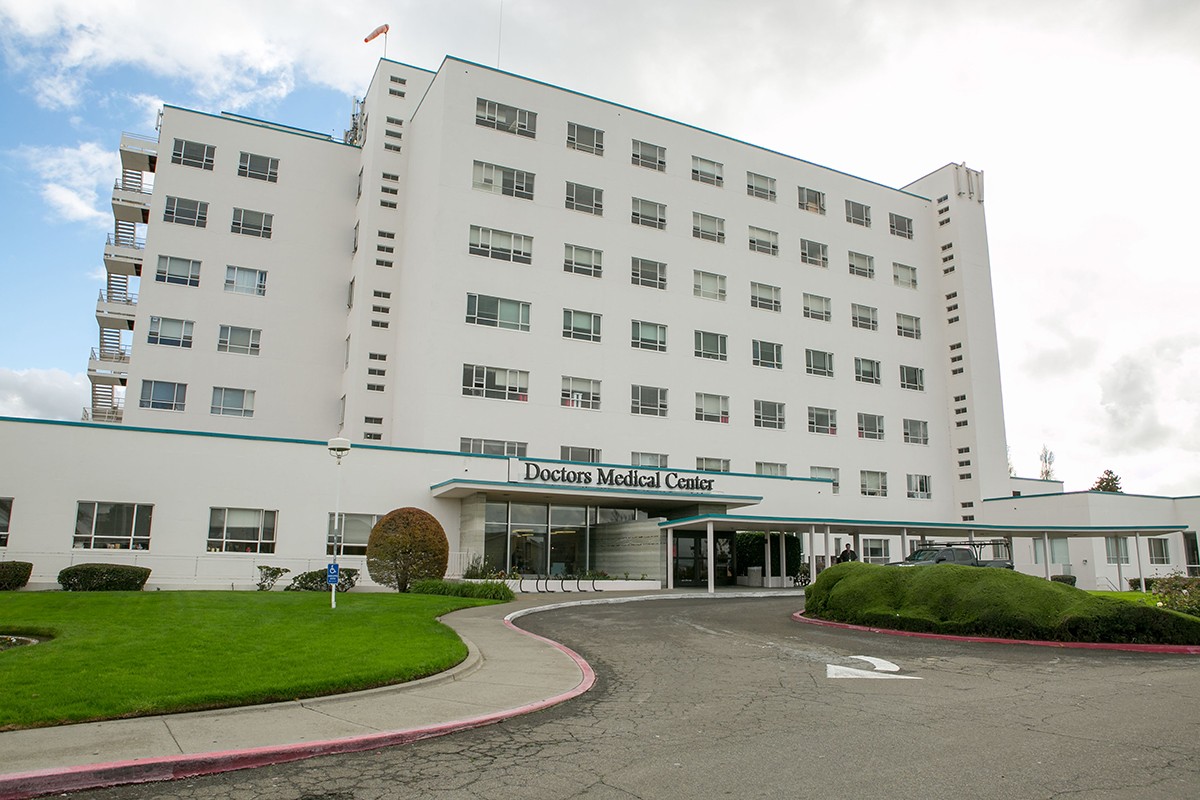 Doctors Medical Center (DMC), a public hospital in San Pablo that has been plagued by financial troubles for years, does not have enough money on hand to pay its employees past February 28, interim chief executive officer Kathy White announced in an email to staff. That means that if the hospital is not able to immediately obtain emergency funding, it will have to prepare to effectively shut down. 
"It remains our goal to obtain the cash allowing us to continue operations while we explore all options," White wrote in an email over the weekend that was forwarded to me this afternoon. "Due to the advancing short time period, however, we must plan accordingly and responsibly to wind down clinical operations by Friday, February 27 unless a cash infusion occurs. We don't expect anyone to work without a paycheck." 
Winding down operations, she explained, would mean closing the emergency department, "defining an end date to schedule surgeries and procedures," and "planning for the care of any patient in a recurrent outpatient treatment program."
See Also:
The Death of Doctors Medical Center

The Breakdown of West Oakland Medical Care
[jump] It's unclear what operations, if any, would continue at the hospital in March under this plan — and White and a spokesperson for DMC both did not immediately respond to my requests for comment this afternoon. The hospital, which is a critical safety net for low-income and uninsured patients in West Contra Costa County, already 
significantly scaled back its functions last summer
amid its ongoing financial crisis. As part of that process, county health officials and hospital executives agreed to stop sending ambulances to Doctors Medical Center — a move that forced many emergency patients in Richmond, San Pablo, and other parts of West County to go to far-away hospitals in other parts of the East Bay. But as of last month, the emergency department was still seeing roughly eighty patients a day. 
The financial problems at DMC, which is a district hospital run by a publicly elected board, stem in large part from the demographics of its patients. A vast majority of its patients are either low-income residents who get their health insurance through government-sponsored programs (like Medi-Cal) or are entirely uninsured. The hospital meanwhile has historically treated a very low rate of privately insured patients, meaning it has very little revenue to subsidize its care for the indigent. This inequity was at the center of my recent cover story, "
Fatal System Error
," which shed light on how private, nonprofit hospitals — despite huge tax breaks — fail to care for the East Bay's poorest residents. The result is that public hospitals like DMC have shouldered this burden and have struggled to keep their doors open, leaving low-income residents without adequate access to health care. 
White stepped up as interim CEO earlier this month, replacing the former interim CEO, Dawn Gideon. White has continued her existing role as DMC's interim chief operating officer as well. Last year, the board that runs the hospital unveiled a plan to restore full services at the hospital later this year and sustain it for at least five years. That proposal involved securing financial support from a number of public and private entities in the region, including county debt forgiveness, a new parcel tax, funding from Richmond-based oil giant Chevron as part of its community benefits package with the City of Richmond, and financial support from the region's private nonprofit hospitals. Longtime DMC doctors have criticized the private hospital systems for failing to provide their fair share of low-income care and have also
called on Contra Costa County
to provide more long-term funding. (Here's a
recent op-ed from a DMC surgeon
who argued that the hospital needs support from a philanthropist). 
The Public Employees Union Local 1, which represents more than one-hundred employees at DMC, is planning to protest the potential closure tomorrow morning at 10 a.m. at the hospital. "DMC's closure would be a disaster for the Contra Costa community," Peter Nguyen, Public Employees Union Local 1 general manager, said in a statement. "If DMC closes, thousands of West County residents would be left in a medical desert. We need all of our leaders in this county to make sure that doesn't happen."  
Here's the full email from White: 
Dear Colleagues,

We continue to pursue any/all potential options for cash infusion which would allow us an extension past February 28th. We still have possible leads but at this moment none are confirmed.

To recap, we will meet payroll for the pay period ending February 28, which will be paid on March 6th.

It remains our goal to obtain the cash allowing us to continue operations while we explore all options. Due to the advancing short time period, however, we must plan accordingly and responsibly to wind down clinical operations by Friday, February 27 unless a cash infusion occurs. We don't expect anyone to work without a paycheck.

The wind down would include: Defining an end date to schedule surgeries and procedures, closing the ED, and planning for the care of any patient in a recurrent outpatient treatment program. We will be working with the Directors to guide the departmental actions and will provide more information next week, should that be the road we must follow.

If we receive funding for the short term or a proposal is accepted by the board to secure our future, I will send an update on that immediately.

Thank you for all of your efforts and your ongoing patience as we continue to exhaust all efforts to save DMC as a full service hospital.

Sincerely,

Kathy White
Interim CEO/COO