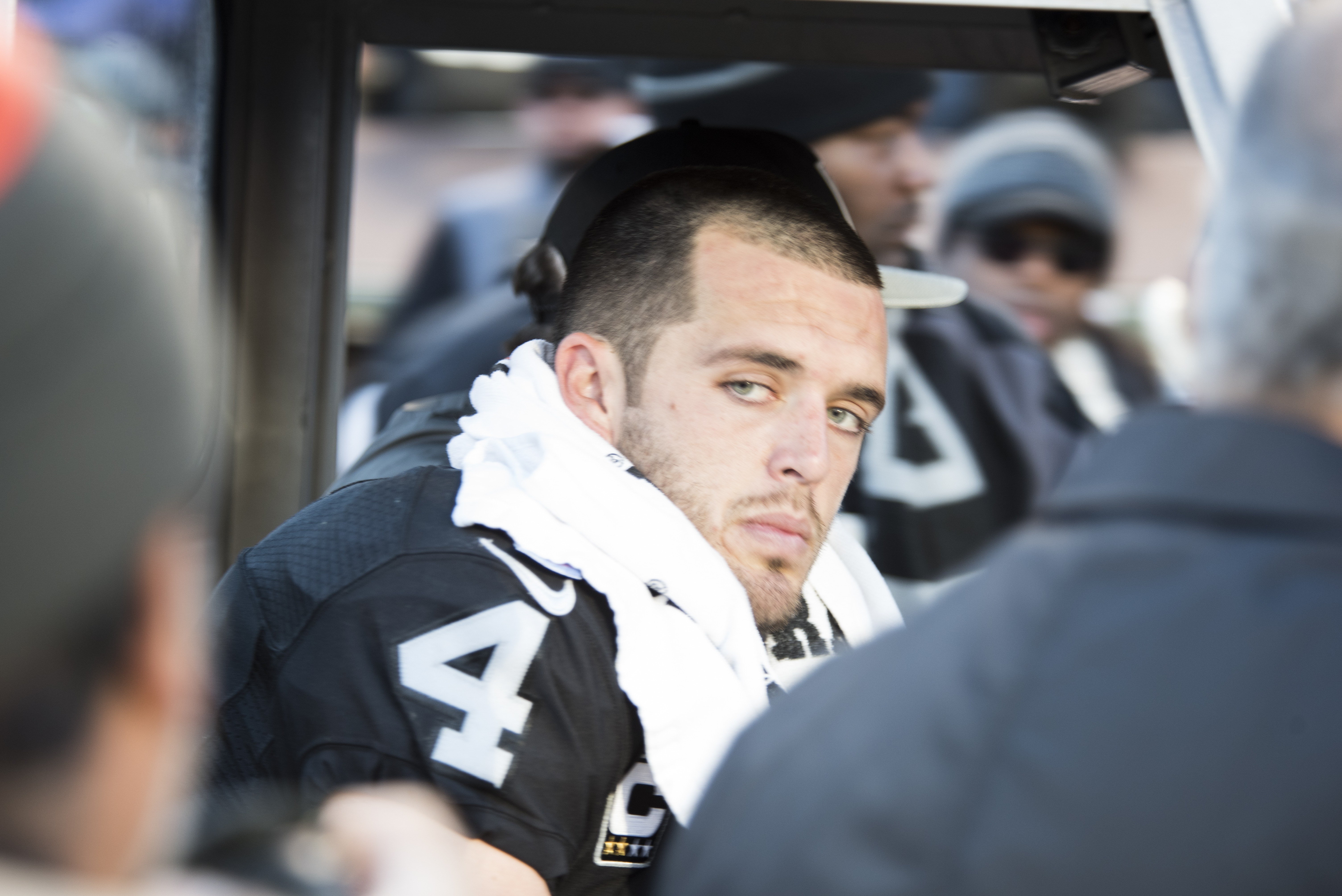 One of Oakland Raiders head coach Jack Del Rio's strongest assets is his easygoing candor. It's what makes him relatable in a world of School of Jock locker-room leaders. And so, this past Monday during a press conference at the team's Alameda headquarters, his
Coach Eric Taylor humanity
made it difficult to mask what was clearly unequaled disappointment: his star quarterback is on crutches, the back-ups are question marks incarnate, and his front-running squad let slip a division championship at the eleventh hour.
And, now, a grim reality: His banged-up Raiders face a short week to prepare for the team's most-critical game in thirteen years, on the road, this Saturday afternoon, in Texas.
"We're excited to be in the postseason, you know," Del Rio told the room full of sports writers, the whites of his eyes glowing. Then he paused, and his lips pursed: "And, uh, um, we'll be energized come game time," he assured, seeming at once elated and crestfallen.
Who can blame him. Such is the state of the Raiders 2016-17 season, a wildly successful 12-4 run, complete with a handful of lucky-horseshoe wins — New Orleans, Baltimore, Tampa — that re-launched the Silver and Black into Warriors-level status among Bay Area fans.
But then, on Christmas Eve, third-year quarterback, legit MVP candidate, and Raiders backbone Derek Carr didn't get up off the Coliseum grass after a third-down sack. He'd snapped his fibula, and his season-ending injury provided a severe wound in the Black Hole's heart.
The response to Carr's absence was ugly this past Sunday, with a 24-6 loss to the Broncos. The Raiders proved unfocused and flappable on all sides of the ball. And, as Del Rio noted on Monday, inexperience at the most critical position wasn't what lost the game in Denver; it was undisciplined lapses, such as giving up long-yard touchdowns on third and 18, or letting hamstrung quarterbacks such as Trevor Siemian march down the field and notch a score on the game's first drive. And those numerous botched tackles. All those missed tackles!
Backup Matt McGloin seemed rattled from the get-go during the Denver game, the former Penn State standout belying any of Carr's unruffled leadership. McGloin also got bruised up something fierce, which led to third stringer Connor Cook playing the entire second half — and now Del Rio says he will get the rock on Saturday against the Texans.
This is surely the right call. Cook — despite a couple air-mall tosses, including an interception, and ball-security hiccups — plainly was ready for the moment, unlike McGloin.
Del Rio remains confident that the Broncos game was an outlier. "There are too many great examples of us just being a little bit away from being a whole lot better," was his appraisal of the Denver loss.
It's not difficult to embrace the coach's positivity. Del Rio never grows too large during the good moments. And, in turn, he hasn't let the brutal letdown of his top star's broken leg deflate the locker room. His steadfast steadiness, despite every damn reason to be disillusioned, is more than just commendable: It just might work.
Because, really, how far-fetched is the possibility that the Raiders offense will cruise under the unseasoned — OK, straight-up green — Cook? Oakland boasts the premier wideout tandem in the game — Amari Cooper and Michael Crabtree — and a three-headed, versatile backfield attack that is always just one good block away from flipping the momentum in a game. Jamarcus Russell could score with this unit.
This is not to mention the beastly pass rush of Bruce Irvin and Khalil Mack. All four of these players — half with Super Bowl experience — have exhibited the kind of dominance that can alter the tenor of a game, playoff or otherwise.
And don't forget that the playoffs are a crapshoot — as any fan of Oakland sports will attest. Giambi might forget to slide. The refs might suspend Draymond. A Pro Bowl center might relapse. A one-legged Kirk Gibson might put wood on an Eckersley slider. Shit happens.
Do the Raiders have a leg to stand on this postseason? Of course! Just like Del Rio going for two against New Orleans in week one, I'd bet on the Silver and Black in January.