East Bay rapper Lil B (Brandon McCartney), 26, has had one of the most unusual career trajectories in the music industry, and is perhaps one of the most influential yet easily dismissed artists out there today. Although he has a remarkably devoted fan base, his popularity still mystifies the uninitiated, and he continues to face backlash for his staunchly unorthodox approach to, well, pretty much everything.
For starters, Lil B, who grew up in Berkeley, has been manically prolific over the years, and at times, his volume of musical releases has reached an almost Shakespearean level. During the past six years, he has self-released dozens of mixtapes and thousands of songs, including an impressive five-gigabyte mixtape that contained more than 850 freestyles, which he dropped in 2012 in addition to several other album-length projects. While hip-hop purists have doubted Lil B's technical skills as a rapper, his idiosyncratic, unrehearsed-sounding flow was a precursor to the sing-song, adlib-filled style that dominates the radio today. Given the stylistic turns that hip-hop has taken in recent years, his early solo releases at the end of the Aughts and beginning of the 2010s have proven to be ahead of their time.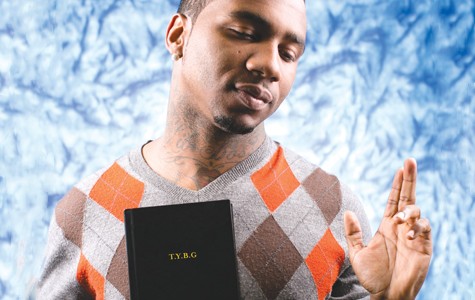 But rapping is just one of Lil B's occupations, and a large part of his appeal comes from his self-appointed role as a spiritual guru. His fans hail him as the Based God, and his eponymous philosophy, which he describes only with the adjective "based," centers on maintaining a positive outlook, respecting all living things, and staying curious about all that life has to offer.
Although Lil B doesn't explicitly brand himself as a religious leader, his social media following is vast and cult-like. He frequently posts affirmations, life advice, and Based God-centric memes on Twitter and Facebook to the adulation of millions of followers. When he follows fans back, they often respond with the fervor of someone who spotted the Virgin Mary's silhouette on a piece of toast. Dedicated fans call themselves the Bitch Mob and sign posts with #ProtectLilB and #TYBG (Thank You Based God). He has given guest lectures akin to religious sermons at UCLA, MIT, and NYU that have included teachings such as, "Pay attention to bugs and insects and how they vibe."
Then, there's Lil B's role as a cultural commentator. Because of his large social media presence, he gained national attention for levying a "curse" on Oklahoma City Thunder forward Kevin Durant after the basketball star decried Lil B's musical ability on Twitter. The Thunder subsequently failed to win an NBA championship, and Durant has been plagued by a series of injuries, prompting memes and internet lore about the Based God's curse. After Lil B cursed Houston Rockets player James Harden last spring for imitating the rapper's signature cooking dance without attribution, the Golden State Warriors won the Western Conference Finals against the Rockets, and the rest was history.
The uncanniness of the Based God curse prompted several major sports outlets, including ESPN and CBS Sports, to interview Lil B about his seemingly supernatural powers. As more media outlets picked up the story, the national spotlight on this curious public figure even led several news networks — including CNN and MSNBC — to interview Lil B about his predictions for the 2016 presidential election. (He's voting for Bernie Sanders, though he confirmed that Hillary Clinton has not been cursed.)
How an unsigned, DIY artist could become such a bizarre and powerful cultural icon continues to befuddle casual observers. But after spending an afternoon with Lil B, I came to realize that one of the main reasons his multitudes of followers are so drawn to him — other than the music and the memes — is his willingness to be publicly vulnerable and, in doing so, affirm others' experiences and struggles.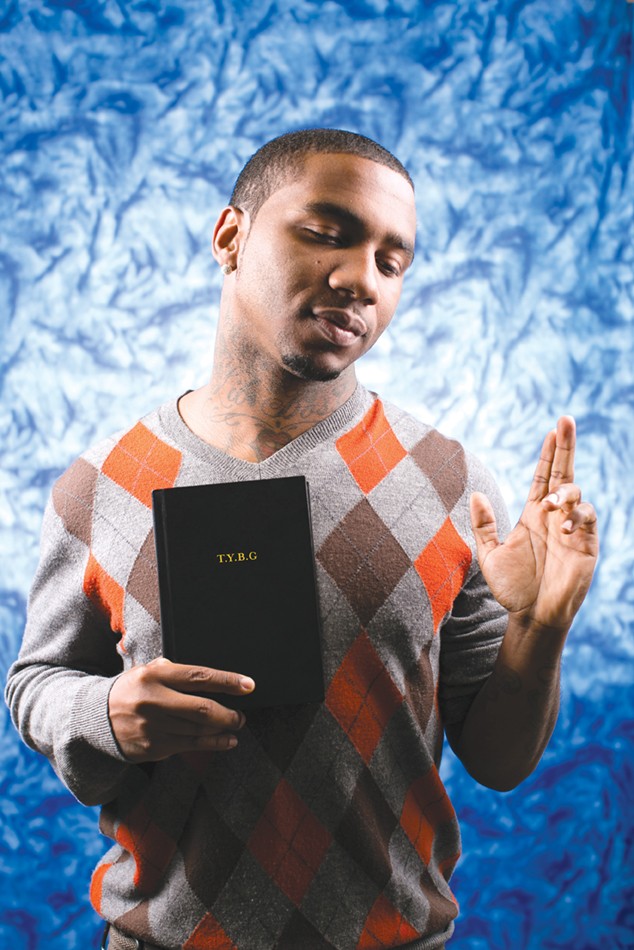 Indeed, when Lil B came to the Express' office in Oakland for a photo shoot, I was surprised by his immediate warmth and openness. After he put on a playlist of his favorite Antony and the Johnsons songs, our conversation turned to personal topics at times as the band's melancholic piano ballads played in the background. We even chatted about what music we like to cry to, our favorite Facebook emojis (we both love the chubby, cartoon cat Pusheen), weird body insecurities, and other secrets I would only ever disclose to my closest friends. It was then that I realized that there's not really a code you have to crack to get Lil B: You pretty much just have to be open to his kindness.
"I feel like when I speak unfiltered, people respond to it in a good way," said Lil B, reflecting on his recent mainstream media attention. "When I speak how I feel, I get rewarded for it — whether people love what I say, don't understand what I say, or go against what I'm saying."
Despite the fact that fans and the media have mythologized and even deified Lil B, there are plenty of contradictions in his messaging. While many of his songs promote positive thinking and social justice, some of his lyrics also have blatantly misogynistic themes that seem incompatible with his overall happy-go-lucky, pacifist public persona.
On one hand, there are tracks like "All Women" from his mixtape Rain in England, on which he celebrates women of all ages, ethnicities, shapes, and sizes, rhyming, Have you appreciated a woman's knowledge?/Pay attention to her comments. But then there are farcically offensive lyrics on songs such as "Swag My Bitch Up" — on which Lil B says I respect women/And I respect all people/But I don't love hoes/They suck dick and they're evil — or "Murder Rate," where he raps If you don't twerk we gon' up the murder rate.
As a listener, it's sometimes difficult to mediate these mixed messages or decide when to take Lil B seriously. So is he playing different characters?
"The Lil B entertainment experience is a mix of a lot of different emotions," he explained. "It's on the level of me being a movie director or content creator. I look at the Lil B entertainment experience the same way: different scenes, different locations."
While sometimes the explicitness in his lyrics is gratuitous, if anything, the id-like contradictions in Lil B's music have allowed him to avoid the kind of holier-than-thou preachiness — both in his music and public image — that people often find off-putting about conscious rap. Across his body of work and social media presence, Lil B has purposely exposed the flaws in his thinking as a way to demonstrate his commitment to learning and self-improvement (which may be a more effective way to spur social change than telling people how to live).
Earlier this year, for instance, he faced a backlash for tweeting offensive comments about trans women. After his followers responded with criticism, he admitted his ignorance, tweeting, "I wanna say I love you and I apologize for that transphobic comment I made today and shows how immature and still insensitive I am," and "my insecurity comes from deep-rooted issues and respecting women's boundaries." While his initial comments were undeniably sexist, declaring his willingness to learn from his mistakes was far more authentic than the PR-team-manufactured celebrity apologies we often see in the media.
Lil B said that over the past year, he has made it a point to reveal his flaws in order to humanize himself in the public eye and demonstrate the transformative power of self-reflection. "I choose to be transparent and honest because people can see me learning and see my mistakes so it's not a shock," he added. "I want people to really know me and know Lil B — really just know the flaws and love them; really know who you're supporting."
He also pointed out that there is a critical distinction between Lil B and the Based God, and that the Based God is the model for his behavior rather than his identity proper. While he often refers to himself as the Based God in his songs, he explained that the Based God is a higher being that works through him, adding that the Based God came to him through doing hundreds of based freestyles: "The Based God is perfect, and Lil B wants to be the Based God — I really want to be the Based God."
Interestingly enough, out of Lil B's extensive musical output, the only projects he attributes to the Based God are Choices and Flowers and Tears 4 God, which he said he "executive produced" with the Based God. Neither of these are hip-hop mixtapes — they're atonal, ambient electronic albums that Lil B describes as "classical music." Though the two lengthy, experimental releases were derided as amateurish in the press, Lil B said that he is proud of the works because they truly reflect what he sees as the Based God's essence. The Based God also makes an appearance on Rain in England, which features Lil B rapping over similarly challenging, new age-y electronic tracks.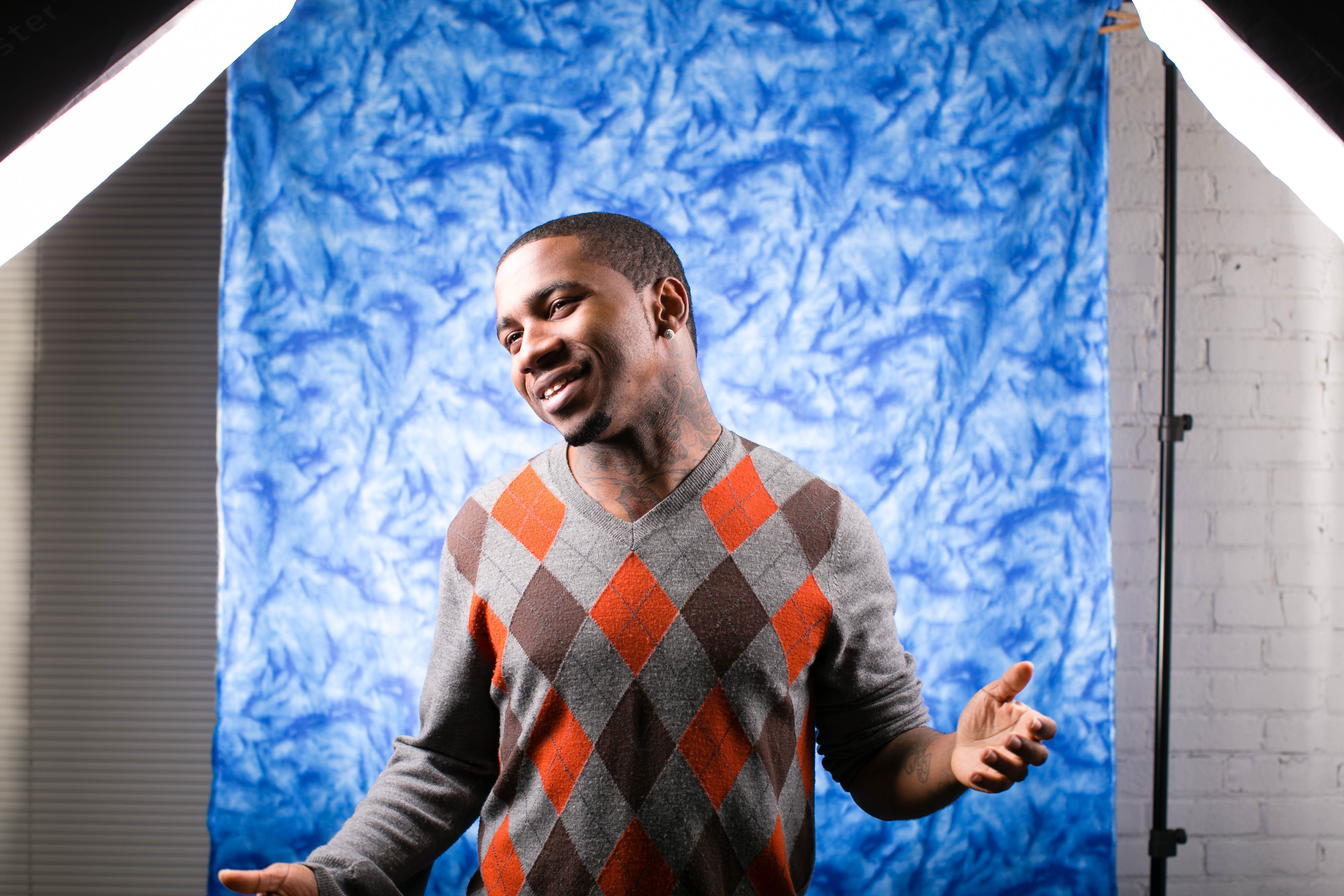 In 2015, Lil B's musical output slowed down considerably in comparison to past years. Previously, he would release off-the-cuff freestyles without giving it much thought. But apart from a based freestyle mixtape he did with Chance the Rapper called Free, he has spent the better part of this year working on his long-awaited release, Thugged Out Pissed Off. His slower, more deliberate songwriting process is part of his goal to make Lil B "more accessible" in 2016, he said, though he wouldn't reveal specifics about what he intends to do to make that happen.
Has anything changed about Lil B's songwriting approach? "My music is inspired by life and inspired by what I'm going through. I never force my music, either. This year, there was a lot of learning and a lot of lessons — being in an apartment and having the neighbor's house blowing up next door, burning me out of my apartment," he said, referencing the fire that devastated his then-Concord duplex last January. "It was a lot of blessings and learning experiences, too, from lecturing at UCLA and MIT, to my apartment burning down, to The Jacka dying and another friend passing away, to learning more about adult life, to making sure you don't get too serious and still have fun."
Thugged Out Pissed Off, Lil B said, is a platform for him to process these life difficulties and growing pains.
"There's gonna be a lot of different emotions and feelings, and a lot of stuff out the journal," he said. "I got a chance to get a lot of angry stuff out — just anything that I felt. A lot of positivity, too. A lot of gems, a lot of knowledge on there. And just a lot of stuff in general that's really gonna shock people and have people on edge — I think that's really what Thugged Out Pissed Off represents."
Last year, Lil B released an impactful single titled "No Black Person is Ugly," a rallying cry against systemic racism that came out just as Black Lives Matter protestors began to take to the streets across the country. In a similar vein, he hopes Thugged Out Pissed Off will speak to people form marginalized communities, which he explained is one of his key missions as an artist.
"I want to help people that might not be getting too much attention from the city — high crime rate areas. I'm trying to figure out ways I can bring hope, love, plant trees — and that's not a joke, I really do plant trees."
Correction: The file size of Lil B's mixtape with over 850 songs was five gigabytes, not megabytes.