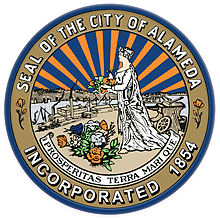 For seven years, Alameda has held in place a city-wide ban on commercial cannabis businesses. But that is about to change.
In May 2010, the City Council enacted a prohibition on all medical-marijuana dispensaries or cannabis cultivation. But last week, the council voted 4-1 to draft a new ordinance to overturn the ban and allow cannabis businesses to open up shop on the island.
"At this point, many of us are or know someone with serious health issues and they're not able to purchase [medicinal cannabis] here, they have to go to Oakland or San Francisco to talk to someone in person and be able to purchase," said Mayor Trish Spencer at last Wednesday's meeting.
While the potential tax benefits for the city are high, the council, and the members of the public who spoke at the meeting, were more concerned with keeping the Alameda industry on the island.
Sharon Golden, founder of the Alameda Island Cannabis Community, spoke at the meeting about the need for direction as January approaches and state regulations will soon take effect.
"We're here to make sure that our local residents are given the opportunity to open a business or have access to their medicine on the island," Golden said.
It is not yet known how many or what types of businesses Alameda will permit, but talk of repealing the ban began nine months ago and is now coming to fruition. The council asked their staff to bring  a new ordinance to the council's first meeting in September.
The city manager said there would be a survey coming out soon to see how city residents feel about cannabis businesses, and there was talk of Alameda residents getting preference when it came time to issue business licenses.